Update: I got one thing completely wrong here, which is that American actually lets you cancel within 24 hours up until two days before departure, rather than seven days. I assumed and was told otherwise, but that's not the case. The advice otherwise still stands, though.
I'd like to think I'm familiar with most American Airlines policies, though I learned something new today, and it saved me $300.
Canceling a delayed American Airlines flight same day
On the day of travel, how long does your American Airlines flight have to be delayed before you can get a full refund on the ticket? I wasn't sure what the policy was, though today I found out the answer is one hour.
If your American Airlines flight is scheduled to be delayed by at least one hour, then you can get a full refund to your original form of payment.
I booked my dad on the wrong day (accidentally)
I handle booking all the travel for my family, and last weekend my dad asked me to book him a trip to New York for an event he had to go to.
I booked him the outbound flight on American Airlines, as they have a new Saturday only service nonstop from Tampa to New York. I decided to just pay for him to fly first class, as the fare was $300 one-way, only about $80 more than economy. I didn't even tell him I booked him in first class, but rather figured it would be a nice surprise.
He had repeatedly told me that he needed to fly to New York on Saturday. I ticketed the reservation at 9:13PM on Sunday (right before going to bed) the weekend before, and on Monday morning I woke up to the following text from my dad: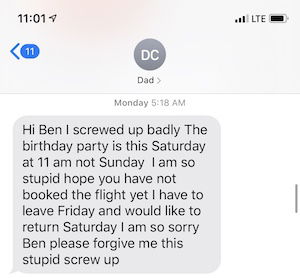 As you can see, he really needed to fly on Friday, and not Saturday.
While you usually have 24 hours to cancel a reservation, that doesn't apply within seven days of departure. I had booked just five days before departure, and even though I booked late the night before and the flight was still wide open (meaning that American almost certainly didn't lose any revenue as a result of this mistake), the American Airlines agent said there was nothing that could be done to refund the ticket.
It would be a $200 fee to change the ticket, and then I could apply the remaining ~$100 towards a future ticket for him.
Airline change fees are incredibly punitive, especially that they're the same no matter when you cancel. It's not logical that the fee to cancel is the same hours after booking on a wide open flight, as it is when canceling last minute on a fully booked out flight.
But of course the rules are clearly published, so I don't fault them for enforcing the rules…
…but that works both ways.
How I saved $300 and got the ticket refunded
I knew I'd be paying the same change fee no matter when I canceled his ticket, so I did what I always recommend doing — wait until the day of departure and see if there's a schedule change, if there's a travel waiver, or if the flight is delayed or canceled.
If airlines don't want to incentivize us to cancel early, then you might as well wait.
As luck would have it, his flight from Tampa to New York was delayed by just over an hour due to a late inbound aircraft.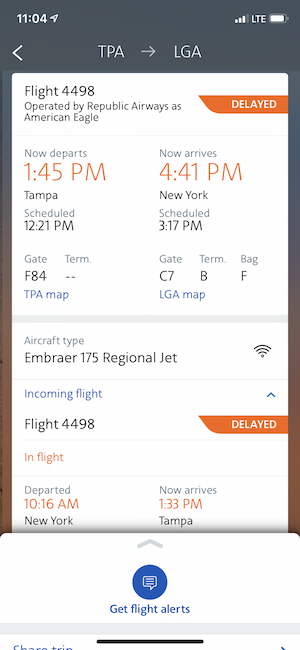 I phoned up American Airlines, and the agent issued a refund for the entire ticket cost without batting an eyelid, since he was delayed by over an hour.
Bottom line
I was trying to be a good son (and just paid for a ticket outright for my dad in first class), but of course no good deed goes unpunished, because nine hours after booking he realized that he had mixed up dates.
Airlines often lack compassion (even when you explain "my 75 year old dad got his dates mixed up and we just ticketed this last night…"), though at the end of the day we can't really fault them for enforcing policies.
But that works both ways, because sometimes those policies work in our favor.
In those situations where I have a non-refundable ticket and no incentive to cancel sooner rather than later I always wait, because you never know if there will be a way to get that fee waived last minute.
Usually it doesn't work out, but in this case it did…
Anyone else wait until the day of departure to cancel non-refundable tickets, given that airlines don't incentivize us to cancel early?