Update: As noted by @IshrionA, American has this weekend updated the schedule for this flight to be more in line with what I would have expected. The southbound sector now departs at 9:30PM and arrives in Rio de Janeiro the following morning at 9:15AM. You can find the original post below.
If this is accurate, I'm going to go out on a limb and say that this will be the most oddly timed flight operated by a US airline.
American resuming New York to Rio flights
American and JetBlue have launched a new Northeast partnership, and as part of this American plans on launching several new long haul international flights out of New York JFK. The first two destinations to be announced were Athens and Tel Aviv, but now American has opened bookings for another route.
American Airlines plans to launch daily New York to Rio de Janeiro flights as of December 16, 2021. The route will be operated by a Boeing 777-200ER with the following schedule:
AA2842 New York to Rio de Janeiro departing 2:59PM arriving 2:59AM (+1 day)
AA974 Rio de Janeiro to New York departing 12:01AM arriving 8:00AM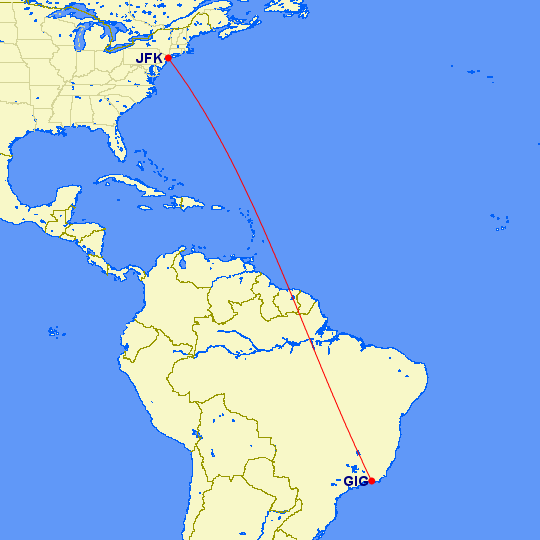 The ~4,800 mile flight is blocked at roughly 10 hours in each direction. This will be American's third "deep" South America destination out of New York JFK (after Buenos Aires and Sao Paulo), and it also represents a service resumption, as American operated this route in the past.
What is up with the southbound flight timing?
The timing of that southbound flight is truly bizarre. The flight departs around 3PM and lands around… 3AM.

Let me of course note that in some parts of the world (like the Middle East and India), 3AM is a busy time for airlines. However, historically flights between the US and South America have either been proper redeyes, or in some cases daytime flights.
I would be hard pressed to think of a worse schedule:
This has none of the benefits of a daytime flight (being able to sleep in a bed at your destination)
This has none of the benefits of a redeye flight (being able to not "waste" a day, since you still have to be at the airport in the early afternoon)
I simply can't make sense of American's schedule here. When I first saw this, I assumed that maybe American was operating an early daytime flight on the northbound sector, but nope, the airline is operating a redeye there.
Furthermore, this isn't about some sort of an aircraft swap with another route in Rio de Janeiro, since the only other American flight in the schedule is out of Miami, and that schedule isn't complementary. The aircraft utilization here is terrible, as the plane will sit on the ground in Rio de Janeiro for 21 hours.
That leads me to a few possible explanations:
American decided that this would be the optimal departure time in terms of connectivity beyond JFK
American thinks customers prefer a quasi-daytime flight that lands at 3AM (where you'd probably get to your hotel at 5AM)
There's something here I'm missing, like some cargo benefit for landing at that hour
This is actually just a mistake
I'm talking to sources to try to figure out which explanation is correct, but as an avgeek I couldn't help but draw some attention to this unique schedule, and open this up to speculation.
Bottom line
American Airlines will be resuming daily flights between New York and Rio de Janeiro as of December 2021. This is American's third new or resumed long haul route out of New York since the JetBlue partnership was announced, so that's exciting.
However, the timing of the New York to Rio de Janeiro flight is easily the strangest schedule I've seen for any flight operated by a US airline. Maybe it will get adjusted (or corrected), but in the meantime it's a fun mystery.
Can anyone think of a stranger schedule for a flight operated by a US airline? And what do you think — what's the explanation for this schedule, or is it a mistake?