American Airlines — or American Eagle, more accurately — has just launched what's the shortest flight in the country operated by a major airline. As of now the flight is in the schedule through June 1, though presumably it has the potential to be extended beyond then.
American Airlines' Vail to Aspen flight
For the next several weeks, American Airlines will be operating a flight between Vail and Aspen. The flight covers a direct air distance of just 29 miles, and is blocked at 35 minutes.

The flight takes longer than you'd expect, given the short direct air distance — over the past several days the flight has taken anywhere from 24 to 39 minutes in the air.
The reason it takes so long is because of how mountainous the area is, as well as the directions of the runways, which means a lot more than 29 miles of flying is required.
This Vail to Aspen flight is part of a longer journey between Dallas and Colorado, as a plane flies from Dallas to Vail to Aspen to Montrose to Dallas.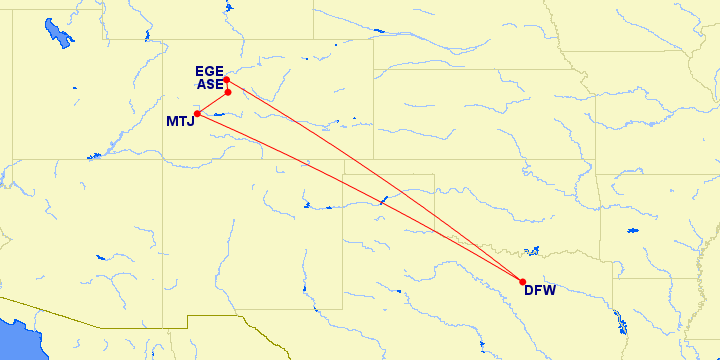 If you want to fly from Vail to Dallas, that means you'll have quite a journey, as you'll have to fly via Aspen and Montrose.

Why would American operate this route?
As part of the roughly $50 billion in funding that US airlines got through the CARES Act, they had to agree to several conditions. One of those conditions is that US airlines had to agree to maintain service to all US airports that they previously served.
They didn't have to maintain all the same routes and frequencies, but at a minimum they needed to maintain at least some service to all airports that previously belonged to their network.
With demand way down, we're seeing airlines operate all kinds of triangle flights and milk runs in order to meet their obligations while minimizing losses… and that's how routes like this happen.
Soon US airlines will be allowed to drop service to some markets through an application process, so some of these creative, short routes might not exist for that long.
The shortest flight in the world
Personally the shortest scheduled flight I've taken in the US was between Los Angeles and Orange Country, as United Express used to operate that back in the day.
The distance between the two airports is just 36 miles, and it used to be a great way to rack up additional EQMs on mileage runs. Ah, those were the days!
The shortest scheduled flight in the world is between the Scottish islands of Westray and Papa Westray — the flight covers a distance of 1.7 miles, and takes just about a minute. Suffice to say that this flight is on my bucket list.
Bottom line
It sure is interesting to see some of the routes that have emerged as a result of CARES Act requirements. Through at least June 1, 2020, American will be operating a flight between Vail and Aspen, in order to maintain service to both airports.
Alaska Airlines has also been operating some creative tag flights in order to maintain service to all airports.