It's amazing how American Airlines has transformed their fleet over the years, both for better and worse. When I started flying American the MD-80s were the backbone of their domestic fleet, and the 737s were mostly still new.
Back in the day American Airlines had over 280 MD-80s in their fleet. While these weren't the greatest planes in the world, in a way I enjoyed flying them — they offered a great ratio of first class to economy seats (meaning upgrades on these planes were fairly easy), I liked that there were only five seats per row in economy, and first class was always quiet due to the engines being in the back.
American Airlines had pushed back their MD-80 retirement for a while. That's because when oil prices dropped there wasn't as much pressure to get rid of these planes, since they are gas guzzlers.
This year American Airlines is getting rid of their last remaining MD-80s, and the airline has now officially announced retirement plans. On September 4, 2019, American Airlines will retire their last 26 MD-80 aircraft.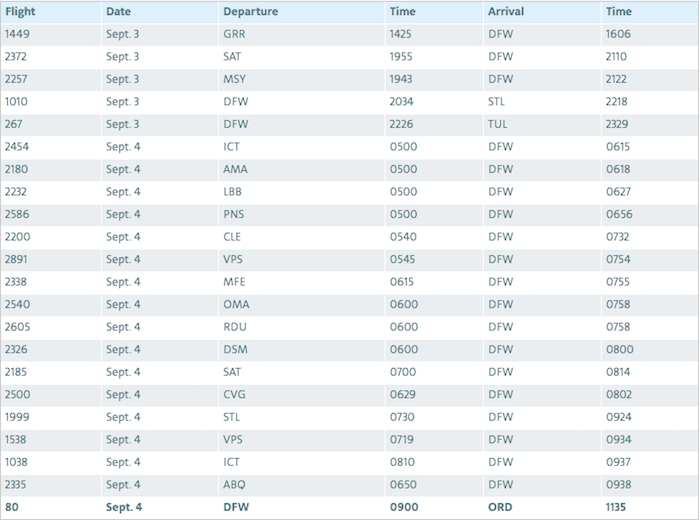 So while American has published the schedule for nearly two dozen of the last revenue flights for these planes, the absolute last revenue MD-80 flight will be from Dallas to Chicago on September 4 — fittingly on flight AA80.
The flight is scheduled to depart at 9AM and to arrive at 11:35AM, pending any maintenance issues. 😉 The flight is sold out in both economy and first class, which is because many people had noticed this anomaly in the schedule, and proactively made bookings.
It's funny how things change over time. In 2015 I wrote a post entitled "Dear American: Retire Your MD-80s!" The gist of the post was that they were constantly having mechanicals with those planes, and also that American's newer planes were much nicer.
It is interesting that American isn't further delaying retirement of the MD-80s, given that the 737 MAX is grounded. I guess they'll have some slack in the schedule after the busy summer travel season, but even so…
Anyone plan to be on one of the last MD-80 flights? Are you happy or sad to see these planes retired, given the current state of American Airlines?
(Featured image courtesy of DearEdward)