On Monday I flew home from Munich to Washington Dulles in Lufthansa first class. I was originally going to fly home on airberlin in their new business class, but due to a lack of hotel availability in Dusseldorf ended up canceling and booking Lufthansa instead.
So yeah, not asking for much sympathy having switched from airberlin business class to Lufthansa first class.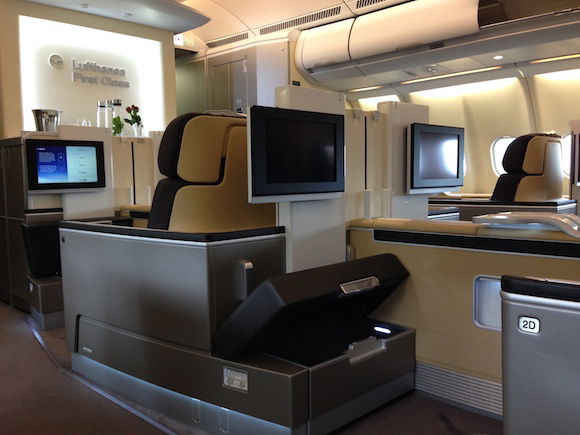 Lufthansa A330 new first class
An amazing flight in a private first class cabin
Now even though Tiffany might disagree with me, I'd argue just about every Lufthansa first class flight is fantastic. 😉
But Monday's flight was especially fantastic, with some of the best service I've ever had.
Upfront I should say that there's nothing quite like having a completely private first class cabin. I've flown well over a hundred segments in international first class, and nothing gets me quite as giddy as having the entire cabin to myself, which has happened to me a half dozen times over the years.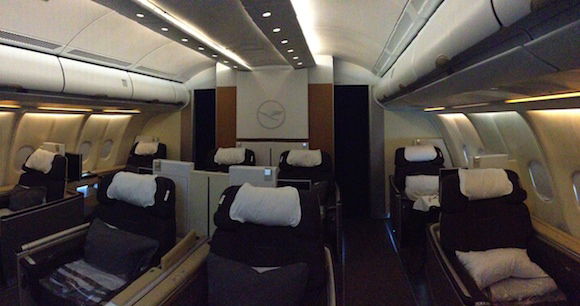 Private Lufthansa first class cabin
I had two flight attendants, six bottles of champagne, and two bathrooms all to myself (lemme tell you, maximizing one of those without maximizing the other(s) is a challenging task!).
And of course I had virtually unlimited caviar as well, which is a blessing, since Lufthansa's menus out of Germany leave a lot to be desired.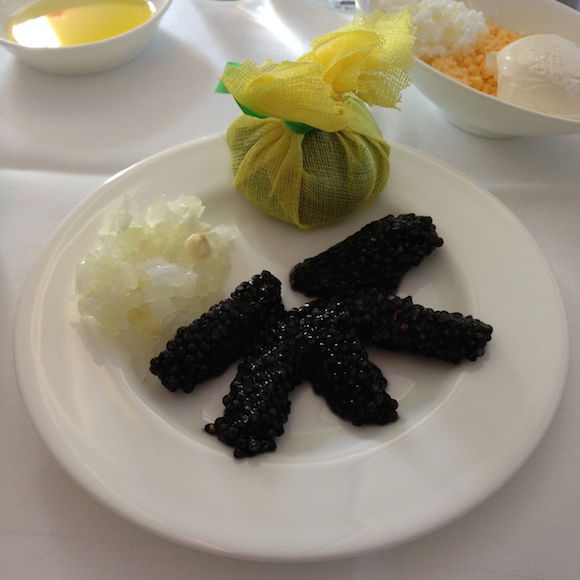 "More caviar, Sir?"
Lufthansa has the unique ability to make dessert sound unappealing. I swear they're on my mother's payroll…


Lufthansa dessert menu
Like, does anyone wake up in the morning and say "man, I could really go for some whisky mascarpone cream with… confit of green tomato and pineapple?" Didn't think so!
But back to the other aspects of Lufthansa, which rock. Both of the flight attendants working first class were just top notch.
Since I was awake the whole flight, the crew literally checked on me every ten minutes all the way across the Atlantic. They didn't just walk by, but every time said something along the lines of "Herr Schlappig, kann ich ihn noch etwas Gutes tun?" (literally translated "can I do anything else good for you?") or "Womit kann ich ihnen Freude bringen?" ("with what could I bring you joy?").
It was just an all around spectacular flight, and I'll have a full trip report soon.
Lufthansa's FlyNet Wi-Fi working better than ever before
One thing that really sets Lufthansa apart from the competition is FlyNet Wi-Fi. Forget all the other "fluffy" airline amenities — being able to stay connected on a transatlantic flight is invaluable. And I have to say that FlyNet Wi-Fi was extremely fast on this flight, the fastest I've ever experienced. I know earlier in the year they were doing some repairs on the network (which caused it to be free for a couple of months), and it seems those repairs worked. The Wi-Fi was faster than what you'd get on GoGo, and there were no service interruptions.
Lufthansa's amazing ground handling at Washington Dulles
What impressed me most was the ground handling at Washington Dulles. Last November Lufthansa improved their ground service at Washington Dulles for first class passengers and HON Circle members. When you land at Dulles you ordinarily have to take the mobile lounge/people mover/moon buggy to immigration, which is a bit of a buzzkill after a long flight.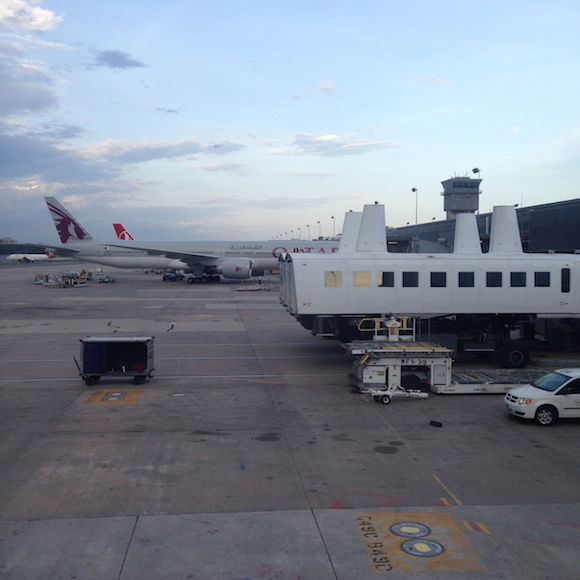 Dulles people mover (on the right)
Last November they added a separate party bus of sorts, which drives first class passengers across the tarmac to immigration.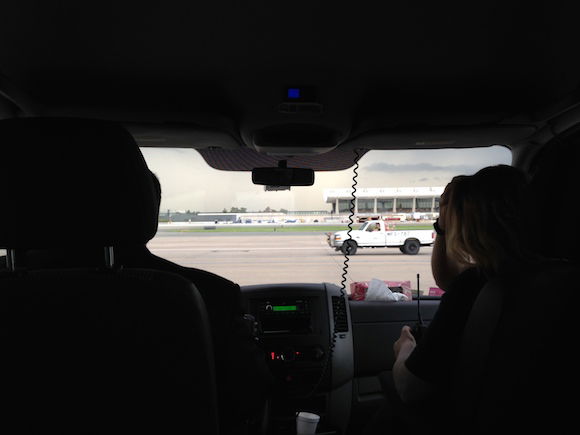 Private bus to immigration
So as I deplaned I was met by an agent that had a sign with my name on it. She escorted me down the bridge to an elevator, which took us down to the tarmac, where I boarded a bus to immigration.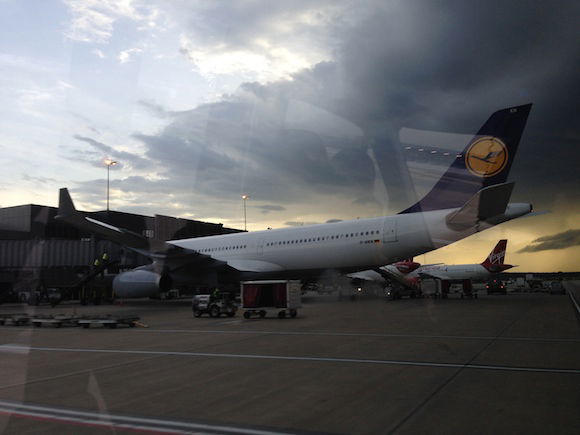 Lufthansa A330 upon arrival
On the ride to immigration the awesome Lufthansa agent confirmed that my checked bag was on the flight and should be at baggage claim in less than five minutes.
HUH?! I stopped her mid-sentence — "wait, you're telling me that my checked bag off an international flight will be at baggage claim in less than five minutes?" "Hopefully even faster than that," she responded. There aren't many things that truly catch me by surprise, but this did. So I said the first thing that popped to my mind — "I don't believe you, that just can't be." She smirked, and said "we'll see."
She explained that at Washington Dulles the Lufthansa station manager personally grabs the first class bags and drives them across the tarmac to baggage claim. I completed Global Entry, and as soon as that was complete the Lufthansa agent escorting me radioed the station manager and told him to drop the bags off at Belt 4. Within less than a minute my checked bags had arrived.
All-in-all I was curbside after an international arrival at Dulles with checked bags seven minutes after the aircraft door opened. I was so impressed I didn't know what to do with myself. I was speechless.
Bottom line
First class products have improved a ton over the past decade, and there's no doubt airlines are trying to add gimmicks to differentiate themselves. While I thought I had seen it all as far as international first class service goes, this impressed me more than just about anything else. At the end of the day if you can save 30 minutes on your arrival that's more valuable than whether the airline offers caviar or serves a good champagne (though coincidentally in the case of Lufthansa, they do both).
Seriously, between international Wi-Fi and service like this, I really do think Lufthansa offers one of the best first class products in the world.