I'm generally a pretty risk averse person, but when it comes to travel I'm not afraid of a bit of uncertainty.
I've booked non-refundable hotel reservations plenty of times without actually having tickets booked to that destination, due to a lack of award space. And similarly I've planned non-refundable flights to destinations where I can't find any reasonable hotel options.
The cool thing about the airline and hotel industry is that they're selling really perishable goods. Like, really, really perishable. Even if there's no space whatsoever right now, chances are space will open up at some point, if you're willing to take a chance and wait. Some peoples' plans always change, and if you're able to wait till the very last minute to book, you'll almost always be in luck.
Taking this approach has never let me down… until today.
Let me 'splain.
I've spent the past week in Sicily, and actually flew to Sicily without having a return flight booked.
I knew I needed to be back in the US at some point this week, though my plans didn't firm up until late last week. Last Thursday I realized I needed to be in the US by this Tuesday, so I hopped online to look at award space.
I found a great award option in Airberlin's new business class through Dusseldorf and Miami, which I was quite looking forward to trying. And at 50,000 American AAdvantage miles one-way without fuel surcharges, it's a value that's tough to beat. The routing required an overnight in Dusseldorf, which isn't surprising since most flights out of Catania have a pretty screwy schedule.
After locking in my flight back to the US on Thursday I looked at hotel availability in Dusseldorf, and saw virtually nothing available. I didn't think twice of it, and decided to keep monitoring for rooms to open up. After all, some rooms almost always open up as the cancellation deadline approaches.
So I monitored… and monitored… and monitored… and nothing opened up. Like, at all. Seriously, I've planned similarly many times in the past, and never had any issues.
How dire was the situation? A standard room at the Best Western was $810USD per night. How is that even a price for a standard room at a Best Western?!

So I went to sleep last night hoping I'd have better luck this morning. I got up at 7AM and my flight was scheduled to be shortly before noon.
And still nothing reasonable was available in Dusseldorf.
Nada.
Nor anything in Cologne, nor anywhere else nearby either.
While I'm sure I ultimately would have figured something out, at that point I figured I'd look at other flight options. As it turned out Lufthansa not only had first class award space from Munich to Washington Dulles, but the cabin was completely empty, so I'd be the only passenger booked in first class.
As of early this year Aeroplan allows one-way Star Alliance award bookings, so for 62,500 Aeroplan miles I could fly first class from Catania to Washington Dulles (which is where I needed to fly anyway).
They do impose fuel surcharges for these redemptions, though between the taxes and fuel surcharges they totaled ~$400, compared to the ~$100 in taxes I would otherwise pay. I'd say that's not too bad, and the fuel surcharges will effectively be reimbursed with my Barclaycard Arrival miles.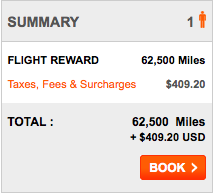 I redeposited the American AAdvantage award for free since I'm an Executive Platinum member and transferred points from American Express Membership Rewards to my Aeroplan account, which already had some orphaned miles from the SPG promo last winter.
Ultimately I saved the cost of a hotel (or having to sleep at the airport in Dusseldorf, based on how dire things were looking), and have a private first class cabin from Munich to Washington Dulles with Wi-Fi, so I can even be productive while sipping all the champagne my heart desires, which is tough to beat for a Monday.
So while this is the first time that speculatively booking "failed" me, it still all worked out in the end.
Does anyone else speculatively book travel and hope for space to open up? If so, what has been your success rate?