In late February I wrote about how Alitalia is on the verge of running out of cash. Without a new investment or business plan, they were expected to run out of cash by the end of March. This shouldn't come as much of a surprise, given that they've been on life support for quite a while, but always had investors come through last minute.
Last week I wrote about Alitalia's ridiculous new business plan, which their board was expected to approve by the end of the week. Well, sure enough the board approved the plan, which Alitalia has now published. I think the bullet points should tell you everything you need to know about the odds of success with this plan:
€1 billion cost reductions by 2019
Revenue to increase 30 per cent by 2019
Profitability by 2019
Fleet reduced by 20 narrow-body aircraft
New competitive proposition for short and medium-haul aircraft fleet
Yes, they plan on reducing their fleet by 20 planes and increasing revenue by 30% over the course of a couple of years. That's not a joke… apparently. For context, in 2015 they said that they'd break even by 2017, when in reality they're performing worse than ever before.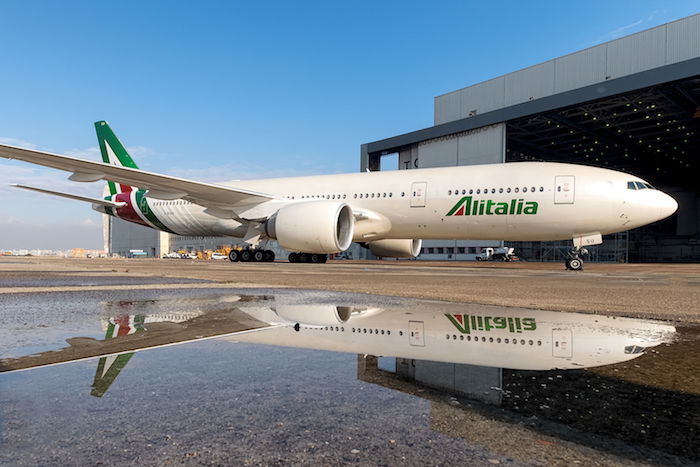 Here are the basics of their four part plan:
1. A recalibrated business model

Narrow body planes for the short and medium haul will see an increase in utilisation, extra seats are being fitted, buy-on-board and ancillaries services and more attractive air fares will be introduced in a concerted drive towards increasing revenue while stripping out existing costs.

Alitalia's wide-body intercontinental flights will be based on a full-service model and maintain an intense focus on costs and efficiency. In addition to Alitalia's A330 fleet, the carrier's Boeing 777s will be fitted with new in-flight entertainment and Wi-Fi. Alitalia's new flagship aircraft, a 382 seater Boeing 777-300ER, will join the long-haul fleet in August 2017

2. Cost reductions and increased productivity

Low cost carriers currently represent 47 per cent of the Italian air travel market, the highest market penetration in Europe.

Talks are already underway with a number of the airline's suppliers to renegotiate contracts and drive down costs to levels comparable with the competition. Target companies are in sectors such as aircraft leasing, global distribution, in-flight catering, airport ground handling and airports themselves.

3. Network and partnership optimisation

Alitalia will rebalance its fleet of aircraft by 2018, reducing its narrow-body fleet by 20. The airline will increase aircraft utilisation with a particular focus on short and medium-haul aircraft. Alitalia plans to grow its number of flights from Italy to the Americas – one of its most underserved markets – and build its presence at Milan Linate, Sicily and Sardinia. The airline will re-evaluate its transatlantic options to try and fly more often on existing routes and to add new cities in the Americas.

4. Develop new commercial initiatives by utilising technology investments to drive revenue

Alitalia has invested €200 million in the last two years on new technology and it will now use the investment to improve efficiency and productivity to drive further revenue opportunities.
So basically they'll try to drive down costs (among employees, suppliers, etc.), will introduce buy on board catering on short-haul flights, will increase aircraft utilization and add more seats to existing narrowbody planes, etc.
Meanwhile they're adding a 777-300ER to their longhaul fleet. It's my understanding that Alitalia isn't making money on most of their transatlantic flying either, so I'm a surprised to see them trying to expand longhaul flying, given the amount of competition in the market.
In the next two years Alitalia also wants to grow their percent of direct online bookings from 20% to 50% in order to lower costs, which seems highly optimistic.
While all of these things can help them improve results somewhat, let's keep in mind that over the course of two years they believe they can decrease the size of their fleet by 20% and increase their revenue by 30%.
It was also rumored that one of the conditions of this plan being approved is that they have a change in leadership. At the moment Alitalia's CEO is a former Etihad executive, and apparently they want to get rid of him. It shouldn't come as much of a surprise that this isn't mentioned in the press release, though.
So, why are the banks bailing out Alitalia again, when we all know this won't work? I think reader Leonardo nailed it in a comment he left on the last Alitalia post:
The banks which are supposed to lend money to Alitalia are Intesa SanPaolo and Unicredit, the 2 biggest banks in Italy with massive political implication and infiltration. Alitalia has survived so long because of political reasons (nobody in the parliament wants to be responsible for 12,000 job losses and leaving the country without a carrier), so they force the banks to keep the airline alive. Of course the banks know they will not have any ROI, but in exchange for saving Alitalia, they will benefit from favorable policies which they need in other situations and which the parliament will approve for them. Beside, most of the debts of Alitalia are towards other Italian suppliers, which won't see a dime if Alitalia goes bankrupt. Therefore, the economic circle will keep spinning, for everybody's benefit. For non-italian it might sound hard to understand, but unfortunately it makes quite sense here.
My prediction? Alitalia's situation won't get any better by 2019, and at that point they'll promise 2021 for profitability. 😉