Over the past decade we've seen the "big six" US carriers turn into the "big three," though that hasn't been the extent of consolidation in the US airline industry. It has gone beyond that, as we've seen mergers between low cost carriers as well, including between Southwest and AirTran.
It looks like the consolidation in the US airline industry may not be over, with this morning's news from Virgin America.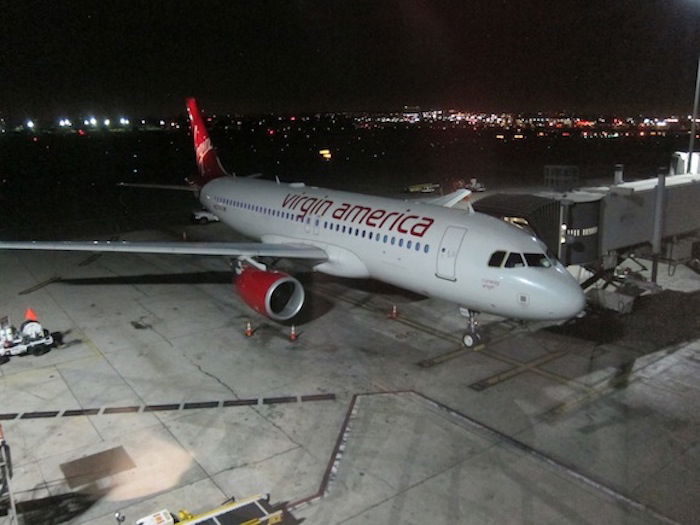 Virgin America stock has shot up today, following speculation of them reaching out to buyers for a potential sale. Per Bloomberg:
Virgin America Inc., the airline backed by U.K. billionaire Richard Branson, is reaching out to potential buyers about a sale of part or all of the company, people with knowledge of the matter said.

The carrier, which flies to destinations throughout the U.S. and Mexico, is working with a financial adviser after receiving takeover interest, the people said, asking not to be identified as the matter is private. No decision has been made, and Virgin America may choose not to pursue a sale, they said.
The airline had its initial public offering about 18 months ago, with shares going on the market for $23 each. Today their shares have reached as high as $35.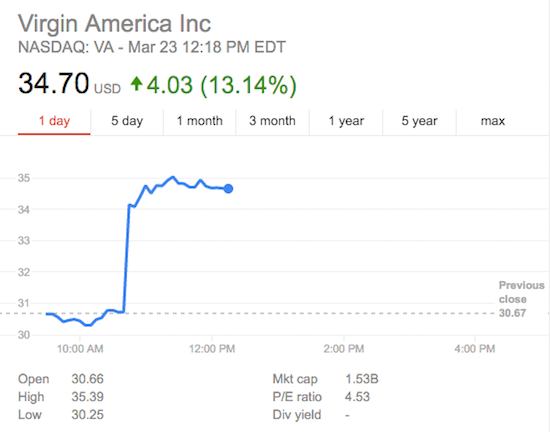 Virgin America has been turning profits since 2014, though was struggling before that, since they were founded in 2007. I don't think Virgin America's recent success is specific to anything they're doing, but rather just reflects the overall turnaround in the US airline industry. Just look at how well American and Delta are doing.
Virgin America has long had a hybrid business model on many levels, or at least has taken on a different business model than many other low cost carriers.
They have a fantastic inflight product, both in economy and first class. Economy has power ports at every seat, Wi-Fi, and inflight entertainment. First class features recliner seats which are like old international business class seats. That means they're providing an incredible premium product on short-haul flights (though can they command a premium for it?), while they're providing a lackluster product in premium transcontinental markets, like New York to Los Angeles/San Francisco, where the competition has flat beds.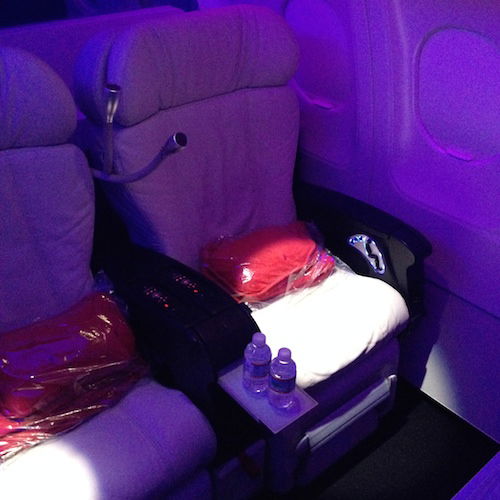 Virgin America's route network is sort of uninspiring, as it basically just overlaps much of what's offered by the legacy airlines. The problem is that they don't offer the route network or frequency of the legacy carriers operating in their markets, which means they're forced to compete on price. So they don't excel in markets in the same way that Alaska does in the Pacific Northwest, or Southwest does for point-to-point routes which aren't otherwise served.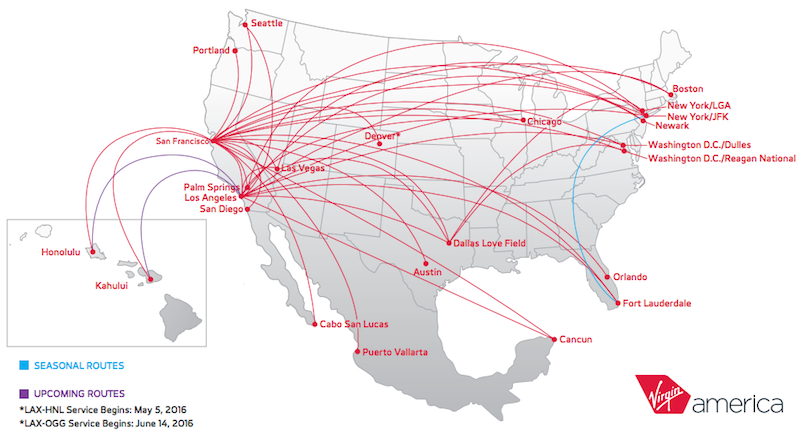 If Virgin America were to be taken over by another airline, it would most likely be for the purpose of eliminating competition and/or picking up planes:
The US airline industry is doing pretty well right now and is largely buying new planes, so trying to eliminate competition doesn't seem like it's worth the money, as further capacity cuts don't seem to be in the cards
Buying used planes is cheap nowadays (as Delta's Richard Anderson has shown), not to mention many US carriers have a lot of planes on order
Sure, some airlines might want to take over some of Virgin America's routes. If it's a major carrier, however, chances are that the government would make them give up some slots at restricted airports, to avoid anything close to a monopoly.
So who does that really leave? I don't see any synergies with Allegiant, Frontier, or Southwest. But there is one candidate where this could make a lot of sense — JetBlue.
They have a similar type of fleet, and operate a similar general business model on the East Coast, while Virgin America is stronger on the West Coast. They're both known for their strong inflight product, and in theory could complement one another nicely. So my money is on the talks being between JetBlue and Virgin America.
Bottom line
Virgin America is an airline which historically wasn't doing very well financially, given that they primarily operated in extremely price competitive markets. While they have a great onboard product, they haven't really been able to command a price premium for it, since they haven't been competitive with their route network or frequencies.
Virgin America is doing well right now largely because all US airlines are doing well, and not because they've somehow cracked the code to airline success. And it seems they know that and think they're at the top of their game right now, or else they might not be looking to sell.
While Virgin America is just fishing at this point, a merger with JetBlue could certainly make sense. They're both strong on their respective coasts, and together could offer a more comprehensive route network.
Who do you see Virgin American hooking up with?
(Tip of the hat to @gobears99)