I'm a big fan of Alaska Airlines, and in particular their Mileage Plan frequent flyer program. On the passenger experience front, the airline has above average employees and doesn't have basic economy fares. Their frequent flyer program is arguably the best in the US, and they have a nice variety of partner airlines that make it easy to earn status without actually flying Alaska that much. Their miles are extremely valuable, which is why I like to credit miles to them, even if I don't actually fly Alaska that often.
Last year I had top tier Alaska MVP Gold 75K status, though as of this year I dropped down to MVP status. It's a bummer, though I don't fly Alaska enough to care that much. I don't value the additional upgrades on Alaska much, but rather my favorite MVP Gold 75K benefit was earning a 125% mileage bonus on tickets (rather than the 50% mileage bonus offered to MVP members).

The good news is that I already have enough travel booked for 2018 to qualify for MVP Gold, based on the Emirates first class ticket I've already flown, and the Emirates first class ticket I have in a few months.
Alaska just sent me a very interesting targeted offer. Specifically, Alaska is offering me MVP Gold 75K status if I fly 20,000 miles with Alaska and Virgin America between January 18 and April 15, 2018.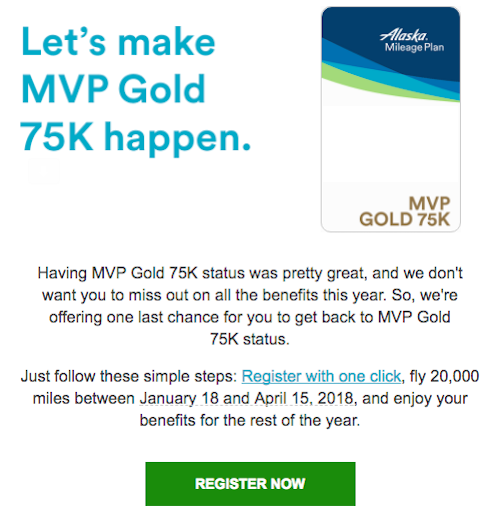 The terms associated with this offer are as follows:
Terms & Conditions: Only Mileage Plan™ members who receive this offer directly from Alaska Airlines via email are qualified to participate. Qualified members who fly 20,000 miles between January 18, 2018, and April 15, 2018, will be granted Mileage Plan MVP® Gold 75K status through December 31, 2018. Registration is required prior to your first qualifying flight. Mileage for all segments accrued toward this promotion must be earned on eligible flights operated by Alaska Airlines (flight numbers 1-999, 2000-2999, 3450-3499), or on flights operated by Virgin America and marketed by Alaska Airlines or Virgin America (flight numbers 0001 – 1999), and credited to your Mileage Plan account by May 15, 2018. Award or free travel is not valid for this offer. Class of Service or Elite Bonuses do not count toward qualification for the promotion. MVP® Gold 75K status will take effect 10-14 days after your last qualifying flight and will be valid through December 31, 2018. Please allow six to eight weeks to receive your new card. Offer is subject to change and all terms and conditions of the Mileage Plan program apply.
At first thought I'm extremely tempted. This is an easy way to earn MVP Gold 75K status with just 20,000 flown miles, rather than the usual requirement of 75,000 miles (or 90,000 miles if you fly on partner airlines). They're basically asking you to fly about a quarter of the requirement over the course of a quarter of the year.
However, only flights on Alaska and Virgin America qualify, and class of service bonuses don't qualify either. It's one thing if I could fly paid first class and earn those 20,000 miles faster, but I actually have to fly 20,000 "butt in seat" miles on Alaska.
As much as I love Alaska, that's a lot of flying to do on their planes. 😉
It's also not clear if completing this offer will earn the 50,000 bonus miles that you usually get when qualifying for MVP Gold 75K status. You get this if you qualify the hard way, but not if you status match, so my guess is that those who complete this offer wouldn't earn the 50,000 bonus miles (though this is different than a status match).
This is a very generous offer, and I'm sort of tempted. But I also don't think I actually want to fly 20,000 miles on Alaska as an MVP member. What I love about the Alaska Mileage Plan program is the ability to travel on other world class airlines and earn valuable miles, rather than actually flying Alaska (as much as I respect the airline)
It's still an interesting offer that I figured was worth sharing.
Has anyone else received an Alaska status fast track offer? Do you plan on taking advantage of it? Am I crazy for not taking advantage of it?