Yesterday I flew Alaska A320 first class from Los Angeles to New York (formally a Virgin America plane). I've reviewed Virgin America's transcon first class experience, and have also written about my experience flying this route a while back. In this post I wanted to touch on a few points that I found especially interesting.
Alaska upgrades on former Virgin America planes are surprisingly easy
Former Virgin America planes only have eight first class seats, so you'd think upgrades would be tough to come by, given how few seats people are competing for. Back in the day Virgin America didn't offer complimentary upgrades, while Alaska now offers complimentary upgrades to all elite members on all routes.
Despite the cabin having just eight seats, last time I flew the route the cabin went out full, but there wasn't a single person on the upgrade list. I figured that was a one-off. On the flight yesterday, we left with only two people on the upgrade list.
I don't know what causes this:
Maybe out of habit some Alaska elite members stick to Alaska 737s rather than A320s
Maybe elite members assume upgrades on these planes aren't possible or are very difficult to score, given the small cabins
But at least based on my two experiences, I'm quite surprised.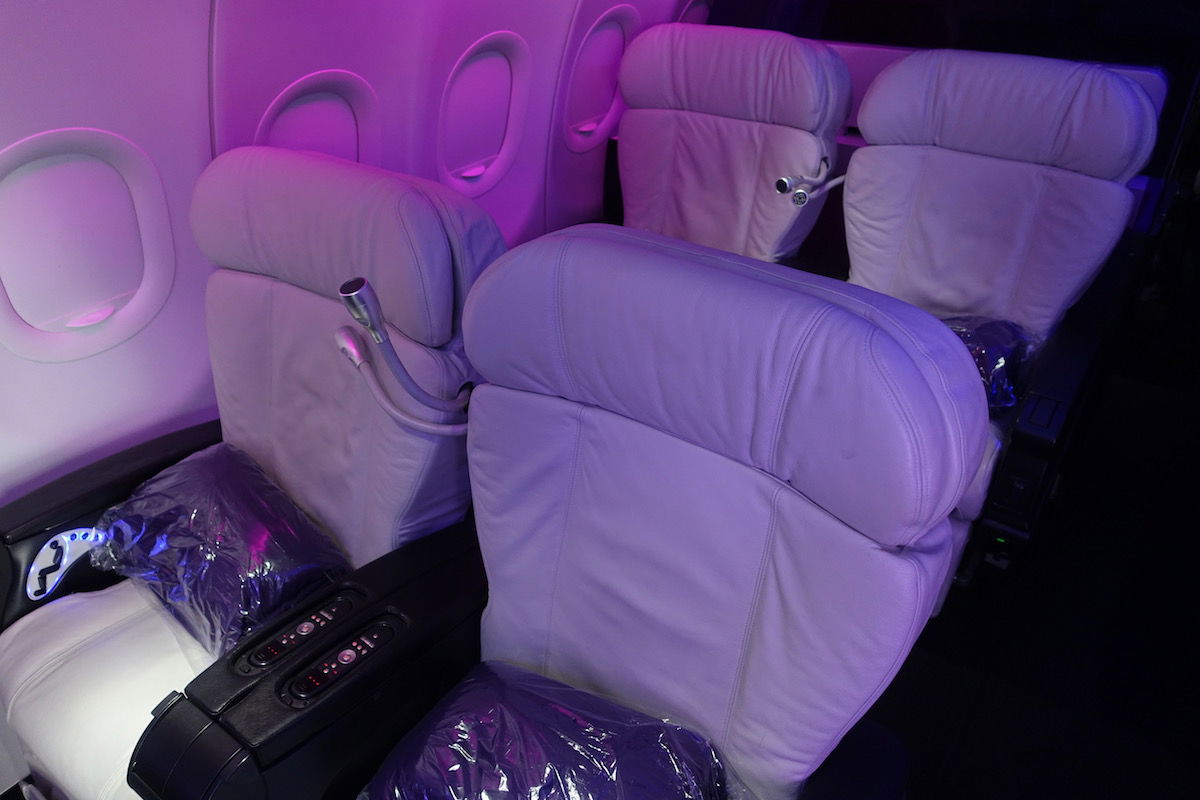 No blankets or pillows, seriously?!
Alaska Airlines already has an uncompetitive product between Los Angeles and New York. All their competitors offer flat beds, while they just offer recliner seats, and soon they'll install even less comfortable seats. Nonetheless they keep charging premium prices for the route.
I was offered pillows and blankets the last time I took this flight, and I know going forward Alaska intends to offer these on transcons.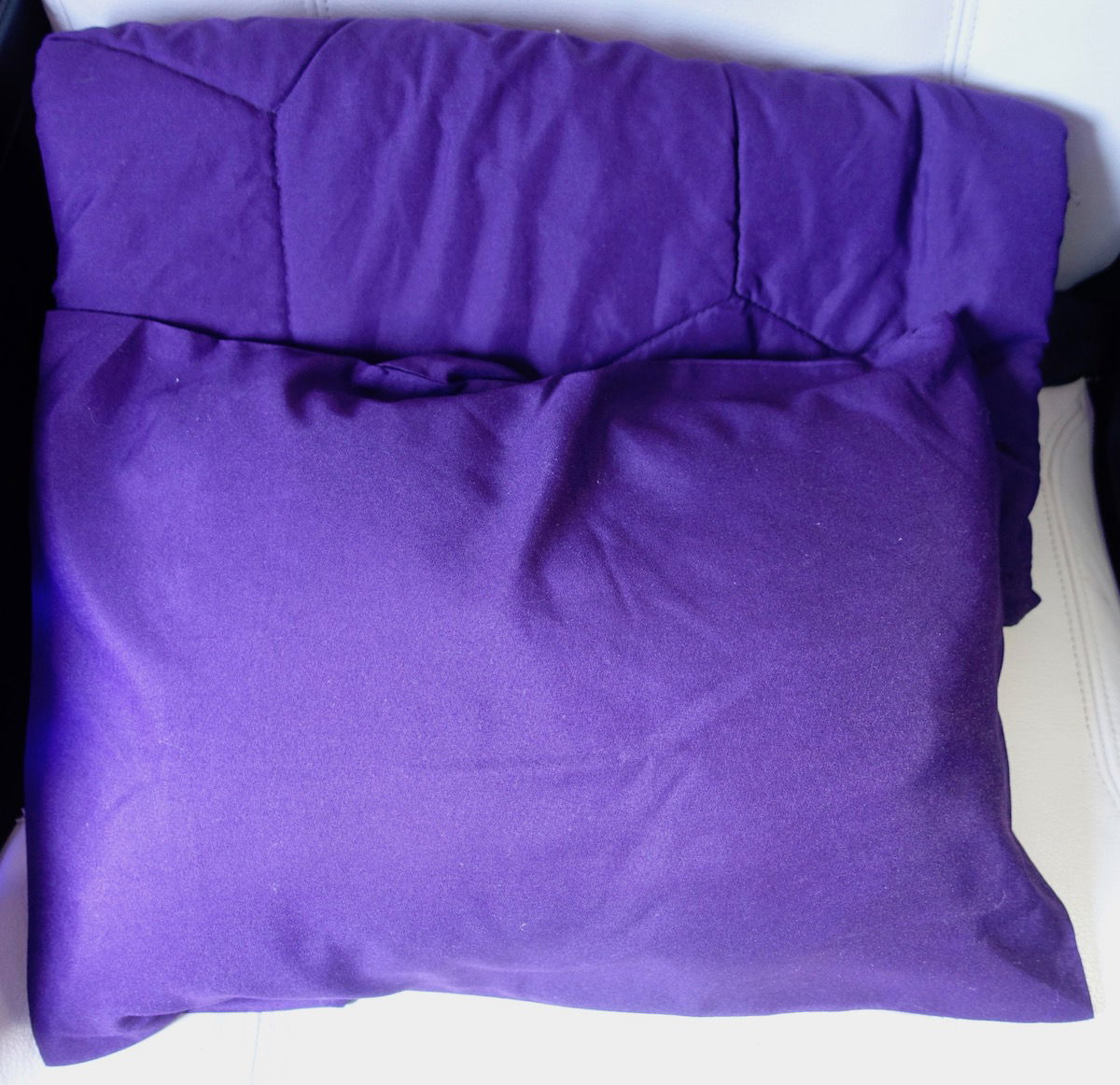 So I was quite disappointed when they didn't load them on this flight. This wasn't just a one-off, but when I asked the flight attendant about it she said "yeah, it's hit or miss out of LAX."
Maybe they need to try harder to "hit," especially on a premium transcon route?
Trying out Alaska's new first class summer menu
Alaska recently announced how they were rolling out a summer menu with "west coast suppliers favored."
Here's the menu for my lunchtime flight: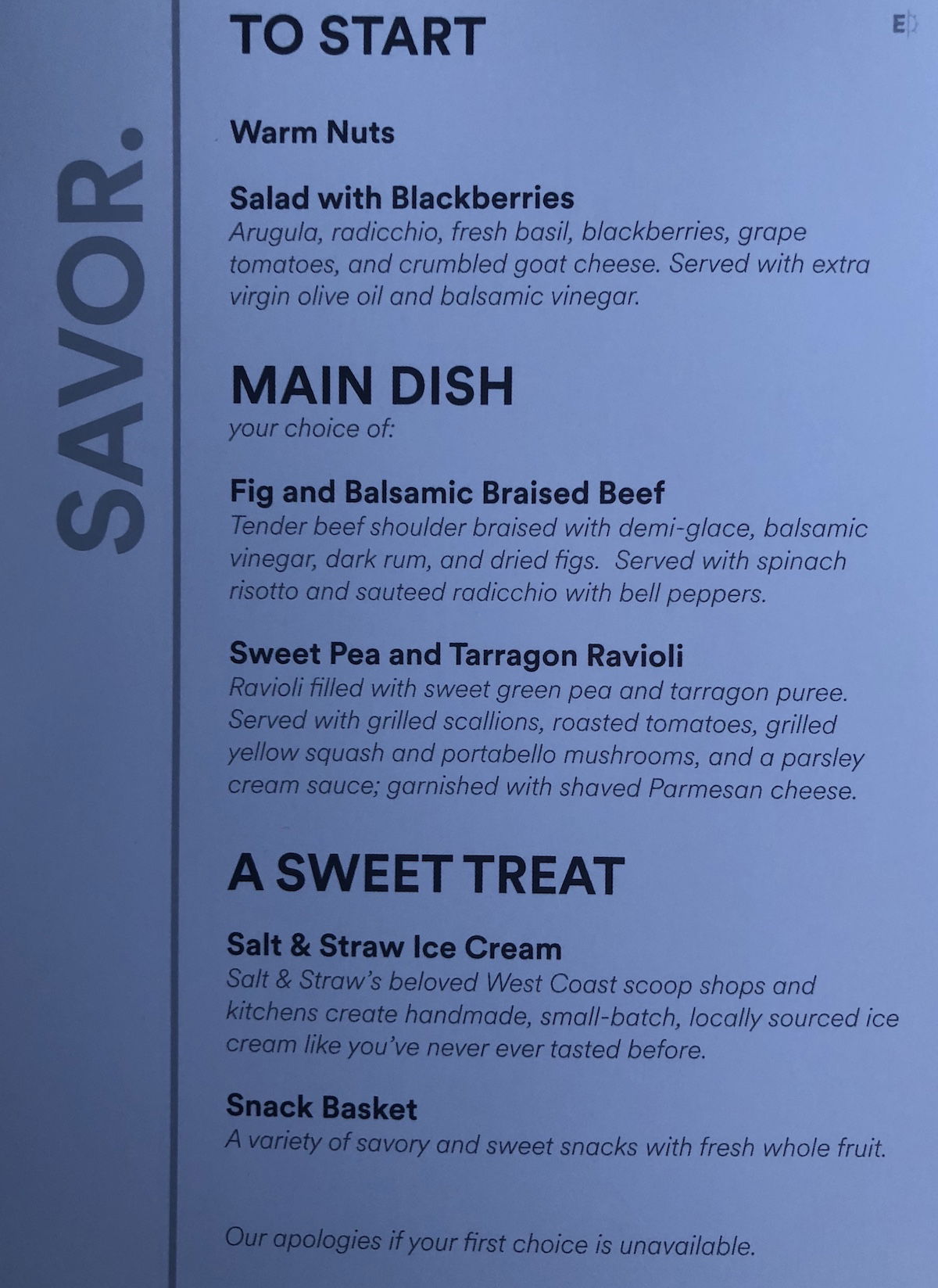 Service began with drinks and small ramekins of mixed nuts.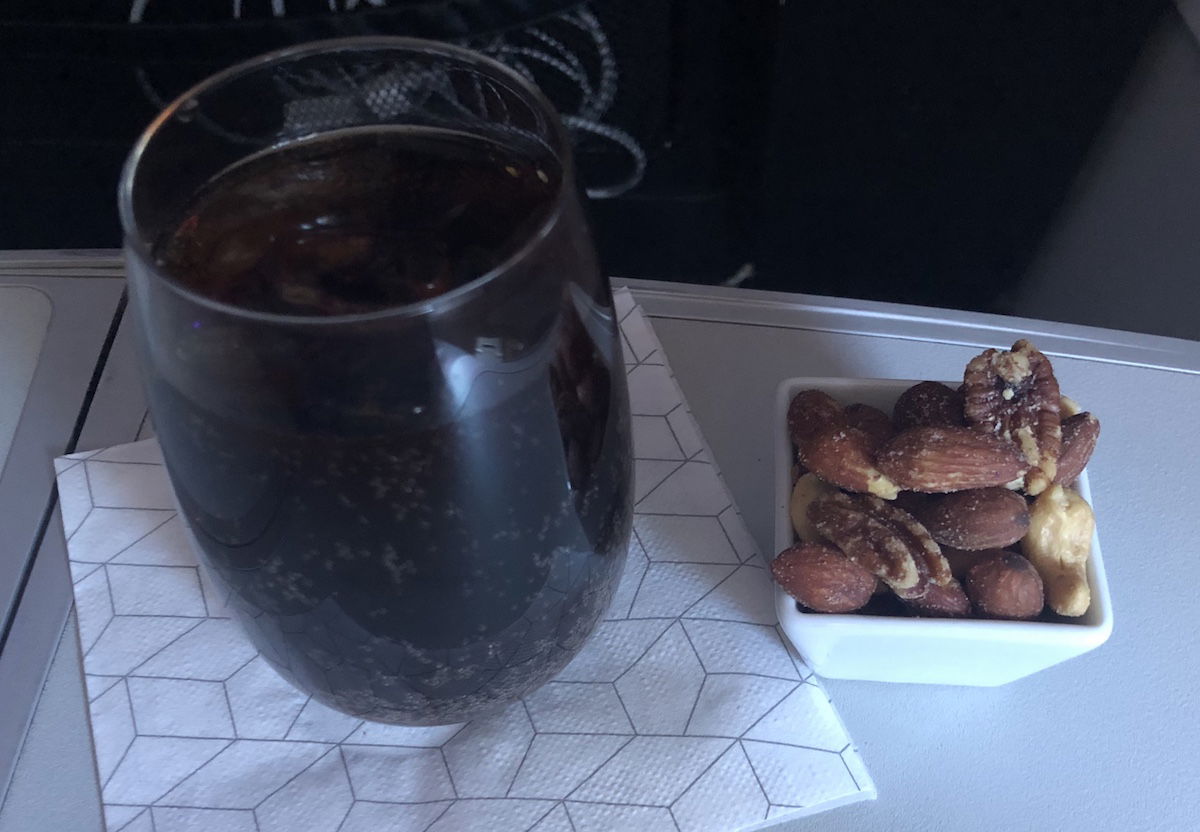 Alaska's meals are relatively small, and unlike most of their competitors, there's no appetizer. I was served a single tray with the appetizer, main course, and bread.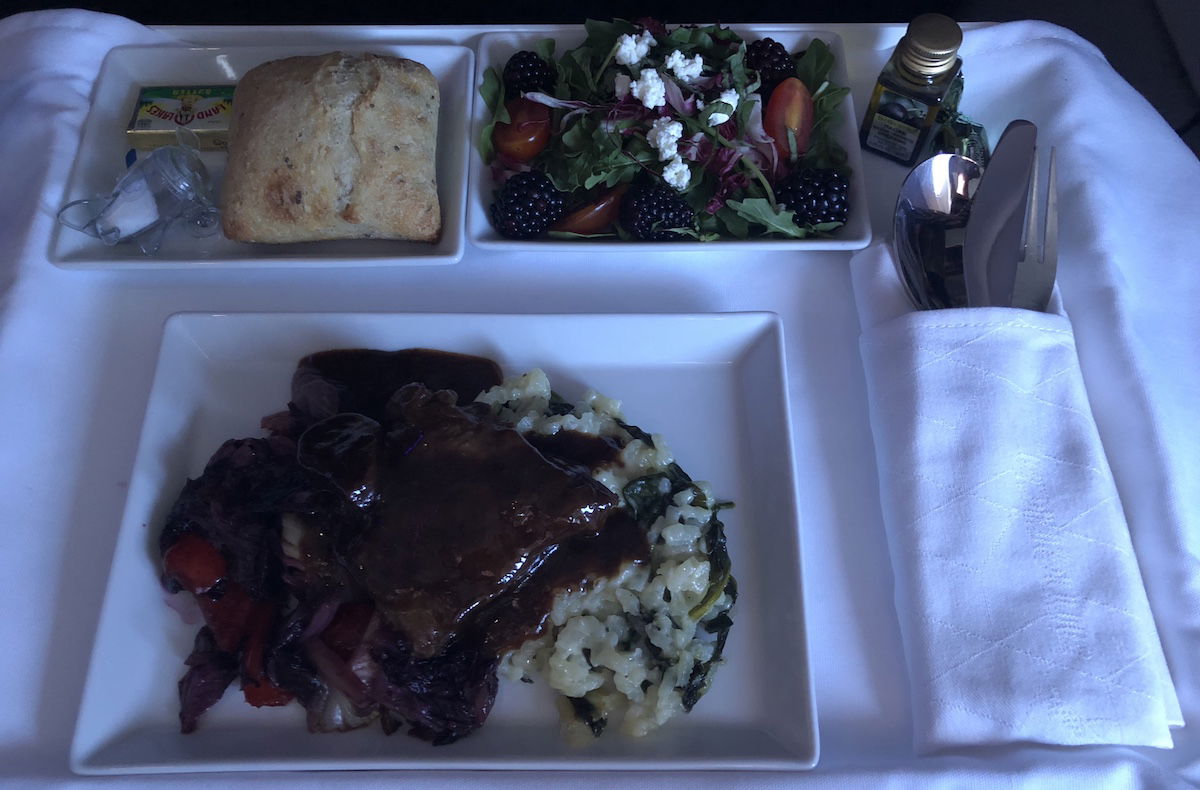 On the plus side, the food itself was excellent. The appetizer consisted of salad with blackberries, arugula, radicchio, fresh basil, blackberries, grape tomatoes, and crumbled goat cheese. The main course consisted of fig and balsamic braised beef with spinach risotto.
For dessert they had sea salt with caramel ribbon Salt & Straw ice cream. For those of you not familiar, Salt & Straw is a popular west coast brand, and their ice cream is exceptionally tasty. However, the older I get the more I realize that I might sorta kinda be a little lactose intolerant, and nothing instantly makes me feel that way quite like Salt & Straw, because their ice cream is so rich.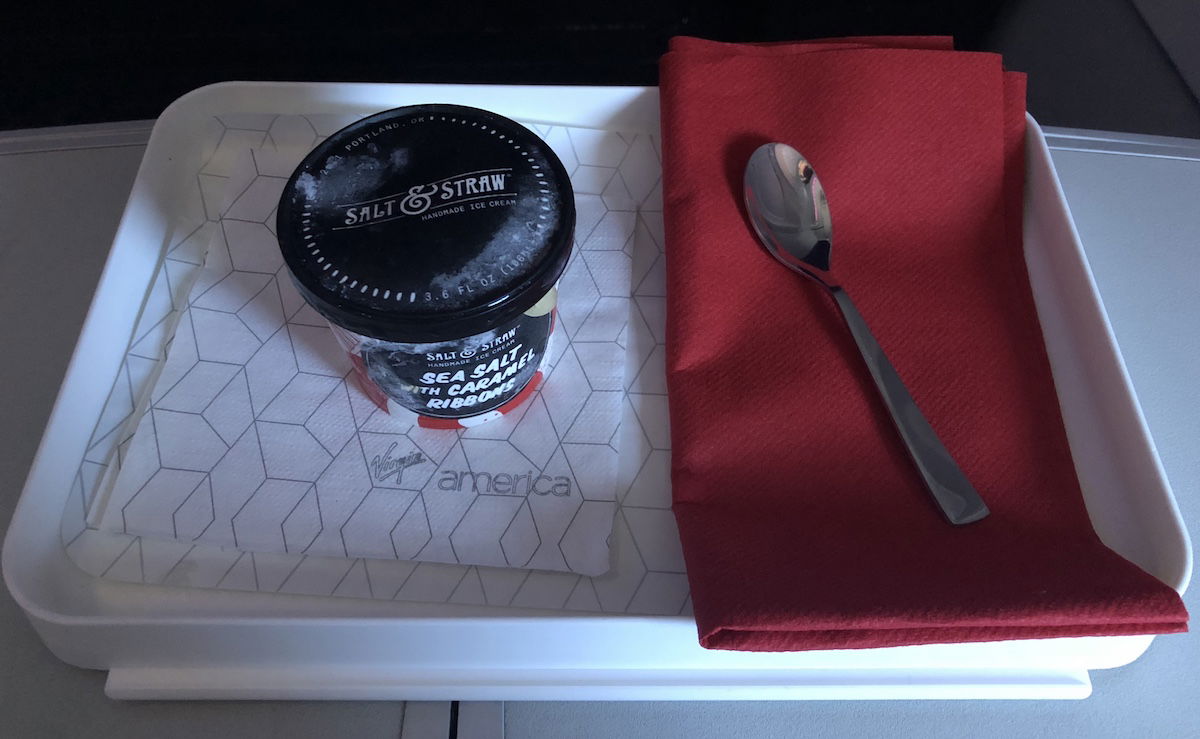 So yeah, Alaska deserves credit for serving very high quality food, though the meals are definitely smaller than on other airlines, and the meal services aren't as drawn out (both of which I'm fine with).
Bottom line
I can't believe how easy upgrades have been on my recent Alaska flights operated by former Virgin America planes. I have to be really strategic to clear an upgrade on American between Los Angeles and New York, so I'm a bit surprised upgrades are so easy with such small cabins.
Alaska meal service is solid nowadays, and it definitely feels more to me like what Virgin America used to offer than what Alaska used to offer, and that's a good thing.
Now they just need to figure out their blanket situation.
If you've flown Alaska on a transcon lately, what was your experience like?