Alaska Airlines has revealed plans to transform the airport lobby experience. Perhaps most interesting of all, this will involve eliminating check-in kiosks.
How Alaska is transforming the airport experience
Over the next three years, Alaska Airlines is investing $2.5 billion in its airport experience, in particular at hubs and focus cities, including Seattle, Portland, San Francisco, Los Angeles, and Anchorage. The goal of this project is to get passengers through the lobby and to security in five minutes or less.
What's fundamentally changing that's supposed to make the check-in experience much faster? Well, Alaska Airlines is eliminating airport check-in kiosks:
Passengers will be encouraged to check-in with their phone, through the Alaska Airlines mobile app; currently about 70% of passengers check-in before they arrive at the airport, and the airline is hoping to increase that number to 90%
Airport check-in kiosks will be replaced by new bag tag stations, where passengers will be able to pay for and tag checked bags using iPad tablets; this transition should happen by the end of 2023
Starting in the spring of 2024, Alaska Airlines airport lobbies will be getting technology that allow you to drop off your bag with a quick scan, as the machine will scan your face, ID, and bags, and then you'll just take your bags to the belt
If you need extra help, there will still be customer service agents available to provide assistance
Alaska argues that the current process of using a kiosk and checking a bag can take over five minutes, while the new streamlined system will allow you to print a bag tag in under a minute. Furthermore, Alaska claims to have been the first US airline to put kiosks into airport lobbies, and it will now be the first airline to remove them.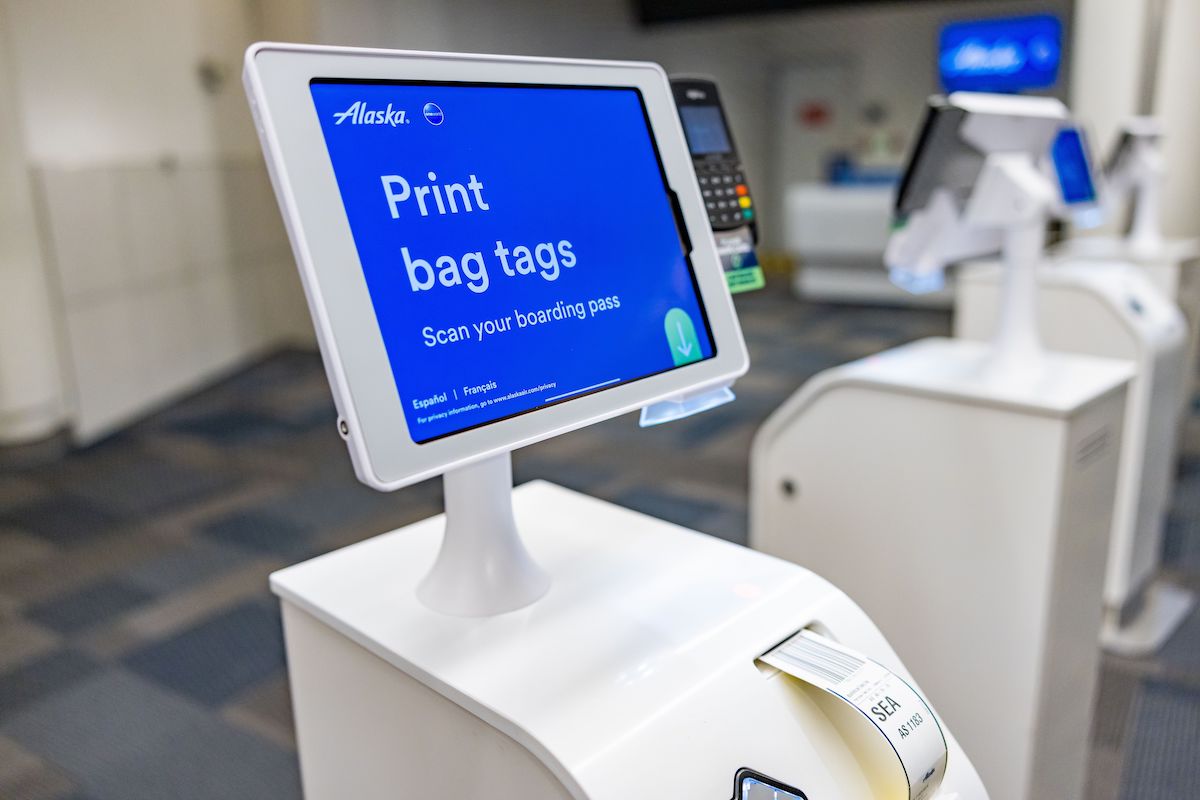 My take on Alaska Airlines' airport lobby changes
On the surface, Alaska Airlines' changes to the airport experience are pretty major. It seems like for the past decade, airlines have so heavily been pushing passengers to use kiosks. Airlines would even assign customer service agents to help passengers use the kiosks. Now Alaska Airlines is doing exactly the opposite, eliminating check-in kiosks in favor of bag kiosks.
I'm not entirely sure about the claims about alleged time savings, though. This doesn't impact those who check-in online, don't check bags, and don't need assistance from an agent. I suppose that if a passenger has the Alaska Airlines app, if they know how to use it, and if it functions correctly, then the app should be able to do anything that a kiosk could do (those are some big "ifs," though).
The baggage technology that Alaska Airlines is introducing does seem like an improvement that could save time.
For me, the big question is what impact eliminating kiosk will have on the lines at the counters for agent assistance. Does Alaska think it can get people through those lines in less than five minutes, on average? Will this change cause the lines to be shorter or longer? I don't know the answer, but I sure am curious, and I wonder if other airlines will follow.
I think it's interesting that Alaska wants to increase the number of people checking in prior to arriving at the airport from 70% to 90%. How does the airline plan to get two-thirds of people not currently checking in online to do so? Alaska compares taking a flight to attending a concert, though I also think the demographics are a bit different.
Bottom line
Alaska Airlines is making major changes to the airport check-in experience, as the airline is eliminating check-in kiosks, and introducing new kiosks for checking bags. Alaska is betting on people increasingly checking in prior to arriving at the airport, and being able to check-in their bags (including paying) without interacting with any staff.
For those who still want support, the airline will maintain counters where agent assistance can be provided. The question is just what those queues will look like.
What do you make of Alaska Airlines' lobby changes?