Usually I don't write about targeted offers, since you're not eligible if you didn't receive this offer by email. I'm writing about a targeted offer in this instance because it represents an interesting development for a program as a whole.
Alaska Airlines sent out an email to select Mileage Plan members today offering them elite rollover miles. Here's the webpage explaining the new feature:
When you travel on Alaska Airlines flights in 2016, each elite-qualifying mile you earn on Alaska Airlines flights beyond the tier requirement for your highest elite status attained will roll over towards next year's elite status requirement.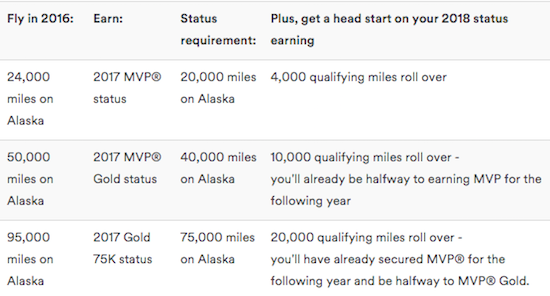 And here are the terms of Alaska's rollover miles promotion:
Only Mileage Plan™ members who receive this offer directly from Alaska Airlines via email are eligible to participate.The difference, if any, between the number of miles flown by an eligible member on flights operated and marketed by Alaska Airlines (AS1-999, 2000-2999 or 3300-3499) in 2016 and the number of miles required for the highest 2017 elite status level achieved by the eligible member as of December 31, 2016, will be applied towards 2018 elite status qualification.

Mileage for all segments accrued toward this promotion must be flown by December 31, 2016 and credited to your Mileage Plan account by January 15, 2017. Elite-qualifying miles will post to the member's account no later than February, 2017. Award or free travel is not valid for this offer. Miles flown on other airlines (including elite qualifying partner airlines) in 2016 are not eligible to be rolled over toward elite status qualification in 2017. Offer is subject to change and all terms and conditions of the Mileage Plan program apply.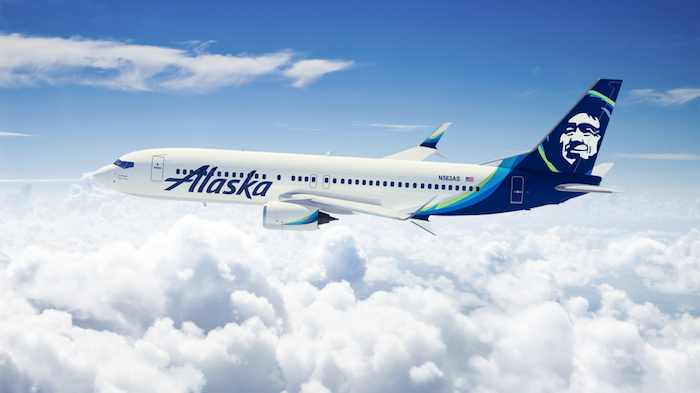 For a few years Delta SkyMiles has offered rollover miles, where whatever elite qualifying miles you earn in excess of the tier you qualified for roll over to the next year. Alaska and Delta are fiercely competitive in Seattle, so we've seen the two airlines match policies in many instances.
There are a couple of things which make this promotion on the part of Alaska especially interesting, though:
How did Alaska target Mileage Plan members for this promotion? Since it's a move which is clearly intended to be competitive with Delta, perhaps they targeted Mileage Plan members with some Delta flights credited to their accounts? That would seem most logical to me, but who knows.
Rollover miles apply exclusively to elite qualifying miles earned on Alaska Airlines. This means elite qualifying miles earned through travel on partner airlines wouldn't be eligible to be rolled over.
While we see a lot of targeted promotions as such, this is fundamentally a shift in the benefits of a program, so I'm surprised to see it introduced on a targeted basis. I do think we'll see some major changes to Mileage Plan in the coming year, and if I had to guess, I'd say that perhaps rollover miles will be introduced as a permanent feature when the new program is announced, and Alaska is just testing out the functionality on a targeted basis.
Bottom line
I think the concept behind rollover miles makes perfect sense. If an airline sets certain qualification tiers and a customer over-qualifies, why not let that activity rollover to the next qualification period? And I think Alaska is especially smart for offering them only on Alaska flights, which further incentivizes people to fly Alaska over their partners.
At the same time, I get why most airlines don't offer rollover miles — much like everything else in the industry, the reason is simply "because they can."
The targeted nature of Alaska introducing rollover miles is peculiar, and I'm curious to see what their "big picture" plan is. I'm sure we'll find out in the coming months.
What do you make of Alaska introducing rollover miles on a targeted basis, and do you think it'll be expanded?