The future is officially here. Well, or at least only 15 years away… maybe.
Airbus reveals zero-emission aircraft concept
Airbus has today revealed three concepts for the world's first zero-emission commercial aircraft, which could enter service by 2035.
Each concept represents a difference approach to achieving zero-emission flight, exploring different technology pathways and aerodynamic configurations to lead the way to the decarbonization of the aviation industry.
All these concepts rely on hydrogen as the primary source of power, which Airbus believes is the best solution for aerospace and other industries to meet climate-neutral targets.
Airbus CEO Guillaume Faury had the following to say about this concept:
"This is a historic moment for the commercial aviation sector as a whole and we intend to play a leading role in the most important transition this industry has ever seen. The concepts we unveil today offer the world a glimpse of our ambition to drive a bold vision for the future of zero-emission flight. I strongly believe that the use of hydrogen – both in synthetic fuels and as a primary power source for commercial aircraft – has the potential to significantly reduce aviation's climate impact."
Now let's take a closer look at all three concepts, all codenamed "ZEROe."
Airbus' turbofan design
Airbus' first design could seat 120-200 passengers, and would have a range of 2,000+ nautical miles. It would be powered by a modified gas-turbine engine running on hydrogen, through combustion. The liquid hydrogen would be stored and distributed via tanks located behind the rear pressure bulkhead.
In terms of size and range this would be most comparable to the Airbus A320 family of aircraft.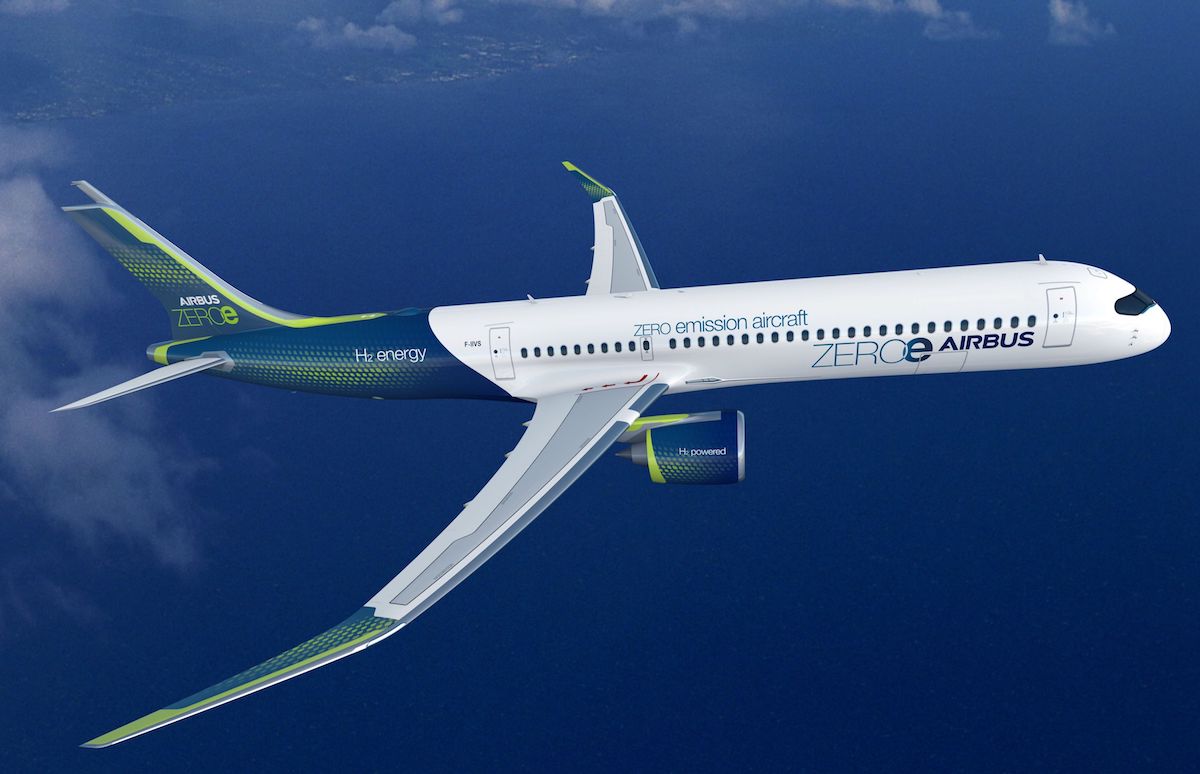 Airbus turbofan aircraft design
Airbus' turboprop design
Airbus' next design could seat up to 100 passengers, and would have a range of 1,000+ nautical miles. It would also be powered by a modified gas-turbine engine running on hydrogen, through combustion.
In terms of size and range this would be different than any of Airbus' current aircraft, given that the aircraft manufacturer doesn't currently directly manufacture turboprop commercial aircraft. However, it does have a stake in ATR, which does.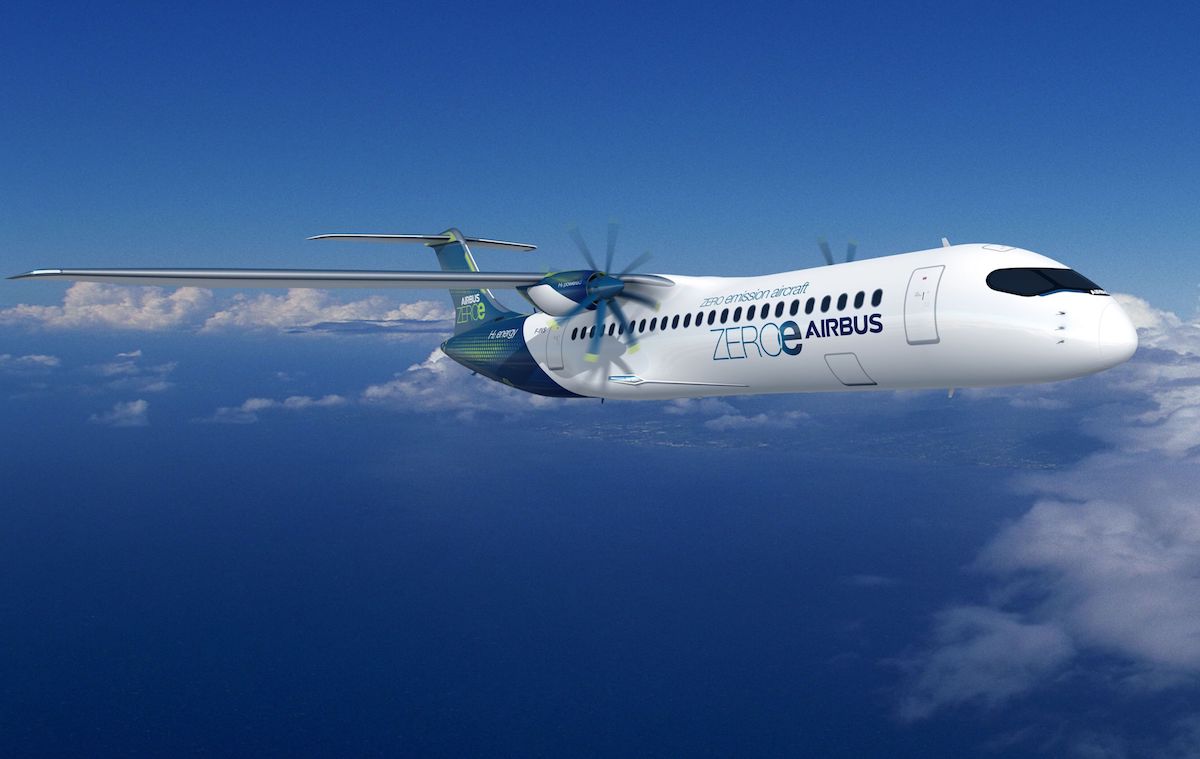 Airbus turboprop aircraft design
Airbus' blended-wing body design
Airbus' last design is no doubt the most futuristic-looking. The blended-wing body design could seat up to 200 passengers, and would have a range of 2,000+ nautical miles. With this, the wings merge with the main body of the aircraft.
The wide fuselage opens up multiple options for hydrogen storage and distribution, and for cabin layout.
It goes without saying that this is unlike anything we've seen before in commercial aviation in terms of appearance, and it seems like there wouldn't be many windows. I can't wait to see what potential cabin configurations would look like here.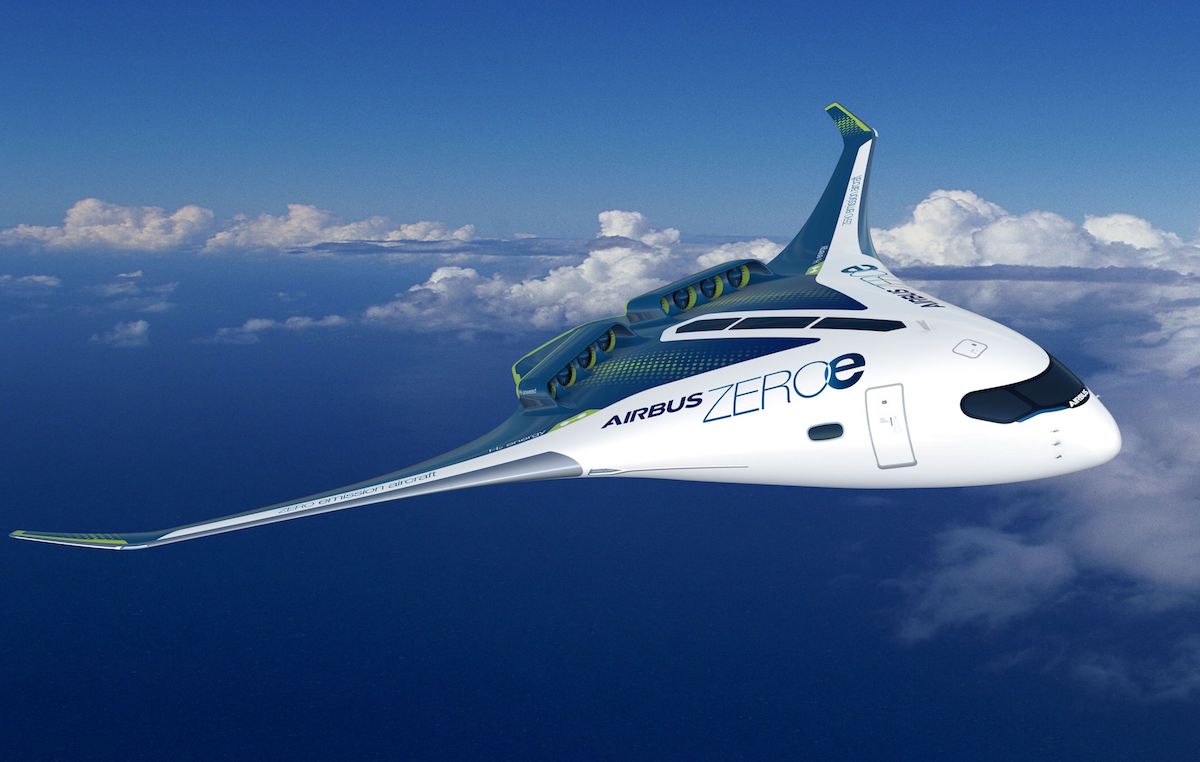 Airbus blended-wing aircraft design
The biggest challenge with this project
In order for these concepts to become a reality, airports will require significant hydrogen transport and refueling infrastructure to meet day-to-day operations.
This will require support from governments, including increased funding for research and technology, digitalization, and mechanisms that encourage the use of sustainable fuels and renewable aircraft fleets to allow airlines to retire older, less environmentally friendly aircraft earlier.
As Airbus' CEO describes this:
"These concepts will help us explore and mature the design and layout of the world's first climate-neutral, zero-emission commercial aircraft, which we aim to put into service by 2035. The transition to hydrogen, as the primary power source for these concept planes, will require decisive action from the entire aviation ecosystem. Together with the support from government and industrial partners we can rise up to this challenge to scale-up renewable energy and hydrogen for the sustainable future of the aviation industry."
Bottom line
It's incredible to see Airbus reveal zero-emission commercial aircraft concepts. We've seen some prototypes like this before, but never from one of the world's largest aircraft manufacturers.
It's exciting to think that we could see these planes in the skies within 15 years. It sounds like the technology can be worked out, but the biggest roadblock here will be getting enough global coordination so that governments embrace the investment in sustainable fuels.
I think the other big question is just how expensive these aircraft will be. Could they eventually be similarly priced to current commercial aircraft, or are we talking about a huge price premium? Lastly, it's worth noting that there are no long haul zero-emission concepts yet, so I imagine that's still a ways off…
What do you make of Airbus' zero-emission aircraft prototypes? Do you think this could be a reality by 2035?