Just last week I wrote about my confusion with Air Tanzania's 787. The airline used to only fly turboprops, but over the summer took delivery of a single Boeing 787, which is quite a bold step for a small airline.
Since the beginning the airline has announced that they plan to use their 787 to fly to Mumbai. That isn't the first destination that comes to mind when you think of an airline taking delivery of a single 787 (especially since the route could also be served with a 737), but I sort of get it.
The strange thing is that they haven't actually moved forward with this service. They've had the 787 for months now, and just fly it occasionally on domestic flights, but mostly just proudly park the plane at a gate at their hub in Dar es Salaam.
The latest update is that the airline is awaiting approval from the Indian government and plans to launch flights as of December 2018, though I'm still skeptical, and can't help but get slight Air Zimbabwe vibes (I'm not suggesting they're anywhere close to being as corrupt, but rather that this may not have been the best thought out plan in history).
Anyway, it looks like there's now another update. All Africa is reporting that Air Tanzania plans to fly their Dreamliner 3x weekly from Dar es Salaam to Guangzhou via Bangkok as of February 2019.
The airline has already announced that they intend to fly on Tuesdays, Thursday, and Saturdays, and that roundtrip fares will be $650 to Guangzhou and $700 to Bangkok (which doesn't exactly seem like very optimistic pricing to me).
Flying to China makes a lot of sense. There's tons of Chinese investment in Tanzania (and much of Africa, for that matter), so I can see the merit to a direct link. Furthermore, it's noted that Chinese passengers are more likely to visit if there's a direct flight, so this could also increase tourism.
I'm not 100% sure I get Bangkok, but I sure am happy about it, because it seems like it could be a fun fifth freedom flight to book between Guangzhou and Bangkok.
I still wouldn't put much weight in this new route actually happening. They say the new route will be on Tuesdays, Thursdays, and Saturdays, though Air Tanzania has also published that they'll fly to Mumbai on Mondays, Thursdays, and Saturdays, so…
Or who knows, maybe they'll make this a Dar es Salaam to Guangzhou route via Mumbai and Bangkok. Crazier things have been done. 😉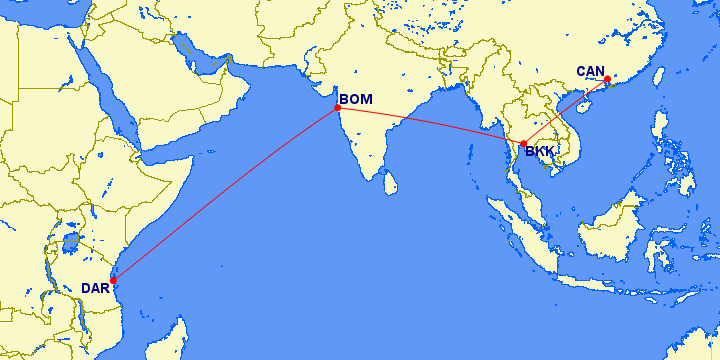 What do you make of Air Tanzania's plan to fly to Guangzhou via Bangkok?
(Tip of the hat to @airlineroute)