Air Tanzania must have one of the most interesting aircraft deliveries of the year. The airline previously had a fleet of just three turboprop aircraft, and this year is taking delivery of a Boeing 787. That's quite a radical fleet upgrade.
I've written about Air Tanzania's plans before, and about how they intend to take delivery of the 787 this summer. Several of you have sent pictures over the past several weeks of the plane being assembled at Boeing's factory, and it has been so cool to see the plane come to life. I also think Air Tanzania easily has the coolest 787 livery we've seen — it's not every day you see a giraffe on the tail of a plane!
Well, Air Tanzania has now taken delivery of their Boeing 787. The plane left Seattle yesterday bound for Tanzania, and has just arrived at Julius Nyerere International Airport in Dar Es Salaam, Tanzania.
.@AirTanzania has taken delivery of their first #Boeing 787-8 #Dreamliner. It is the first widebody airplane to join the fleet of 'The Wings of Kilimanjaro'. #avgeek #Africa pic.twitter.com/cmHiJTchP4

— Boeing Airplanes (@BoeingAirplanes) July 8, 2018
It looks like they have quite an event planned, as Tanzania's president, vice president, prime minister, chief secretary, minister of finance and planning, and more, will be in attendance to welcome the plane.
Based on pictures posted online, it looks like Air Tanzania has gone with the Stelia Equinox 2D seat in business class on the 787. I suspect there will be four rows, in a 2-2-2 configuration, given the layout of the plane. Economy looks like it's in a standard 3-3-3 configuration, with personal entertainment at every seat.
Leo tunaipokea Dreamliner.Karibuni sana Uwanja wa Ndege Terminal 1 Dar.Mapokezi pia yatakuwa mbashara katika TV. #TuendeleeKutazamaAngani pic.twitter.com/rQN6E0jZvE

— Msemaji Mkuu wa Serikali (@TZMsemajiMkuu) July 8, 2018
Air Tanzania has indicated that they plan to fly the 787 to Mumbai, which is a new destination for them. While I understand they'll probably first perform some familiarization flights, I do find it odd that they haven't put this flight on sale yet, or published any details about it. If you're launching a new route you typically want a lead time of several months to be able to start selling tickets and marketing the flight.
So the fact that they have the plane but haven't yet scheduled the route makes me wonder, especially since all of their other flights are short-hauls. This story suggests that they'll start service to Mumbai in September, but I guess we'll see…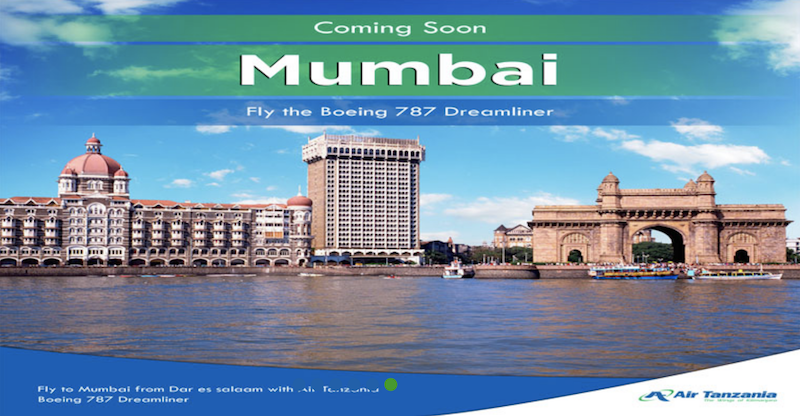 I can't wait to fly on this new plane. I'm obsessed with new airlines, and an airline going from a turboprop fleet to getting a 787 is basically the same thing as a new airline, as far as I'm concerned.
Anyone want to wager a guess as to how soon Air Tanzania will fly to Mumbai, or for that matter if it will happen at all?