Air New Zealand is expected to introduce a new business class seat in the next couple of years, and we now have a better sense of what to expect.
Air New Zealand's new business class coming soon
We've known for a while that Air New Zealand plans to introduce an all new business class product in 2022, coinciding with the airline taking delivery of eight new Boeing 787-10s. Unfortunately I wouldn't expect these planes to feature the "Skynest" bunk bed concept, since 787-10s won't be used for ultra long haul flights.
Initially the plan was for most of Air New Zealand's existing plans to also be retrofitted with these seats, though only time will tell whether that actually happens:
With New Zealand's borders being closed, it's anyone's guess when the airline will resume long haul flights
Airlines aren't going to be looking to spend a lot of money once things do return to normal
Personally I'd expect newly delivered aircraft to get these seats, but I wouldn't be so sure that retrofitting existing aircraft will remain a priority. However, I wouldn't necessarily expect the timeline for Air New Zealand's 787-10 order to stick.
Anyway, these new seats would replace Air New Zealand's current herringbone business class seats, which were introduced back in 2005. At the time these seats were popular, given that they offer direct aisle access and a buddy seat for dining. Unfortunately this seat has become progressively less competitive over the years, and at this point I'd even say it's subpar.
Air New Zealand may introduce a business class "plus"
Despite the pandemic, Air New Zealand very much seems to be moving forward with plans to introduce a new business class product. The airline is surveying frequent flyers about a potential new product, as noted by both Executive Traveller and FlyerTalk.
In the survey, the airline explains that it's considering introducing a new business class cabin where there will it will be possible to enhance the experience for those who book the first row.
As the airline explains, there would be a few differences between the first row and other rows:
More legroom
The ability to have a shared dining experience
More privacy, in the sense that no one can look into your space
A more premium blanket
The airline then asks for feedback as to which name would be best for this product:
Business Premier Retreat
Business Premier Plus
Business Premier Deluxe
Business Premier Alcove
This makes it easy to guess the cabin being considered
Now, I should note that of course things can still change, and it's theoretically possible Air New Zealand is just throwing out a random idea, though that seems unlikely. After all, Air New Zealand is asking how something should be named, rather than if it should be introduced, which suggests a decision may have already been made.
To me there are two interesting takeaways here:
The airline plans to have a "premium" business class in the first row of business class
This also tells us what the non-premium business class seats will be like — most significantly, they won't have doors, they won't have as much legroom, and they won't feature a "buddy seat" for dining
Now, while it's possible that Air New Zealand is considering a brand new product that hasn't yet hit the market, everything about this description points to one layout — a Vantage XL cabin, with one row of Vantage First.
Thompson Aero Seating markets this configuration as offering "first class for free," since a row of first class-esque seating can be added without an opportunity cost.
What a Vantage First & Vantage XL cabin looks like
The Vantage First seat is what you'll find on Malaysia Airlines' A350-900, which used to be marketed as first class, but is now marketed as Business Suite.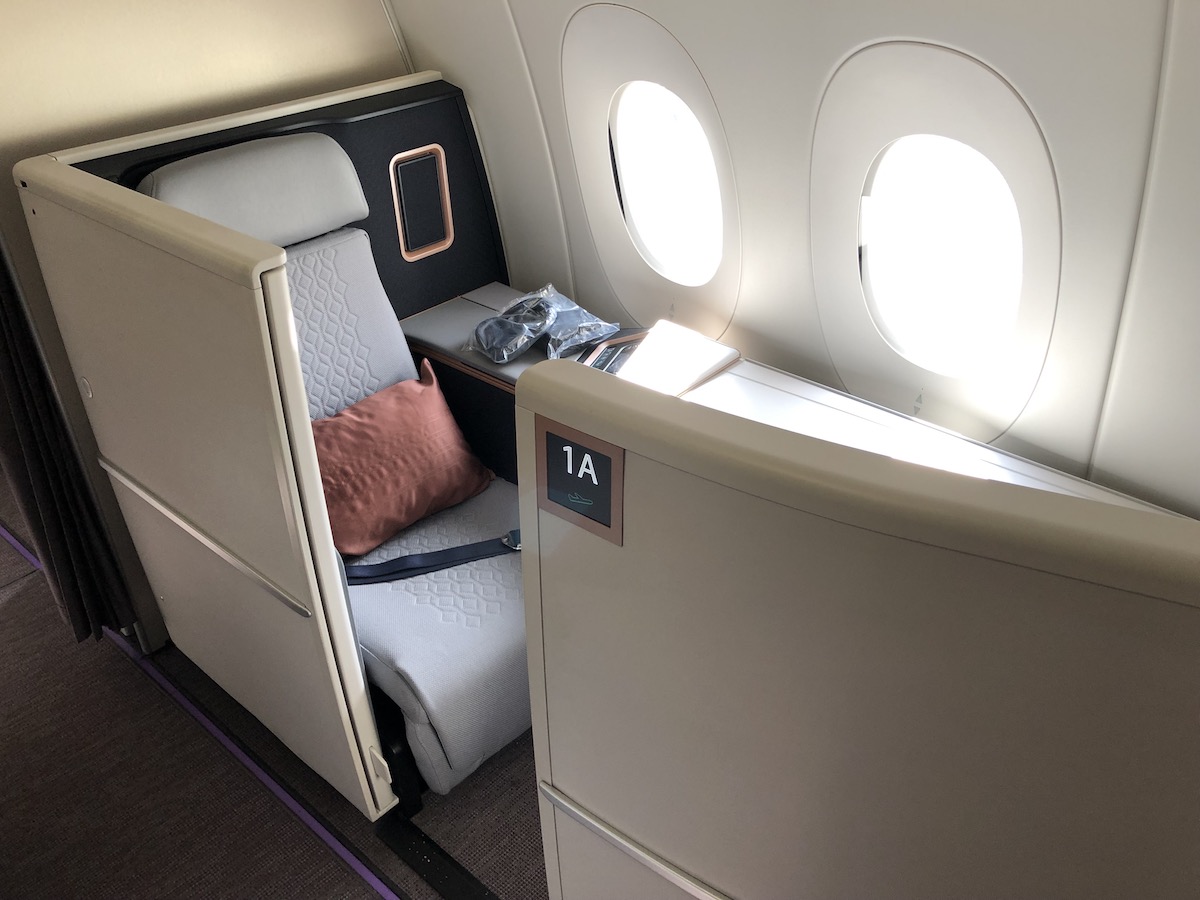 Vantage First seat on Malaysia Airlines A350-900
This seat checks all the boxes Air New Zealand is promising for row one, including a buddy seat for dining, and more privacy.
Then in business class it sounds like Air New Zealand would introduce standard Vantage XL seats, which you'll find on a variety of airlines, including Qantas.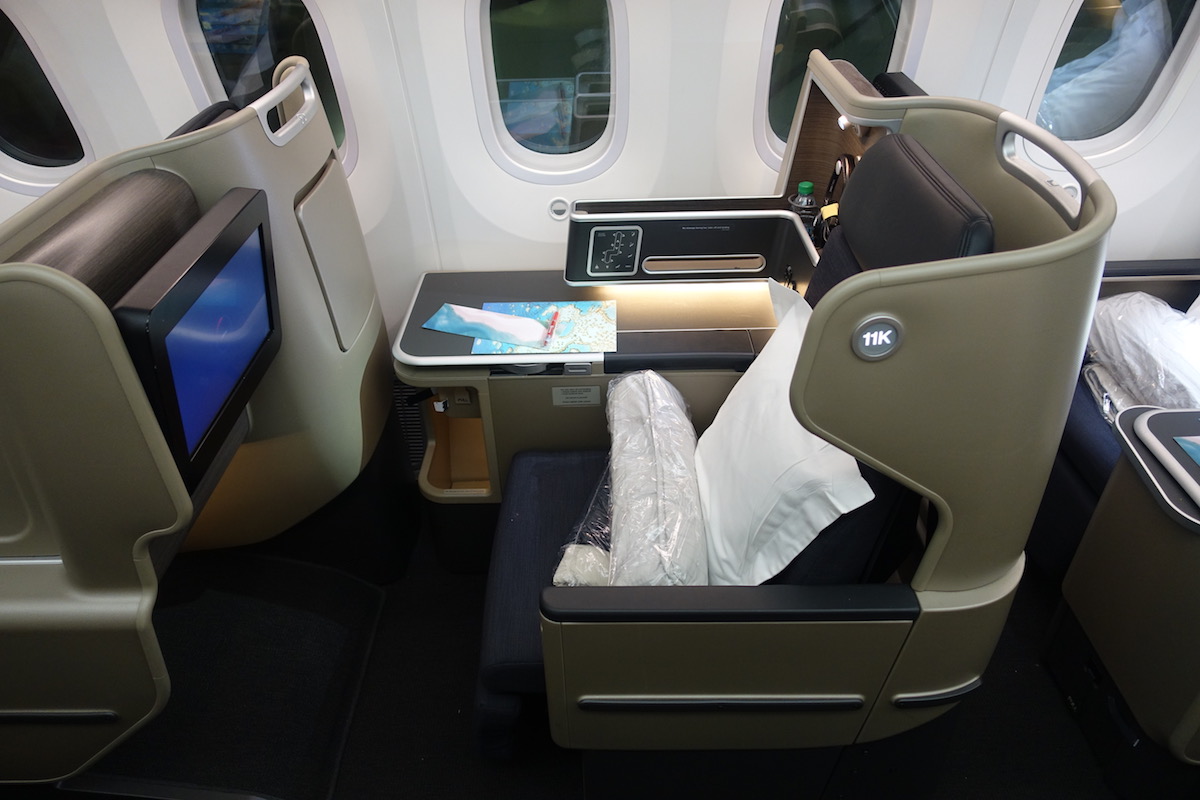 Vantage XL seat on Qantas Boeing 787-9
Arguably the surprising part here is that Air New Zealand seemingly doesn't plan to install doors on Vantage XL seats. Delta One Suites are also Vantage XL seats, and those have doors.

Vantage XL seat with door on Delta A330-900neo
Similarly, Shanghai Airlines' 787-9s have the exact cabins that Air New Zealand seems to be considering, except all seats have doors.
Bottom line
Air New Zealand is expected to introduce a new business class product in 2022, coinciding with the delivery of 787-10s.
While the airline hasn't formally revealed any details of what we should expect, a survey sent out to frequent flyers gives us some info to go off for speculating, and points to one particular seat. Of course it's possible the airline changes its mind or doesn't follow through with this seat, but who doesn't enjoy a bit of passenger experience speculation. 😉
It does seem likely that Air New Zealand's new business class product will include Vantage First and Vantage XL seats. What I find strange is that Air New Zealand may not opt to have doors on the Vantage XL seats. That would be a rather disappointing development for an airline only starting to roll out new seats in 2022.
What are you expecting from Air New Zealand's new business class?