Air New Zealand has just announced plans to install what will arguably be the biggest innovation we've ever seen in economy, even if only very few passengers will be able to enjoy this. While the airline announced that it was looking into this concept before the pandemic, color me surprised that this is actually happening. This development is in addition to Air New Zealand revealing its new business class product.
Air New Zealand's Skynest economy beds
Air New Zealand has revealed plans to introduce bunk beds in economy — you read that right! With Air New Zealand's new Skynest concept, there will be a total of six full length lie-flat sleep pods, which are in a "V" shape. That means there are three levels of bunk beds.
The beds will be 80″ long and 23″ wide, so they should be pretty comfortable for most passengers. There will of course be a limit of one person per bunk. The bunks will come with bedding, including pillows, sheets, blankets, and privacy curtains. Each bunk will also have a USB outlet, a reading light, and a storage pocket.
This is very similar to the bunks that airline crews have, so essentially Air New Zealand is making this concept available to passengers as well. That's pretty cool.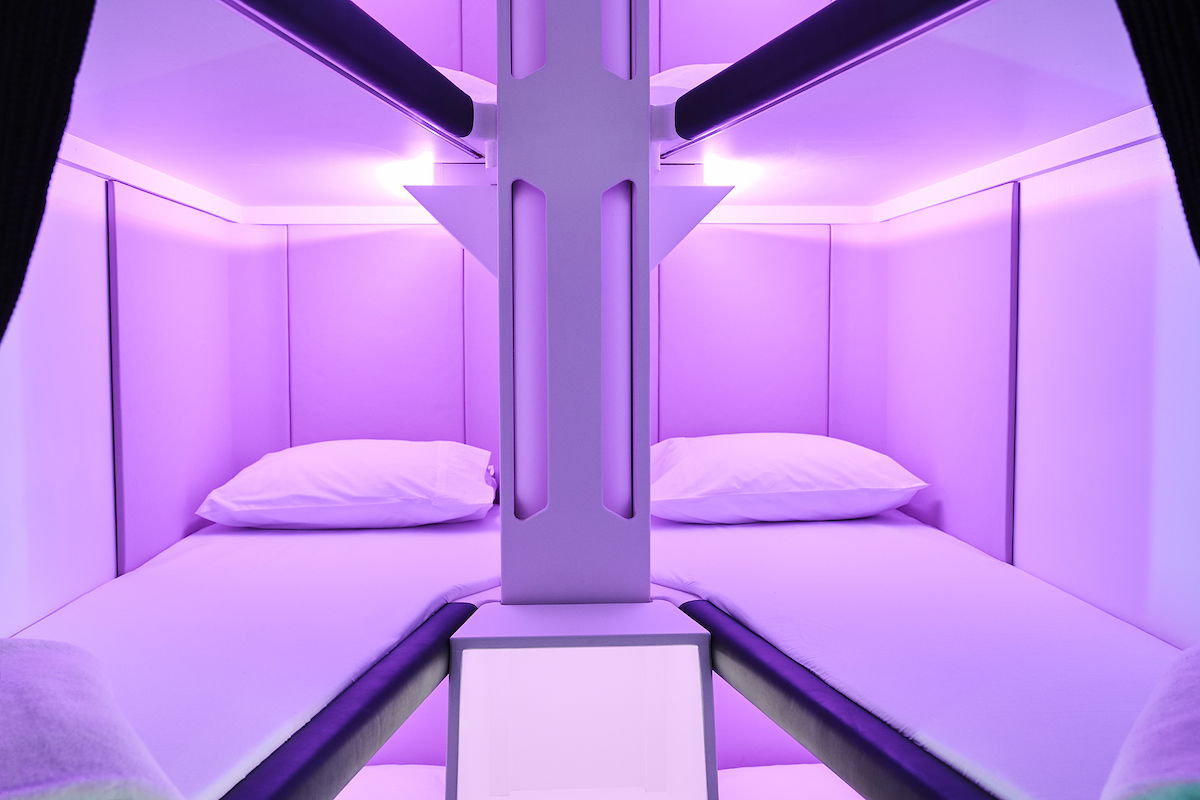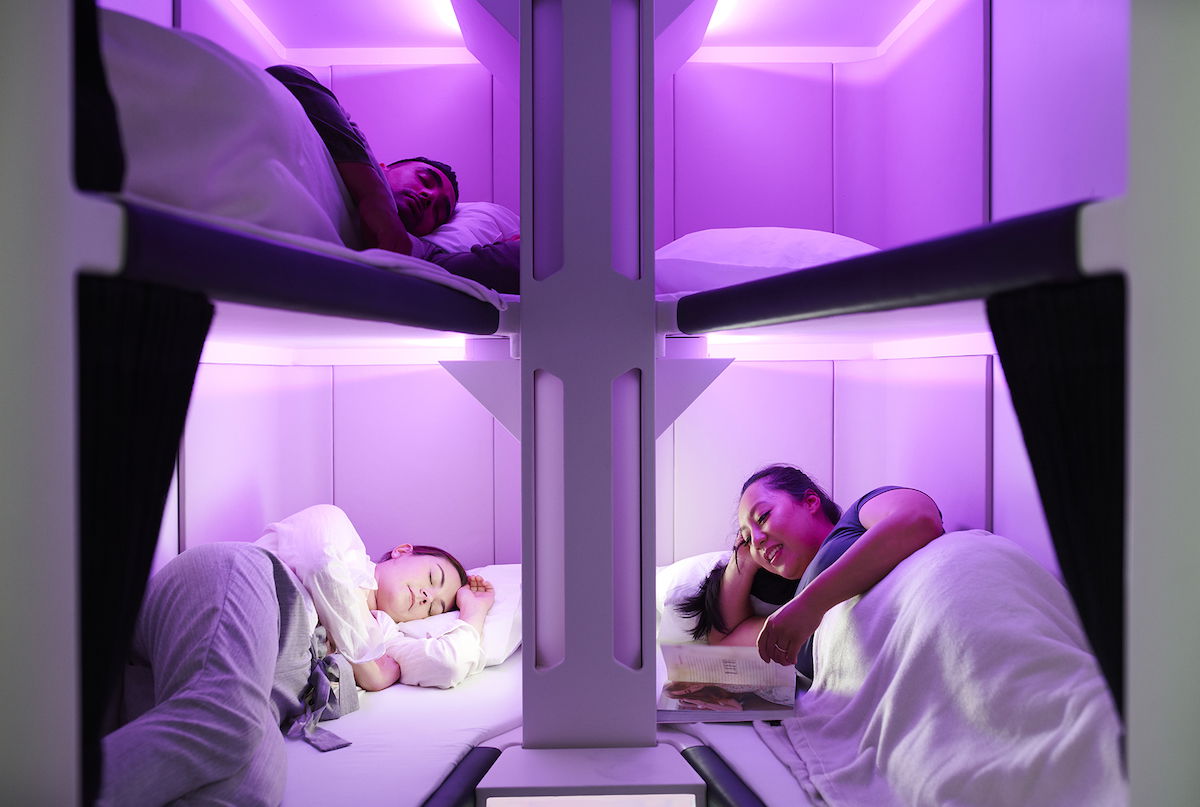 Where will Air New Zealand Skynests be located?
Skynests will be installed on Air New Zealand's Boeing 787-9s, so where will they be located? Well, they'll be installed at the very front of the rear economy cabin. Specifically, they'll take up the space of two center rows in economy, meaning that six bunks are being installed in the space that would otherwise be allocated to six economy class seats.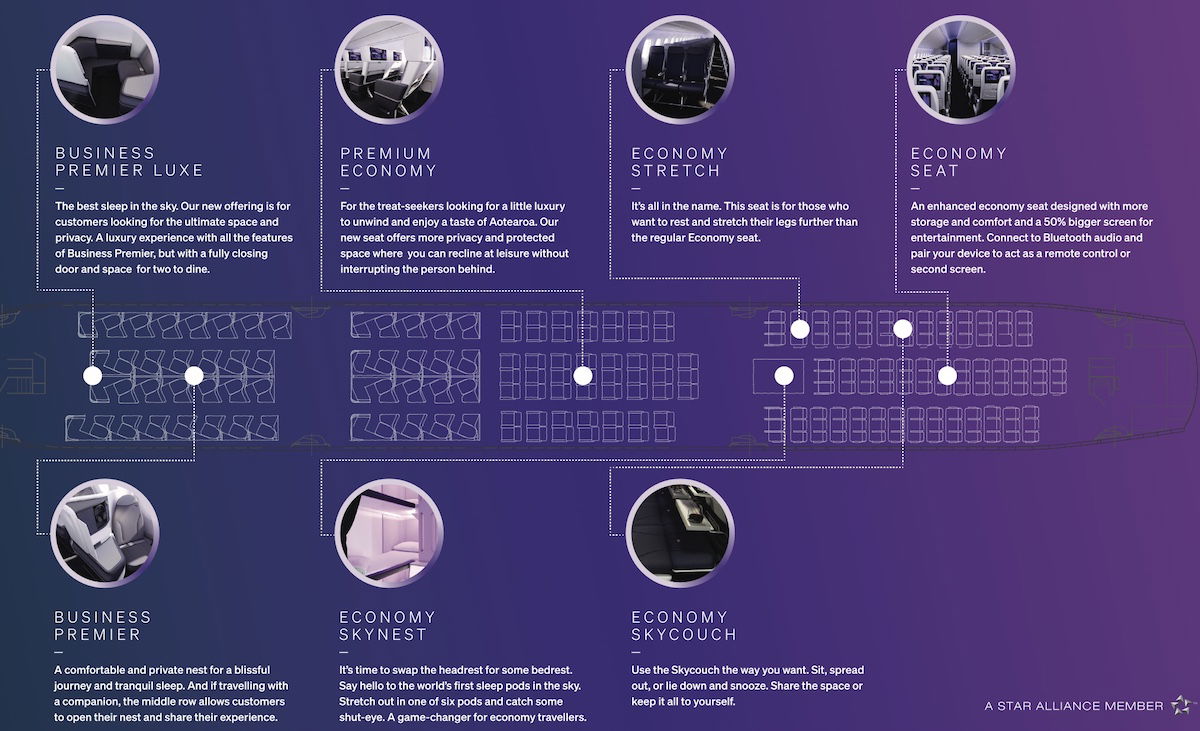 How will Air New Zealand sell economy beds?
These bunks can't be occupied for takeoff and landing, so you can't directly book one of these bunks for the entire flight. Rather the intent is that this will be offered as a buy-up for those traveling in economy or premium economy.
Passengers will be able to reserve the bunk beds for four hour periods. This means that on Air New Zealand's longest flights, these could each be sold up to three times.
Pricing for Skynests remains to be seen. This will be an interesting experiment when it comes to pricing, as I'm curious how much the airline can get economy and premium economy travelers to shell out for a bit of time in a flat bed.
It's pretty impressive that the opportunity cost of each Skynest is just one economy seat. To very briefly crunch the numbers:
Air New Zealand could sell this product up to three times on an ultra long haul flight
So in theory you'd think that the airline would want to charge at least one-third as much as an economy fare for this product
In reality the opportunity cost isn't quite that large, because it's rare that every single economy class seat would otherwise be occupied; of course this doesn't account for the cost to develop and install this product
If I had to guess, I think it'll cost somewhere around $300-400 for a four hour nap; I'm curious how many people in economy would pay that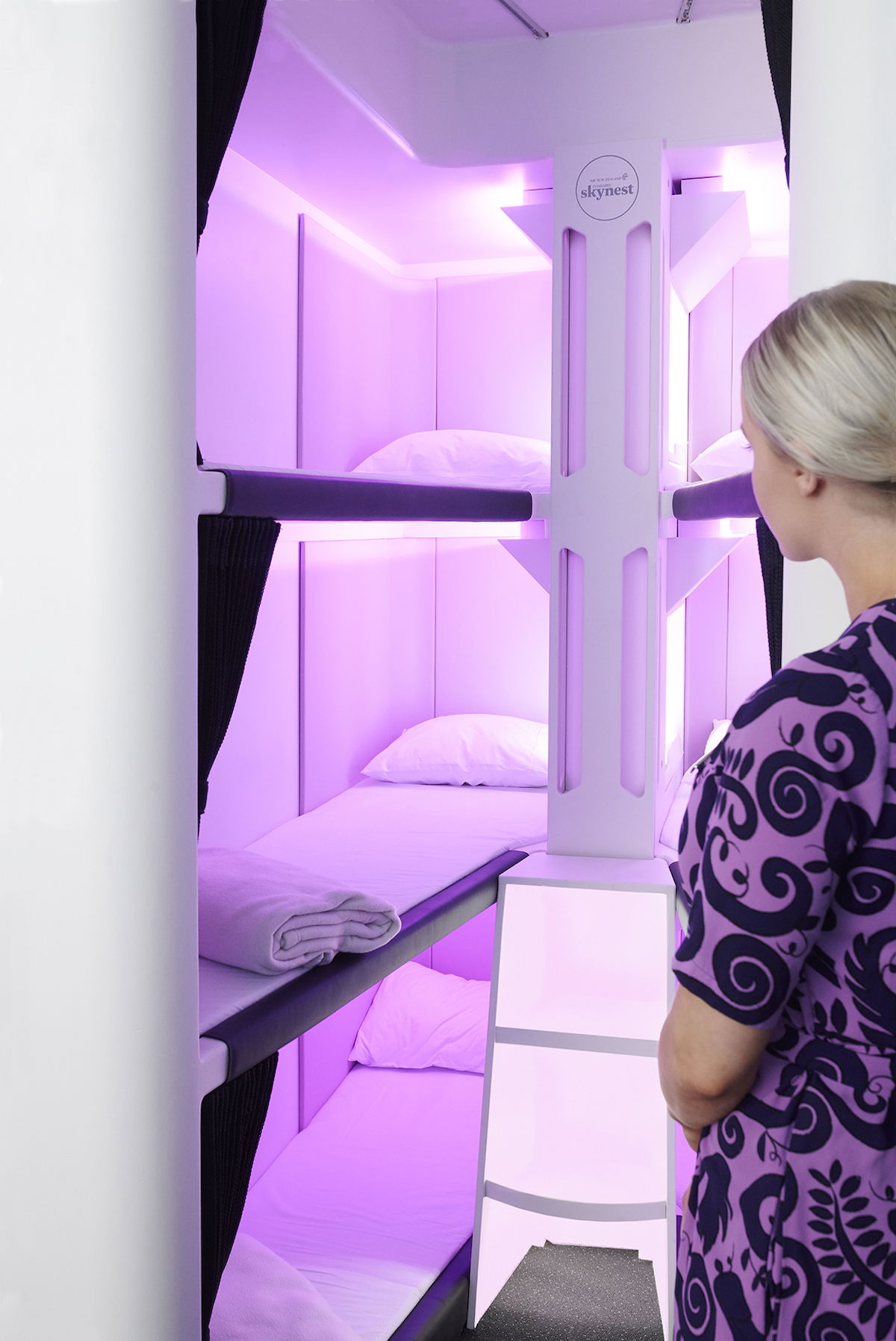 When is Air New Zealand introducing Skynest?
Air New Zealand will start completely reconfiguring its Boeing 787s as of 2024:
Air New Zealand Boeing 787s delivered as of 2024 will feature Skynests
Air New Zealand will retrofit existing Boeing 787s between 2024 and 2026, to add these
Air New Zealand won't install Skynests on Boeing 777s
Unfortunately we're still a couple years off from this becoming a reality. I would imagine that Air New Zealand will prioritize Skynests for its longest flights, to Chicago and New York.
Air New Zealand also has Skycouch
While the new Skynest is a huge innovation to economy class, it's worth noting that Air New Zealand also came up with the Skycouch concept years ago. With this, a row of economy seats can essentially be turned into a couch. This is great for couples, or those traveling with families.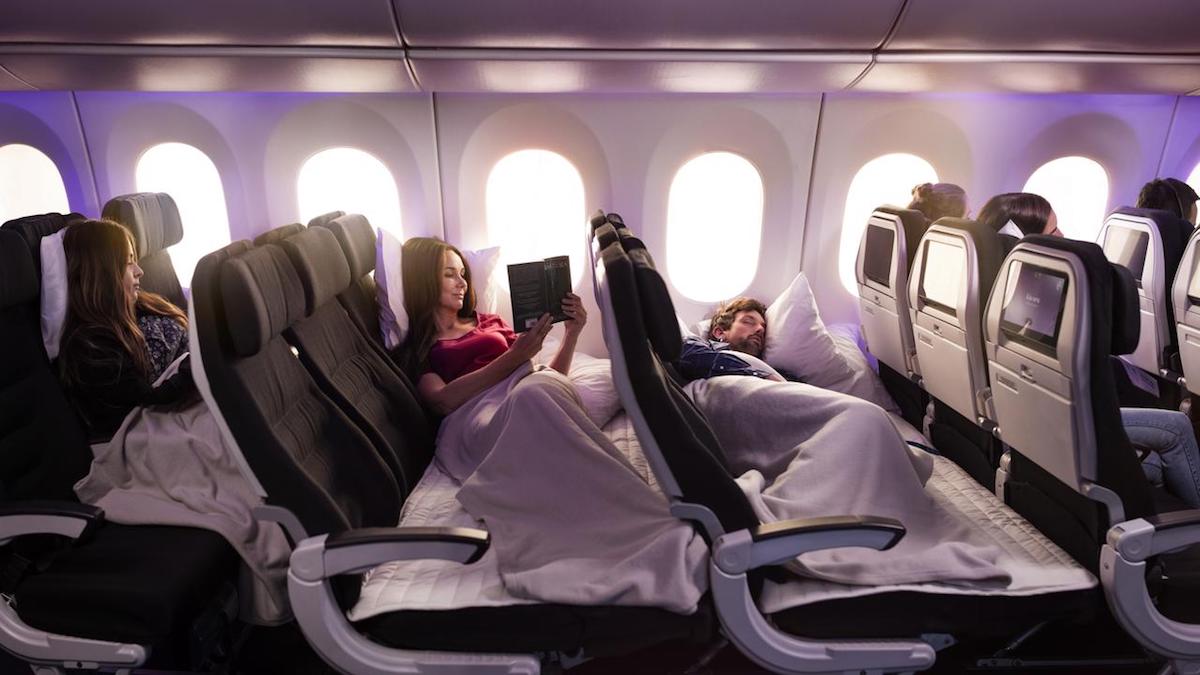 The biggest shortcoming of the Skycouch is the size — it's only 49″ long, which is 4ft1in. Unless you're on the shorter side, it's not exactly a long enough surface on which to properly sleep.
Bottom line
Air New Zealand will be introducing a concept we've never seen before in economy, with the introduction of Skynest bunk beds. The airline will be adding six bunk beds to Boeing 787s, with two sets of bunks stacked three high.
You can expect to start to see this product in 2024, and it'll available on all Boeing 787s by 2026.
What do you make of Air New Zealand's Skynest?