Almost any time I take a flight I'll take a look at the seatmap and how many seats are for sale, just to get a sense of whether the flight will be full or not. This is something I'm always especially curious about in international first class, given how few seats there are (there's nothing quite like getting a cabin all to yourself). Of course there are sometimes last minute upgrades (either using miles, paid upgrades, or operational upgrades), so that will never be 100% accurate.
As I've reviewed more "random" (from a US perspective) business and first class products lately, I've noticed some interesting patterns when it comes to airlines that seem to consistently upgrade friends and family. I realize many airlines provide travel privileges to friends and families of employees, and they're entitled to those seats. That's not what I'm talking about. Rather I'm talking about instances where people are very clearly upgraded after the cabin door closes. Not surprisingly, it's typically the airlines that seem to have not-great service where this happens, probably due to a lack of rules. I'd attribute that to little oversight or training, as you'd never see anything like that on Singapore Airlines, for example.
The Hindustan Times has a story about how Air India has allegedly been having issues with pilots upgrading friends and family. It seems that this isn't as much of a problem with flight attendants, and it's actually the flight attendants who are complaining. Per the order sent by Air India's chairman, Pradeep Singh Kharola, on March 13:
"It has come to my knowledge that operating crew carry out upgrades to business and first class unofficially during the flight for their friends and relatives. This is viewed seriously. It is reiterated once again that officials/crew members responsible for all such unauthorised upgrades shall face strict disciplinary action."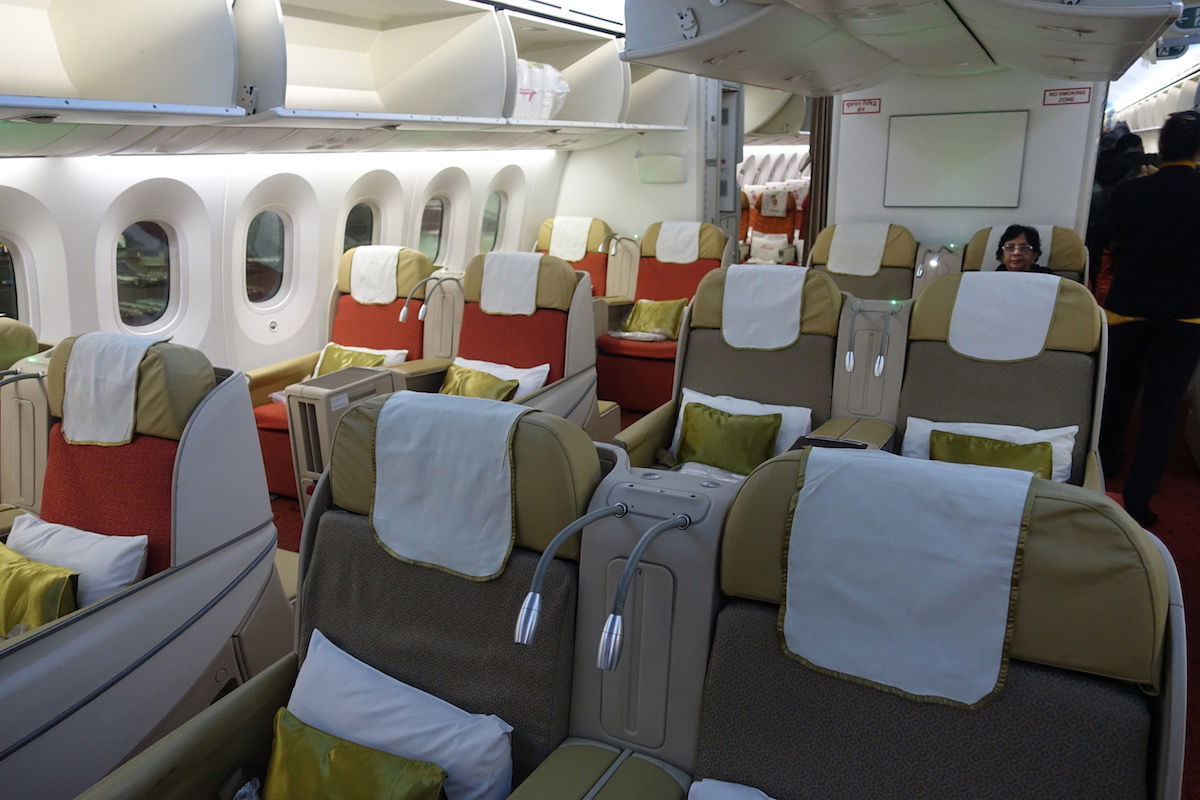 Air India's 787 business class
Here's what a former Air India executive director had to say about this:
"This has been a very old menace with pilots exercising their authority wrongly. You need to have discipline and pilots must concentrate on flying. If a boarding card is issued by the commercial staff for a certain class, and plane doors are closed, a pilot has no power or authority to upgrade the seat," said Jitender Bhargava, a former executive director with Air India.
While sending out the memo probably makes sense, I highly doubt anything will change. After all, this is the airline that got strict in 2016 about drinking and flying. They realized they needed to do something to ensure that pilots weren't showing up drunk, so they decided they'd start punishing pilots the second time they showed up drunk to fly. In this case there's even less oversight, as it will be a case of "he said, she said," since the main cabin door is closed when these upgrades happen.