An Air India Airbus A320 operated a 5hr23min flight to nowhere today because a pilot tested positive for COVID-19.
Early this morning a one year old Air India Airbus A320neo with the registration code VT-EXR was supposed to operate Air India flight 1945 from Delhi to Moscow and back. This flight was supposed to bring home Indians who were stranded in Russia during this pandemic.
To date Air India has operated dozens of repatriation flights, bringing home over 45,000 Indians stuck abroad.
Roughly halfway into the flight, when the plane was over Uzbekistan, it was determined that one of the pilots had tested positive for COVID-19. At that point the plane turned around and flew back to Delhi, where it landed safely well over five hours after it departed.
The plane flew a total distance of 2,623 miles, just shy of the distance between Delhi and Moscow, which is 2,679 miles.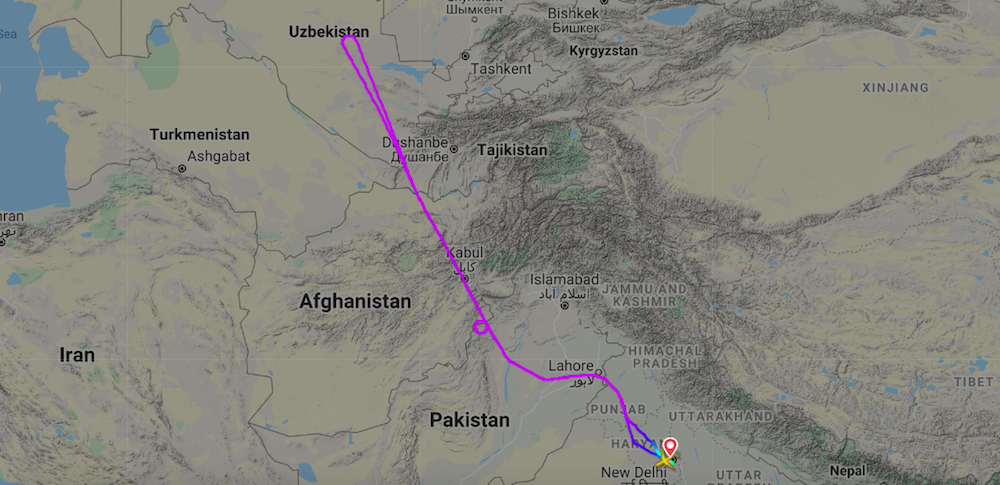 How exactly did this happen? Air India allegedly tests pilots for COVID-19 before they fly, and in this case the test came back positive. Ideally one would think that they'd want to get the results before a plane is already flying (because of the exact end result caused here), but I guess at the same time at least dozens of additional passengers weren't potentially exposed to the pilot.
The entire crew operating the Air India flight is now being quarantined.
India's Directorate General of Civil Aviation will conduct a probe into the "lapse," noting that the pilot was not supposed to be on the plane with coronavirus.
What's not known is if Air India knew the positive test results before takeoff and there was a mix-up, or if it just takes a few hours for the company to get results, hence the pilot only finding out mid-flight (I would have assumed it was the latter).
Ideally the results would be found out before a flight departs, but I guess even finding out results afterwards at least allows the airline to determine who may have been in contact with someone.
(Tip of the hat to Neeraj)