Yesterday I wrote a post entitled "Does This Picture Make You Want To Visit Air India's Lounge?"
The comments section of this post taught me quite a bit, which I can't help but reflect on.
Air India gets a lot of bad press. From rats on planes, to having a pilot show up drunk three times, to flying a 787 with only four of the 47 screws installed, the airline is a bit of a disaster.
My post yesterday was about how Air India really doesn't "get it." I pointed out how the below was the picture Air India showed to "advertise" their lounge at Newark:

It's one thing if this were a user uploaded photo, but rather this seemed to be an official Air India photoshoot. And that was the picture they decided to use!
But I guess that's not surprising, since it's not like their other media is much better.
Their TV are consistently terrible:
The bad ads aren't just a one off… seriously:
I mean, hell, if you want a perfect example of the airline not "getting it," they recently changed their Maharajah mascot from something more traditional, to a hipster boy taking a selfie. It's great they're trying to transform the brand into something more modern, but that's not the way to do it.
But here's the thing — the airline has so much potential. Look at the huge growth of the carriers in the Middle East, like Emirates, Etihad, and Qatar. They represent tiny markets, but are able to create an amazing hub system where they're transporting tens of millions of passengers through their respective hubs.
And then you have Air India, which has access to the world's biggest market, but can't seem to do anything with it. Outside of the miles & points hobby I hear all the time from Indian people in the US who talk about how much they love flying Emirates to India, and that's in economy. I haven't met a single Indian living in the US who says "I love flying Air India to India."
The irony is that arguably Air India has a far superior economy product. On the 777-200, for example, Air India has just nine seats per row, with 34″ of seat pitch. Our beloved Emirates, on the other hand, has ten seats per row on the 777, with just 32″ of pitch. So the seats on Air India have significantly more legroom and also significantly more seat width, yet no one would ever know that. Because Air India can't market themselves for the life of them.
But a lot of people don't get that. In the comment's section of yesterday's post, Krish seemed to think everyone was unfairly attacking Air India, but I think AnonCHI summed it up pretty well with this comment:
Think about it like this. We're in January 2016. Of the BRICS, India is the only one with real economic growth and robustness. Oil is at record lows (and India is a massive importer of oil). Theoretically, the only good place in the world where you can deploy capital into a developing market is India.

India should be getting billions of dollars in FDI right now. But it's not. The "new, right-wing, Hindu nationalist government" is too busy (a) promoting change but not making any and (b) despite being far less corrupt than the previous government, spending way too much time on "Hindu" issues. The people of India want low corruption and actual progress – not marketing slogans. Air India needs to do the same.

If Air India were well run, EK/EY/QR would have no market. Air India should turn DEL into a massive hub and have LAX/SFO/SEA/DFW/IAH/ORD/ATL/JFK/BOS/IAD/YVR/YYZ-DEL 1-3x daily (run whatever W patterns are needed for optimal a/c utilization) and sap EK/EY/QR of their core traffic while denting TK as well. But it hasn't.

There's so much potential. Let's hope that India actually does something with it.
Amol followed it up with this comment:
@AnonChi – exactly! Ask the Indian diaspora who fly in economy how they like to get to India and the majority will say on Emirates. Yet Air India offers 3-3-3 with 34″ pitch in coach while Emirates 3-4-3 with less pitch. Why do people prefer EK? The optics, the golden halo, the whatever! It just "feels" like a nicer experience. And guess what – Emirates is owned by the UAE government, so it's not like a privatized company. Air India is well positioned to take advantage of opportunity but seems to squander it.
And to be clear, I'm not taking sides about the new Indian government, as I'm not well informed enough on the topic. But what I'm highlighting above is how much potential the airline has. Rather than being a national pride, which it could easily be, it's a national disgrace.
But others don't seem to get that. Instead reader Krish was shaming those of Indian descent who were criticizing Air India and pointing out the potential they have, calling them bigots (while conveniently also referring to those people as "गोरी लोग," which seems to translate to "white people"):
Amol, then you need to get a sense of self-respect and stop giving fodder to these गोरी लोग who are obviously using you as a front for their bigotry. Please learn how to take a stand for yourself and your country, and respect yourself instead of being a complete sellout. Thanks.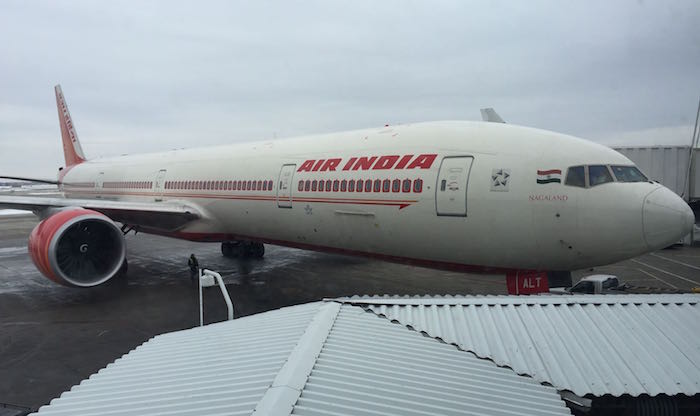 Bottom line
I'm super excited to fly Air India next week, for better or worse. I've always been fascinated by the airline. Does Air India sometimes get unfair press? Absolutely. But I think the bigger issue is that the airline has so much potential, which they're simply squandering. They serve a huge market, and in a parallel universe could be one of the world's most successful airlines. But they've been corrupt and useless for years, and it seems like nothing can change that.
What I learned from yesterday's post was that Air India probably has the most comfortable economy product on the 777 in the world. But no one would ever know that, given how terrible they are at advertising/promoting themselves.
I hope we'll see the day where India has a globally competitive airline, as they should.