Late last year I flew Air France's A380 first class product, La Premiere, from Los Angeles to Paris.
This is one of the most unattainable first class product on miles, given that they only make award space available to elite members in their FlyingBlue frequent flyer program at the "flex" award level.
So you pay roughly double the normal mileage to book an award in Air France first class, and have to be an elite member. For example, a one-way first class "flex" award between the US and Europe will cost you 162,500 FlyingBlue miles.
Truth be told I didn't have high expectations of their first class, but was really impressed by my Air France A380 first class flight between Los Angeles and Paris. While the seat itself wasn't cutting edge, the service and food were much better than I was expecting.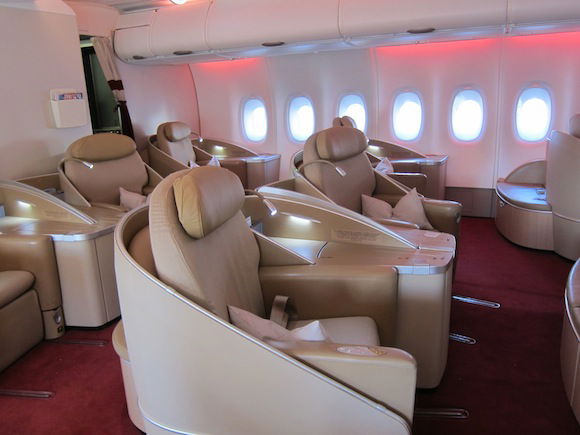 Air France A380 first class cabin
Perhaps the most delightful part of the experience was the Air France first class lounge in Paris.
I've experienced most of the world's best first class lounges, like the Emirates A380 First Class Lounge in Dubai, Lufthansa First Class Terminal in Frankfurt, and Thai Airways First Class Lounge & Spa in Bangkok, and I think the Air France lounge was at least on par, and perhaps the best of all.
The food and service were spectacular, hands down better than in any other lounge I've been to.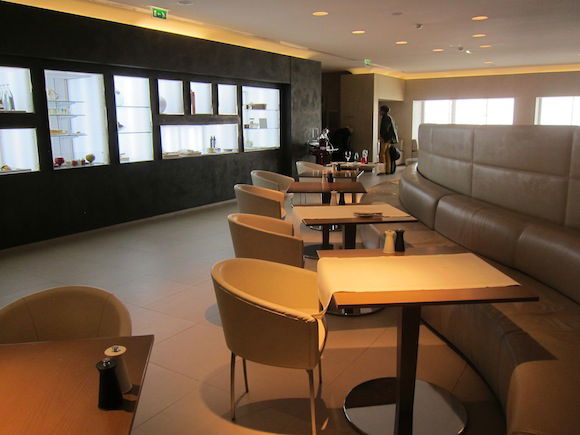 Air France Paris first class lounge

Anyway, what I'm trying to say is that I really am a fan of Air France, even though I never thought I would be.
Air France has just unveiled their new La Premiere Suite (first class), which they'll be installing on their 19 Boeing 777-300ER aircraft, beginning in September 2014. Apparently the new first class will first debut on Air France's routes to New York JFK and Singapore, though exact flights haven't yet been announced.
For what it's worth, Air France hasn't yet announced whether the A380s will be reconfigured with the new first class product or not, though my expectation is that over time they likely will be.
Here's a video of the new first class suite:
Or check out their absolutely brilliant concept video of the La Premiere product, as part of their "Above & Beyond" marketing campaign. It's easily one of the most brilliant airline marketing videos I've ever seen.
On first glance the new La Premiere Suite doesn't look that cutting edge, in the sense that they're not fully enclosed suites or anything. In a way, the "bones" of the cabin actually look very similar to TAM first class, I thought.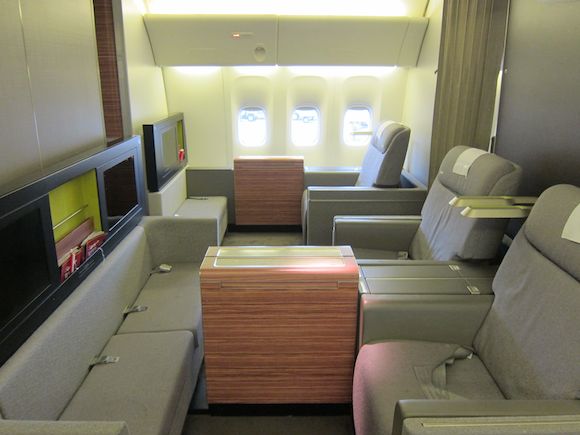 TAM 777-300ER first class cabin
But there's one feature that makes these seats very unique. Each first class seat has a curtain that goes all the way around the seat, which is the first time that has ever been done on a commercial plane.
There are airlines that have suites with doors, whereby others can still "glance" over the partition. However, aside from seats designated as crew rests, this is the first time you can actually draw a curtain around your seat for total privacy.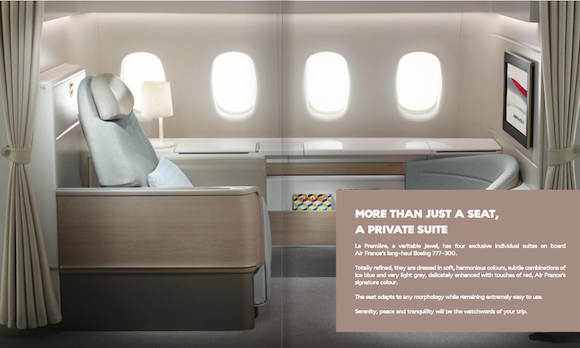 Air France La Premiere First Class Suite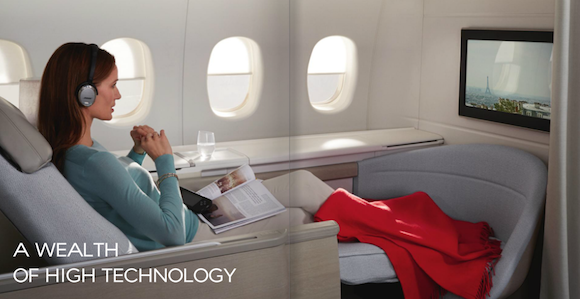 Air France La Premiere First Class Suite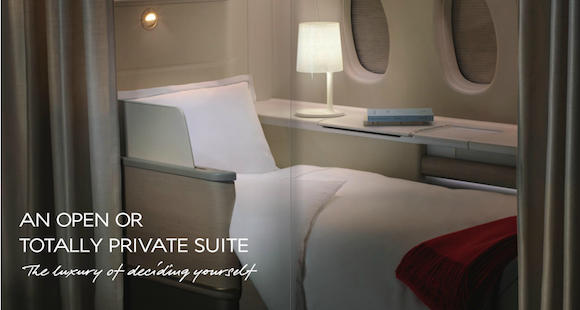 Air France La Premiere First Class Suite
In many ways I really love this. It's elegant, simple, and private, which is a balance many airlines struggle with. My issue with many suites is that they feel kind of claustrophobic when you're awake, so here you're sort of getting the best of both worlds. You get an "open" cabin when you want it, and can draw the curtain for total privacy when you'd like. On the other hand, I suppose the curtain could also give off a bit of an emergency room vibe – what do you think?
Here's part of Air France's press release on the new La Premiere Suite (bolding mine):
Like spending a night in a palace, sleeping in one of our La Première suites is a completely exclusive experience. In an instant, the seat turns into a fully-flat bed over two metres long. The armrests are fully retractable and offer a vast space 77 cm wide.

When the passenger is ready to go to sleep, the crew members install a mattress on the seat, for impeccable comfort. They are then given a fluffy pillow and a Sofitel My Bed® duvet. The pillow is placed in a soft cotton pillowcase for ultimate softness, guaranteeing a perfect night's sleep.

[…]

Air France dresses each suite with thick curtains, held back with leather tiebacks. A unique and daring concept, they enable the passenger to decide whether to be totally isolated or just partially. Once the curtains are closed, the passenger has the feeling of being alone at home, totally enclosed in their private cabin. The La Première suite then becomes a vast, totally private space, with 3 square metres available for each guest.

The suite can also be enjoyed with a fellow passenger. Opposite the seat, a comfortable seat, an ottoman, enables the passenger to invite a guest for dinner or simply for a conversation. The suite in turn then becomes a drawing room, a restaurant, or a work area. Anything goes in this space which changes according to the passenger's desires.
The bolded part above cracks me up. The suite can be "enjoyed with a fellow passenger," and "anything goes in this space which changes according to the passenger's desires." Is this the first mile high club endorsement from an airline? 😉
Here are the basic features of the new La Premiere First Class Suite:
76 seats equipping 19 Boeing 777-300
An exclusive cabin with 4 suites
A unique concept, with each suite featuring adjustable curtains
A suite designed with top-of-the-range materials – leather, woven fabrics, suede, etc.
A spacious, ergonomically-designed seat, with integrated lumbar support
Direct access to the central aisle
A large fully-flat bed
A sleek console with integrated storage compartments
A large table and an ottoman for inviting a guest during the trip
A mobile partition and adjustable curtains, allowing each guest to choose their preferred level of privacy
A plaid and "boudoir" cushion available as soon as the guest boards
A mattress, cushion and warm duvet for optimum sleeping comfort
A private wardrobe
A 24-inch High Definition screen and touch remote
The window blinds close at the flick of a switch
Accessories to make the guest feel at home; bedside lamp, pillow, plaid, etc.
What do you think of Air France's new La Premiere Suite?