One of the best uses of Air France/KLM FlyingBlue miles is booking their Promo Awards.
FlyingBlue publishes these every month, and they offer 20-50% off select award tickets on Air France and KLM metal.
Back in the day Promo Awards would consistently be for 50% off and would have a good number of options in business class, though unfortunately they've devalued the promotion somewhat since then, and the discounts are now pretty consistently for 25% off. That's still good, just not as good.
FlyingBlue just published their latest Promo Awards, valid for bookings made between July 1 and July 31, 2017, and for travel between October 1 and October 31, 2017. This time around there are four Promo Awards, all offering 25% off (two in business class and two in economy):
New York to Europe in Air France economy class via Paris Orly (valid September 1 through October 31, 2017)
Vancouver to Europe in Air France economy class
Calgary to Europe in KLM business class
Toronto to Europe in KLM business class
With these discounts you'll be paying 18,750 miles one-way in economy class (rather than 25,000 miles), and 46,875 miles one-way in business class (rather than 62,500 mils).
The catch with the New York flight above is that the Promo Awards are only valid for travel on Air France's New York to Paris Orly flight, which isn't ideal if you're making a connection, given that most of Air France's flights operate out of Charles de Gaulle. However, fuel surcharges in economy are mild, so this could still represent a solid deal for travel between the US and Europe.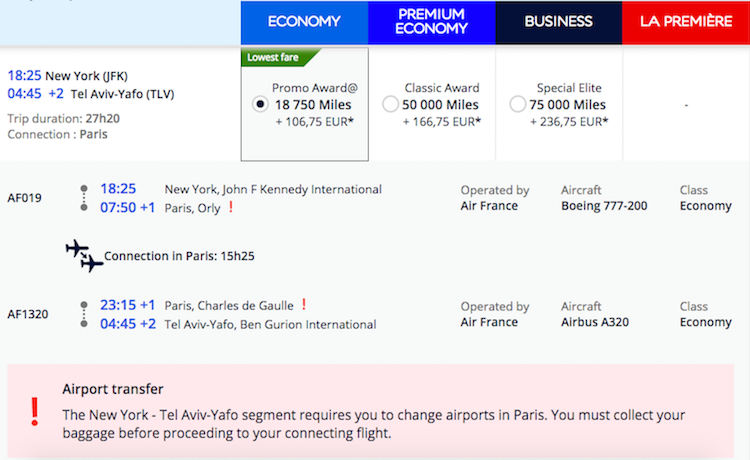 If you're looking at business class, award availability on KLM's Toronto to Amsterdam flight is excellent.
One of the frequencies is even operated by a 777, featuring KLM's fully flat business class product.
With any of these awards, you can include connections to other points in Europe (including Israel) from Paris at no additional cost, though you can't include domestic segments on Delta or Alaska to position within North America.
All saver level space on Air France and KLM in the above markets is eligible for the discounted costs, and these awards are bookable directly on the FlyingBlue website.
As always, there are plenty of routes outside of North America eligible for Promo Awards as well, so be sure to take a look at the whole list.
As a reminder, FlyingBlue is transfer partners with Amex Membership Rewards, Chase Ultimate Rewards, Citi ThankYou, and Starwood Preferred Guest, meaning you can transfer points earned from all these cards:
Transfer points to FlyingBlue from:
Air France 777
You can hold your award ticket prior to transferring points by calling the FlyingBlue call center.
Bottom line
Promo Awards are always worth checking out. The list for July awards isn't too exciting. However, at least there are a couple of options in both economy and business class, which gives travelers some flexibility. The other great thing about Promo Awards is that they can be used for travel anywhere within Europe, which includes Israel, by their definition.
Is anyone considering one of the Promo Awards on the July list?