Boeing planes have been transporting US presidents since President Roosevelt, and at the moment a 747-200 serves as "Air Force One." There are two 747-200s in the Air Force fleet that can potentially operate as Air Force One, the first of which was delivered in 1990. Obviously this is an aging plane, so it was announced a while back that the government and Boeing had entered into a deal to acquire new 747-8s to act as Air Force One.
However, President Trump wasn't happy with this excessive spending, as he called for the government to cancel the order due to the $4 billion price tag (others dispute those cost estimates, but that's what he said).
https://twitter.com/realDonaldTrump/status/806134244384899072
Well, it looks like Air Force One will indeed be a 747-8, though the government will acquire these planes at a lower cost.
The Hill is reporting that Boeing and the government are in the final stages of negotiating a deal for two 747-8s that are currently stored:
The Air Force will reportedly attempt to lower costs on a pair of new presidential planes by buying two Boeing 747 jetliners abandoned by a bankrupt Russian airline.

Service officials are "working through the final stages of coordination to purchase two commercial 747-8 aircraft," Air Force spokeswoman Ann Stefanek told Defense One.

The deal could be announced as soon as this week, though the Air Force is not expected to release the contract value, according to the report.
The story here is interesting. Russian airline Transaero had ordered some 747-8s in 2013, though the airline went out of business in 2015 (which is super sad, since I never had the opportunity to try their interesting looking first class).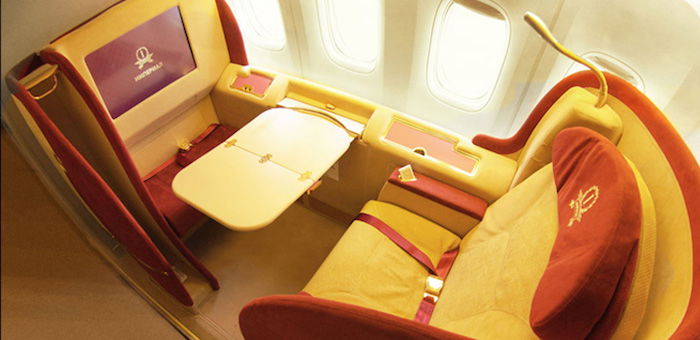 The planes were flight tested but then put into storage by Boeing, and haven't found a buyer since. So this seems like a logical enough move, since presumably the government can get a deal on these planes.
However, I suspect it will still be a while before they're actually in service. There are significant modifications required to get a plane up to Air Force One standards, though I suspect it could be flying as Air Force One within a few years. I do wonder what the total cost will be here, given the modifications required.
https://twitter.com/navybook/status/892454713672835072
Interesting stuff. I actually didn't realize that these 747-8s had been in storage all along. What a waste — too bad no other airline wanted them. I know at one point Iran Air was interested in these planes, though that deal fell through.
Now, before anyone starts any Trump/Russia conspiracy theories, keep in mind that this plane was never delivered to Transaero — it has been in Boeing's possession all along. 😉
(Tip of the hat to Andrew)