Air Canada has been growing nicely out of all three of their biggest hubs, as they've added longhaul service from Montreal, Toronto, and Vancouver.
Well, Air Canada has just announced their latest service increases, including some new routes, and also increased frequencies on some existing routes. Air Canada is adding flights from Vancouver to Delhi, London, Melbourne, Paris, and Zurich.
Major @AirCanada news – new flights from YVR to Paris & Zurich, expanded service to Delhi, Melbourne & Heathrow: https://t.co/TWnSww2IkO pic.twitter.com/5xDhCBNvFy

— Vancouver International Airport (YVR) (@yvrairport) August 31, 2017
While none of these new flights are bookable yet, here's a breakdown of the new service:
Air Canada's transatlantic growth out of Vancouver
In the summer of 2018, Air Canada will be adding seasonal flights from Vancouver to both Paris and Zurich. Both of these are new routes for Air Canada.
Between June 8 and October 15, 2018, Air Canada will operate 4x weekly flights between Vancouver and Paris with the following schedule:
AC806 Vancouver to Paris departing 1:30PM arriving 8:15AM (+1 day) [Mon, Wed, Fri, Sun]
AC807 Paris to Vancouver departing 9:55AM arriving 10:50AM [Mon, Tue, Thu, Sat]
Between June 7 and October 14, 2018, Air Canada will operate 3x weekly flights between Vancouver and Zurich with the following schedule:
AC802 Vancouver to Zurich departing 12:55PM arriving 7:50AM (+1 day) [Tue, Thu, Sat]
AC803 Zurich to Vancouver departing 9:30AM arriving 10:50AM [Wed, Fri, Sun]
Paris and Zurich are nice additions. Paris is understandably a big market for tourists from North America looking to go to Europe, while Zurich is Swiss' hub, so gives travelers an alternative to connecting in Frankfurt. My only complaint with these flights are the departure times out of Vancouver, which are frustratingly early. They leave too early to get any real sleep, assuming you're on local time and not medicating yourself. Then again, I get that the flights are designed around maximizing connectivity on both ends.
Furthermore, Air Canada will be increasing their Vancouver to London Heathrow flight from once daily to twice daily during the 2018 summer season. The timing of that additional flight hasn't yet been announced.
Air Canada's transpacific growth out of Vancouver
For this coming Northern Winter, Air Canada added a seasonal flight from Vancouver to Melbourne, which complements their services to Brisbane and Sydney. Initially the flight was only supposed to operate between December and February. Air Canada's Vancouver to Melbourne flight will operate 3x weekly year-round starting June 1, 2018, with the following schedule:
AC37 Vancouver to Melbourne departing 10:45PM arriving 7:55AM (+2 days) [Wed, Fri, Sun]
AC38 Melbourne to Vancouver departing 9:40AM arriving 7:35AM [Tue, Fri, Sun]
On top of that, Air Canada's seasonal Vancouver to Delhi flight will operate up to 5x weekly in the 2017/2018 season, compared to the previous 3x weekly flights. It's impressive to see Air Canada flying to Delhi out of both Toronto and Vancouver, and to Mumbai out of Toronto.
All these routes will be operated by 787s
While the press release doesn't state what version of the aircraft will operate each flight, all these new flights should be operated by 787 aircraft, featuring business, premium economy, and economy. Air Canada has a solid reverse herringbone seat in business class, which is ideal for longhaul flights. If you'd like to know what you can expect in terms of service, I reviewed Air Canada's longhaul business class last year from Toronto to Frankfurt and London to Toronto.
Hopefully Air Canada loads a good amount of award availability when these flights become bookable.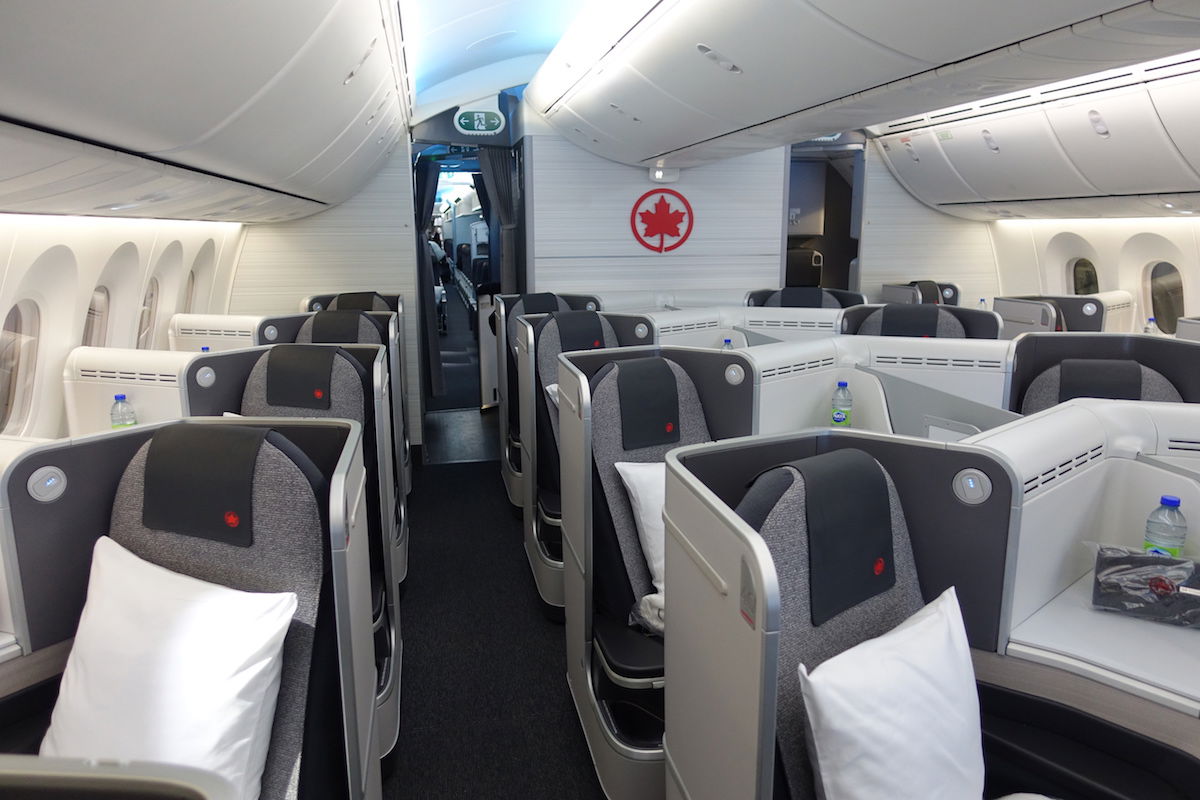 Bottom line
Congrats to Air Canada on their expansion out of all three of their biggest hubs. This Vancouver expansion is pretty significant, as we're seeing increased frequencies on five longhaul routes. Now here's to hoping they make some award space available when these flights become bookable.