The past few weeks we've seen some airlines change their carry-on policies for the worse — specifically, Spirit and WOW Air come to mind. Well, it's nice to see an airline change their carry-on policy for the better, for once.
Air Canada has just eliminated their weight restriction for carry-ons. More specifically, their new policy is as follows:
Your carry-on baggage must be light enough that you can store it in the overhead bin unassisted.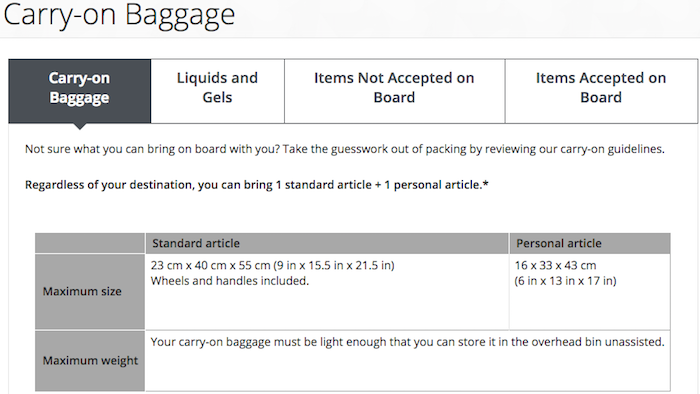 Previously Air Canada's carry-on weight limit was 10kg or 22lbs.
Personally I'm very happy to see this change. Most airlines have unrealistically low weight limits on their carry-ons. For example, Singapore Airlines' weight limit is 7kg per carry-on, even in Suites Class. Many carry-on bags alone weight 4-5kg empty, meaning you can barely put anything in your bags if you want them to technically be legal. Fortunately these limits typically aren't enforced, and I've never had an issue carrying two or three times as much onto a plane (weight wise).
I think Air Canada's policy of requiring that you be able to lift your bag is smart. I realize it sounds like it may be unfair to those who aren't as able-bodied, though any other system creates a tough situation:
At many airlines, the crew isn't allowed to lift passengers' luggage for them, for liability reasons
While strangers will often help, relying on the kindness of strangers seems like a bad system
However, the one reason this rule surprises me a bit is because overhead bins typically have posted weight limits. Now passengers can theoretically carry-on 30-40 pound carry-ons, and if you stack those next to one another, you can easily exceed the posted weight limit of an overhead. I don't actually see that being a safety issue, but I'm surprised they're not technically publishing rules that would at least theoretically prevent this.
I hope other airlines follow Air Canada's lead!
What do you make of Air Canada eliminating a carry-on weight limit?