Air Canada will be shortly be taking delivery of their first Boeing 737 Max 8. Rather than just using the plane for domestic and transborder flights, Air Canada announced last week that they'll also be using it for transatlantic flights, including the following:
AC820 Toronto to Shannon departing 10:00PM arriving 9:30AM (+1 day) [Tue, Thu, Fri, Sat]
AC821 Shannon to Toronto departing 10:30AM arriving 12:45PM [Mon, Wed, Fri, Sat]
AC818 Montreal to Dublin departing 9:15PM arriving 8:25AM (+1 day) [Mon, Wed, Fri, Sat]
AC819 Dublin to Montreal departing 10:20AM arriving 12:00PM [Tue, Thu, Fri, Sat]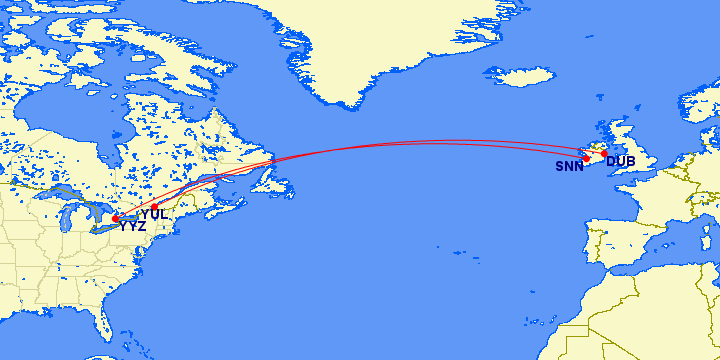 While I imagine these planes will still be primarily used for shorter flights, the decision to fly them transatlantic is interesting. This isn't even Air Canada's first transatlantic flight on a narrowbody aircraft. The airline also operates a flight from St. John's to London Heathrow on an A319, though that flight is substantially shorter.
Anyway, up until now we haven't actually known how Air Canada's 737 MAX 8 would be configured. I assumed it would have a standard regional configuration, and that does indeed seem to be the case. Air Canada has now revealed the seatmap and specifications for their 737 MAX 8:
The 737 MAX 8 will have 16 business class seats and 153 economy class seats
Economy class seats will feature 30″ of pitch and 18″ of width
Business class seats will feature 38″ of pitch and 21″ of width
There will be a personal television at every seat (as a point of comparison, American has decided to eliminate personal televisions on their newest planes), as well as Wi-Fi
FlyerTalk member ctf12 shares the following rendering of the cabin from Air Canada's investor day conference: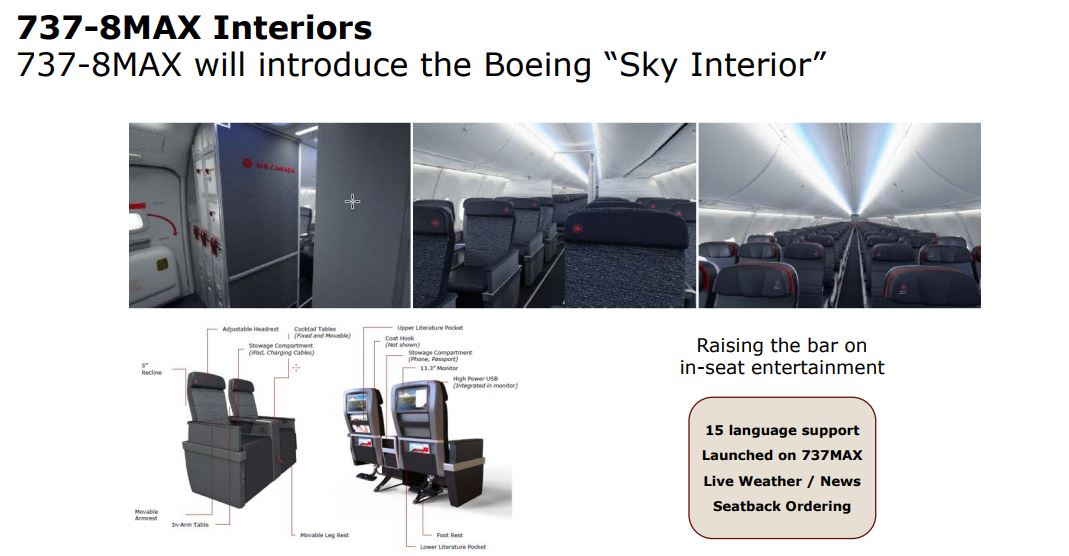 Here's the seatmap for the new plane:

As a point of comparison, American's 737 MAX 8 will have a total of 172 seats, so it will have three more seats than Air Canada's configuration.
Air Canada's configuration is identical to United's 737-800s up until the exit row — United also has 16 first class seats, and then nine rows of extra legroom economy seating, including the two exit rows (that's a lot of preferred seats). However, Air Canada manages to squeeze in an extra three seats in the back behind the exit row, though that seems to be accomplished by putting the bathrooms at the very back, rather than in front of the rear exits. In other words, the galley space will be smaller and cabin will be bigger.
Most of Air Canada's narrowbody fleet presently has at least 31″ of seat pitch, so this is a downgrade in terms of personal space. However, with seat design changing, airlines are often able to reduce pitch with materially reducing legroom.
While not surprising, Air Canada will sell the forward cabin of these transatlantic flights as business class, even though the seat isn't really competitive internationally. Pricing seems to be comparable to what you'd pay for a flat bed on a 777 or 787. For example, a roundtrip ticket between Toronto and Shannon will run you ~$2,900. Logically it seems like they should market it as premium economy in terms of the product offering, but I guess they do this because they can get away with it.