---
My flight from Astana to London was scheduled to depart at 3PM. I decided to get to Astana Airport at around 1PM, so I'd have plenty of time to review the lounge.
The drive from the Marriott took about 15 minutes, and I was dropped off at the central departures area. Much like the rest of Astana, the terminal had a pretty cool design.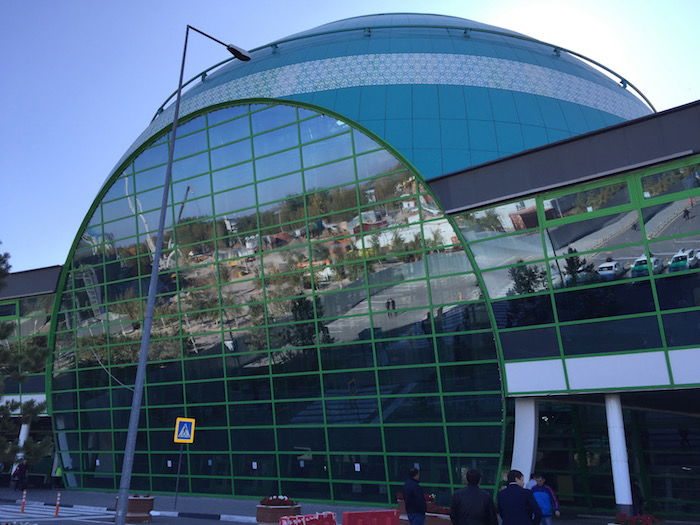 Astana Airport exterior
I apologize for the photo quality with some of these pictures, because I didn't feel especially comfortable taking pictures. There were armed guards everywhere, and I saw some "no photography" signs, though I'm not sure if that applied to the whole terminal, or just parts. Regardless, I was cautious.
Anyway, once inside the terminal I took the escalator up a level to the departures level, where check-in was located.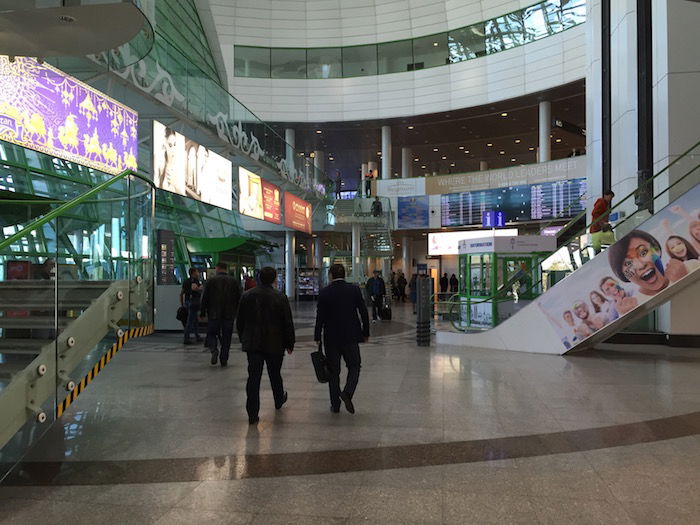 Astana Airport landside terminal
I quickly found Air Astana's counters. Given that this is the airline's hub, their check-in area was surprisingly compact. The business class check-in process was quick, though the one funny part was when the agent flipped through my passport to try the find the stamp for Kazakhstan. She didn't say anything, but she had quite the facial expression as she looked at my passport.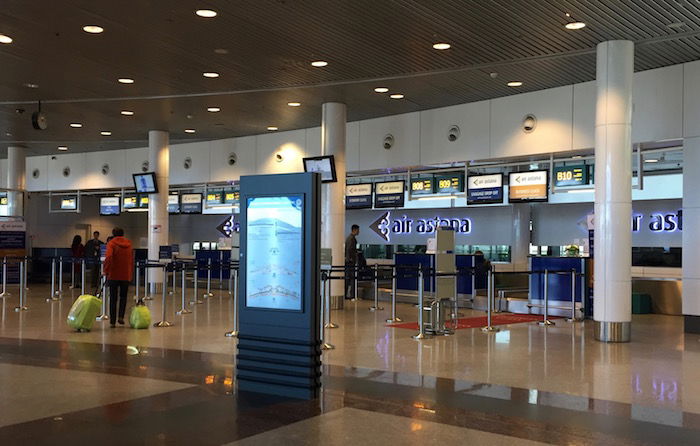 Air Astana check-in Astana Airport
With my boarding pass in hand, I followed the signage towards immigration and security, which was to the right of the Air Astana counter.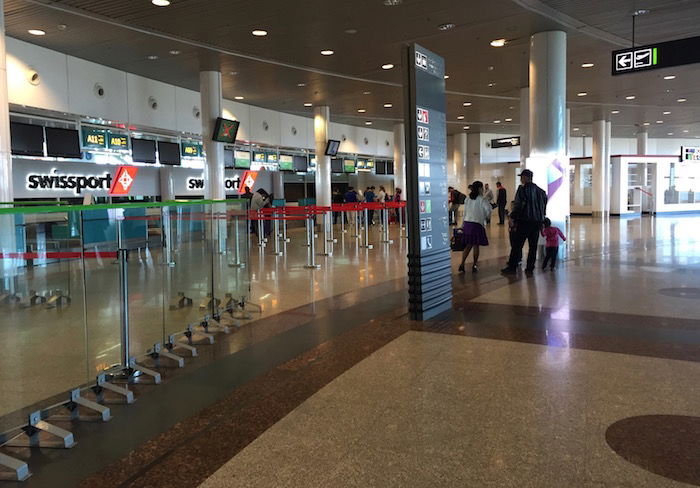 Astana Airport check-in
First I had to go through immigration, which was a bizarre process. There was no queue so I went up to the window and the agent started processing my passport. After a couple of minutes he stopped and made a phone call. Then he proceeded to just sit there for about 10 minutes without doing anything. I guess I could have asked "is anything wrong?" though I decided to just wait it out, since I figured there was no upside in asking.
After a bit over 10 minutes he got a phone call, and then he stamped my passport. All-in-all the process took about 15 minutes. Odd.
After that I had to go through security, which was a painless process. The checkpoint was heavily staffed, though I was the only person going through security.
While the entire terminal was to the right, there was a sign indicating that the Air Astana lounge was to the left. However, when I turned left a security officer stopped me and said "no, other way." I said "isn't the lounge left?" "No, other way."
So I walked the other way, and then asked a security officer a bit further down which way the Air Astana lounge is. He pointed left, so I headed back in the direction I was originally going. The same guy as before stopped me and told me I couldn't go that way, and this time got sort of aggressive. I pointed at his colleague and said that he told me the Air Astana lounge was that way. He just said "okay," and let me go.
Sure enough, the Air Astana Lounge was just to the left of the security checkpoint. Bizarre, once again.
I was curious to see what Air Astana's flagship Shanyrak Lounge would be like, given my experience at the domestic Air Astana lounge in Almaty.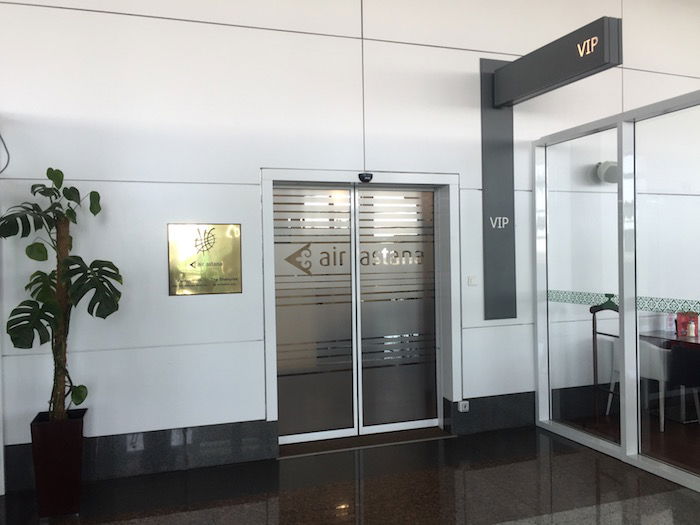 Air Astana Lounge Astana Airport
Inside the door I handed the associate my boarding pass, and she invited me upstairs into the lounge. The lounge could be accessed either by spiral staircase or by elevator.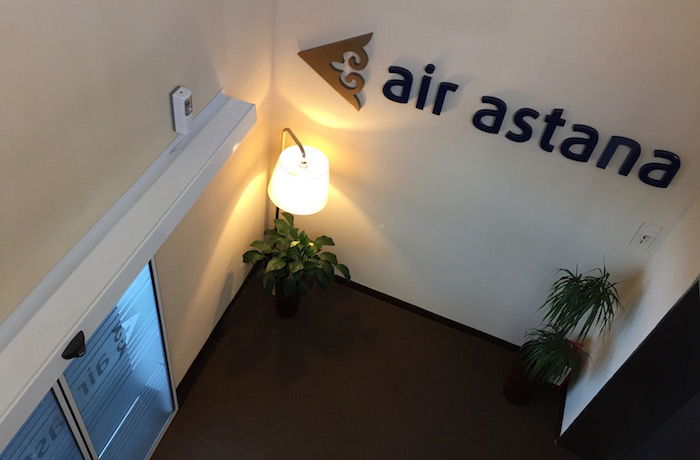 Air Astana Lounge Astana Airport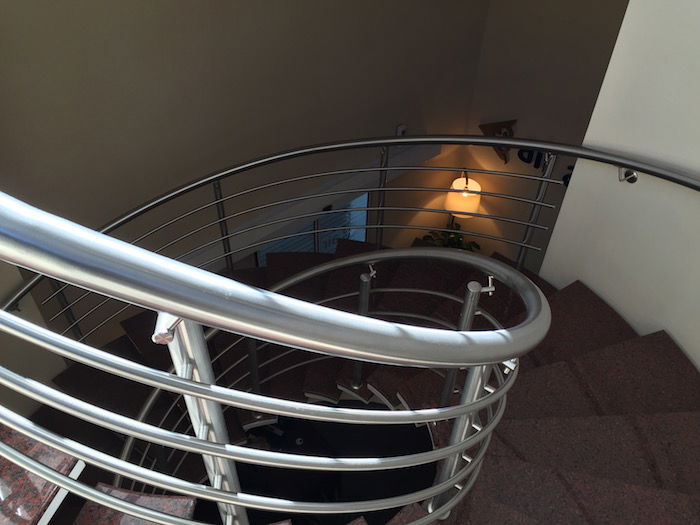 Air Astana Lounge staircase Astana Airport
The lounge wasn't especially big for an airline's flagship lounge, though there were only two other people in the lounge.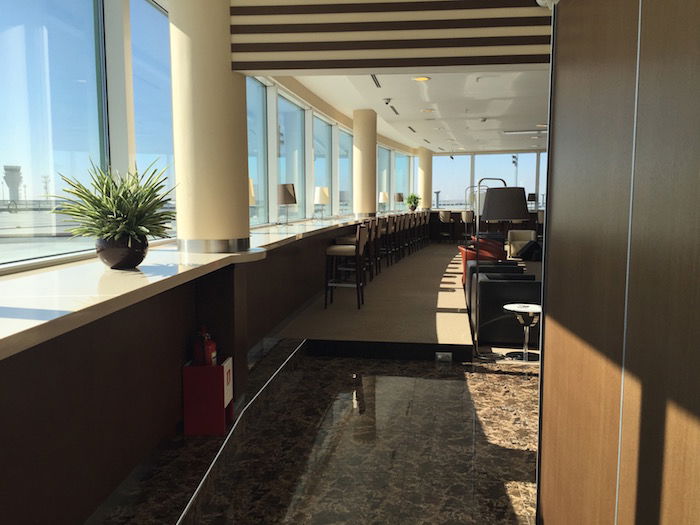 Air Astana Lounge Astana Airport
The lounge basically consisted of one large room. There was counter-top seating along the windows of the lounge.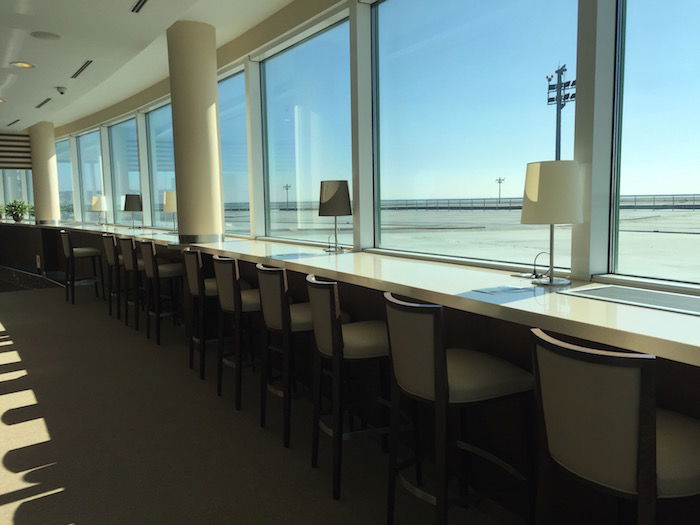 Air Astana Lounge seating Astana Airport
The furniture in the lounge was well organized, in such a way that the lounge felt fairly private.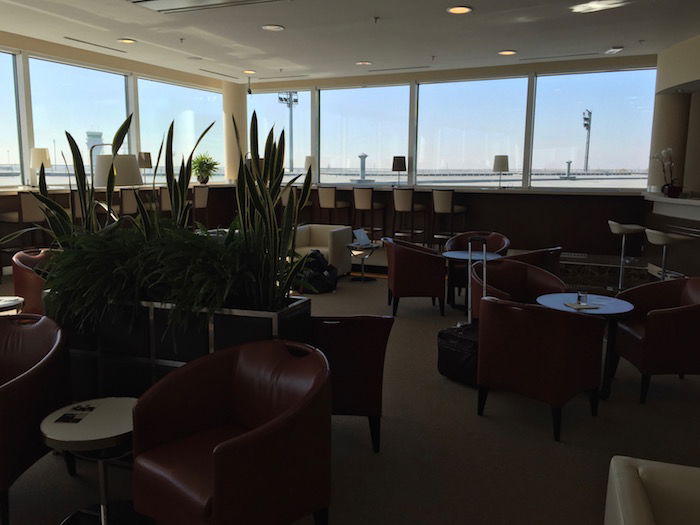 Air Astana Lounge seating Astana Airport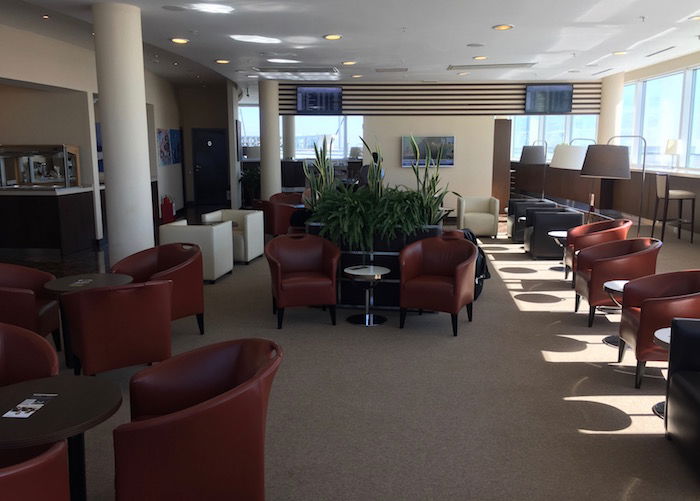 Air Astana Lounge seating Astana Airport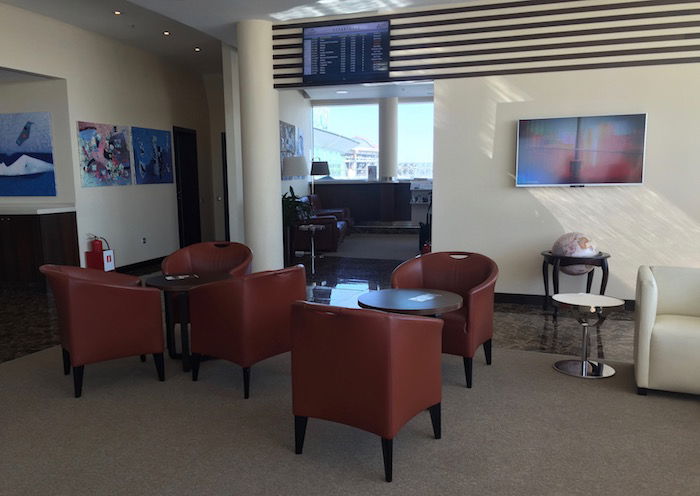 Air Astana Lounge seating Astana Airport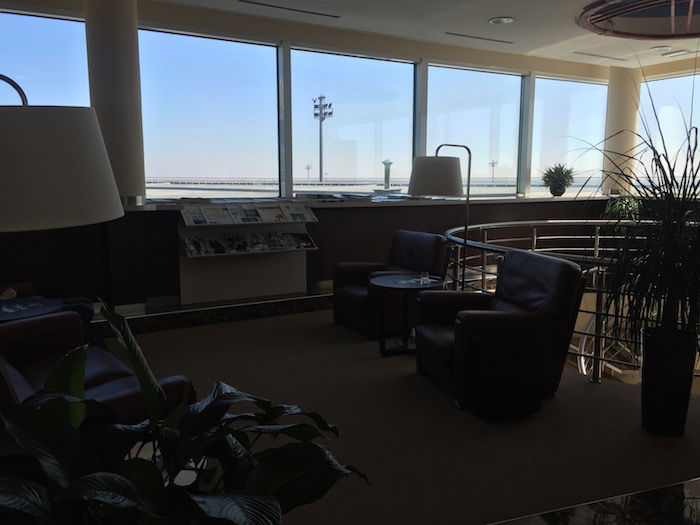 Air Astana Lounge seating Astana Airport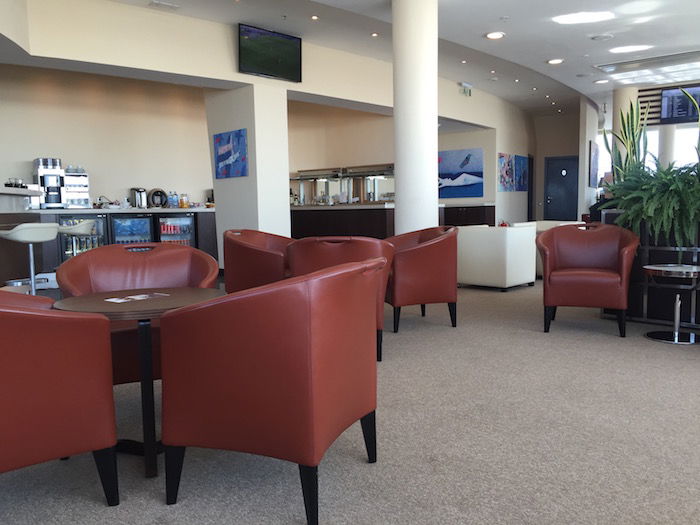 Air Astana Lounge seating Astana Airport
In the far corner of the lounge was a bar area with a handful of seats. Next to that was the self service buffet.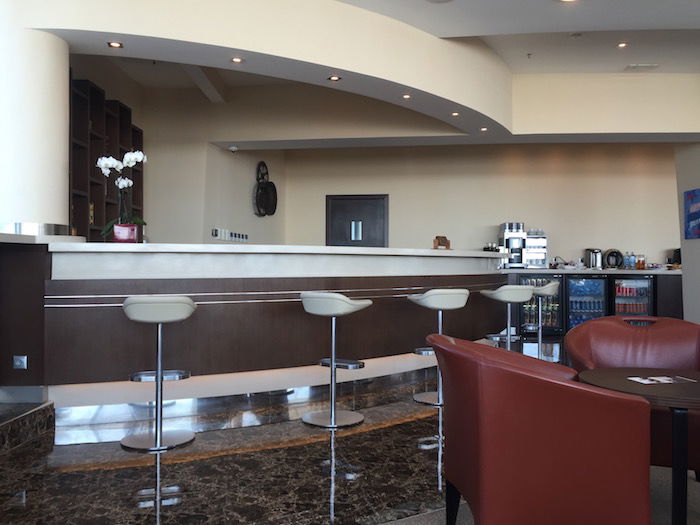 Air Astana Lounge bar Astana Airport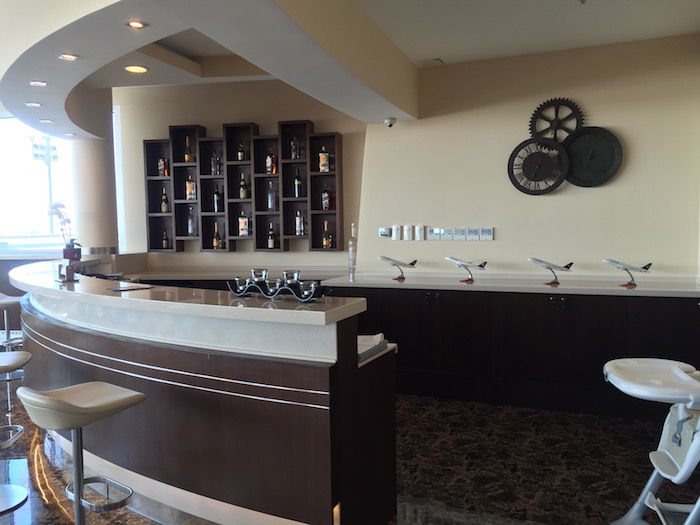 Air Astana Lounge bar Astana Airport
Unfortunately the lounge didn't feature much in the way of views. While it was above the main concourse level, unfortunately it just had a view of the terminal's roof, rather than of the tarmac and runway. I should also note that due to the lounge's design, it felt like a bit of a greenhouse — it was hot in the lounge.
As soon as I sat down, one of the lounge attendants came to my seat with a Wi-Fi code, as well as a tray with a choice between water and orange juice.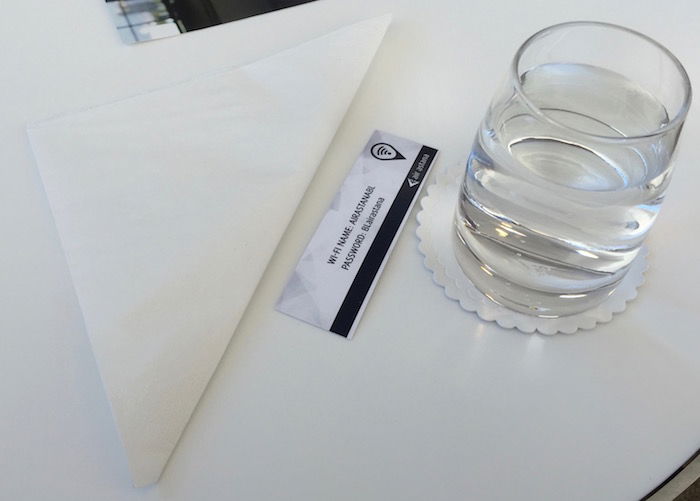 Air Astana Lounge Wi-Fi & water Astana Airport
Other than the initial service, I believe all the food in the lounge was self serve. There was a decent-looking selection of small appetizers. However, I avoided eating anything from that part of the buffet, since I wondered how long it had been sitting outside in the warm room.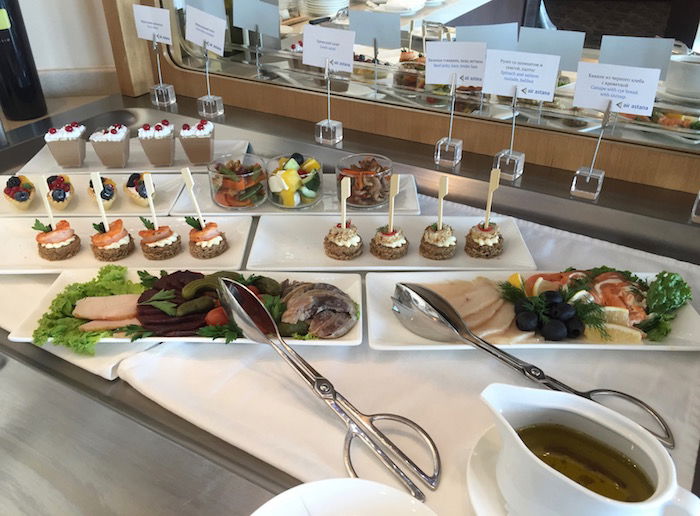 Air Astana Lounge snack selection Astana Airport
There was also a selection of fresh fruit and tomato soup.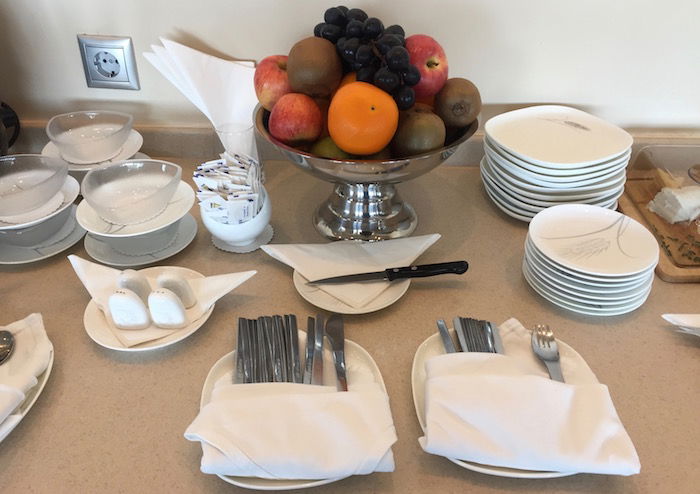 Air Astana Lounge snack selection Astana Airport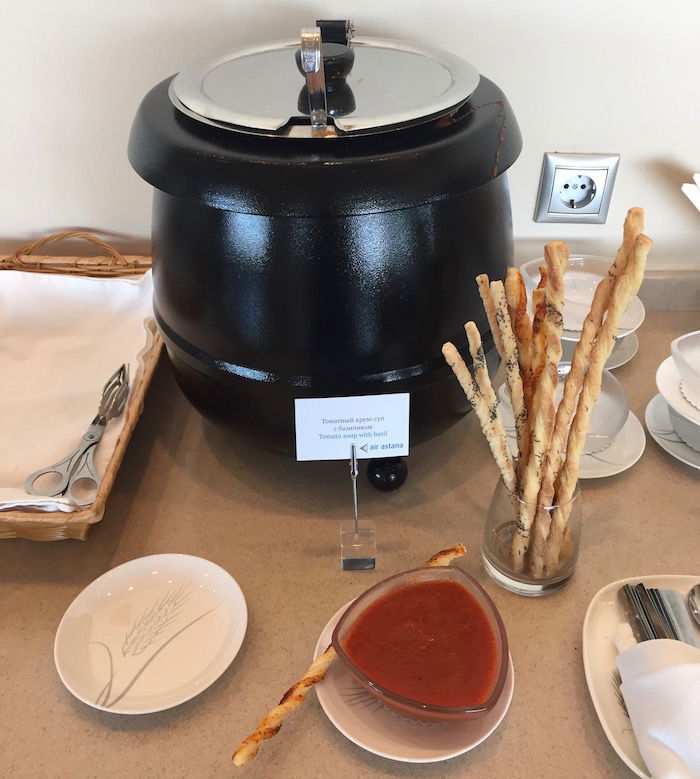 Air Astana Lounge soup selection Astana Airport
In theory there seemed to be hot options — there was a menu indicating there should be chicken with sweet and sour sauce as well as beef stroganoff. However, in practice the area where those dishes should be placed was empty.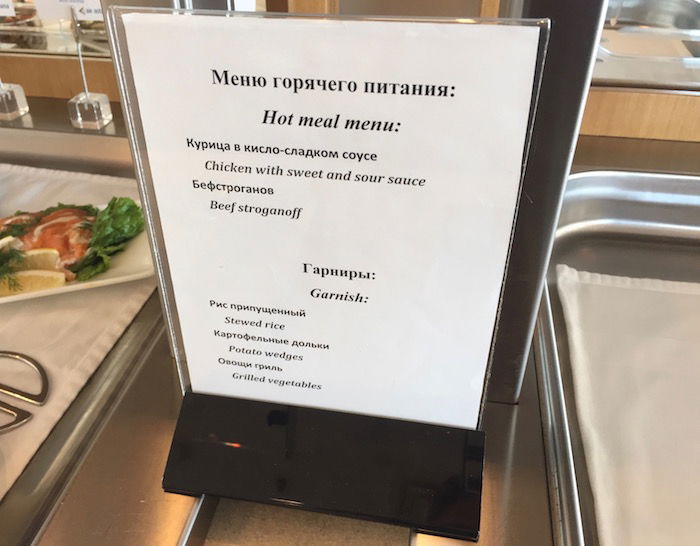 Air Astana Lounge menu Astana Airport
There was also a selection of self serve wine, including prosecco.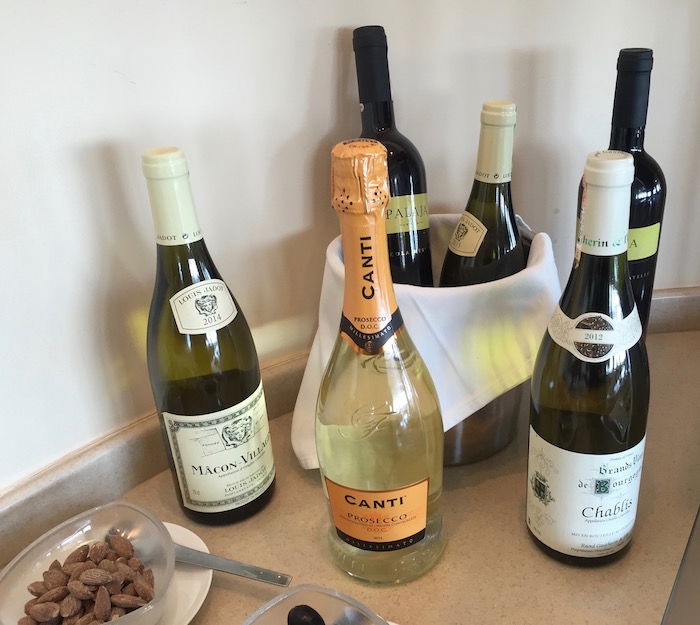 Air Astana Lounge drink selection Astana Airport
I decided to have some of the tomato soup to eat, which was quite good.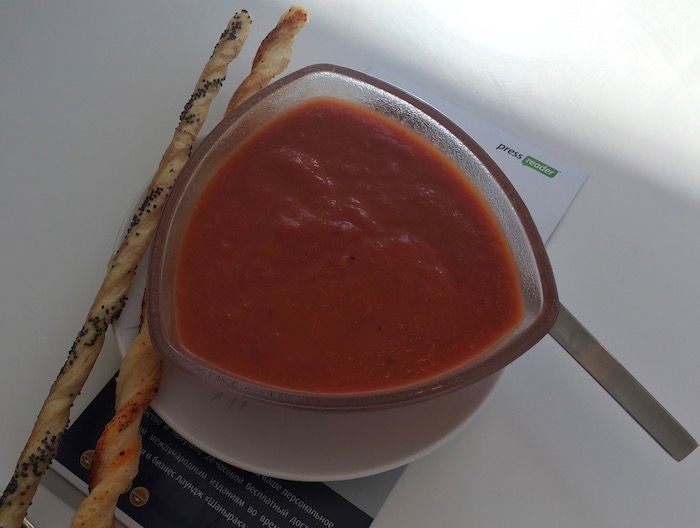 Air Astana Lounge soup Astana Airport
While the lounge didn't have showers, the bathrooms were in decent condition, at least.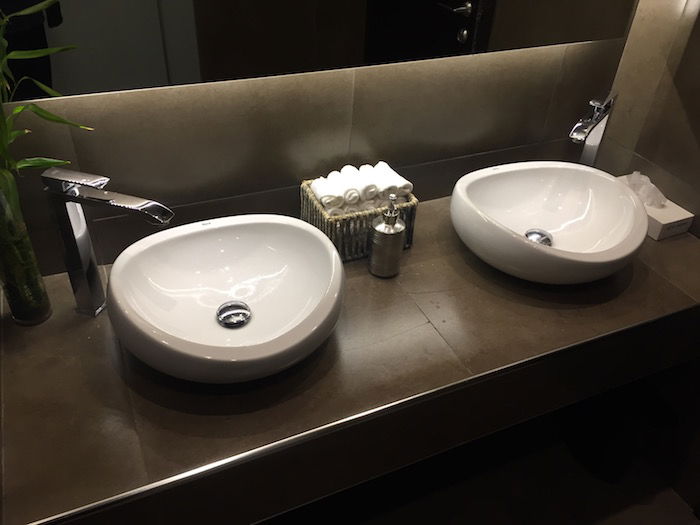 Air Astana Lounge bathroom Astana Airport
The Wi-Fi in the lounge was on the slow side though not unusable, so I spent my time in the lounge getting caught up on work before my flight, given that it wouldn't have Wi-Fi.
The lounge had three attendants working there, and for the entire time I was in the lounge they had nothing to do. They just stood in the bar area on their cell phones. Perhaps the lounge gets busier during other times, though for most of my time in the lounge there were more employees than guests.
Boarding was scheduled for 2:30PM, so at around 2:15PM I headed down to gate 1, where my flight was scheduled to depart from.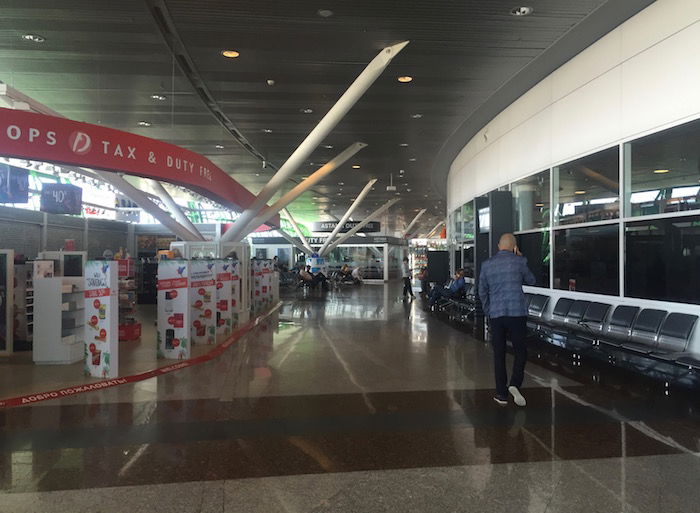 Astana Airport terminal
The gate was only a very short walk from the lounge.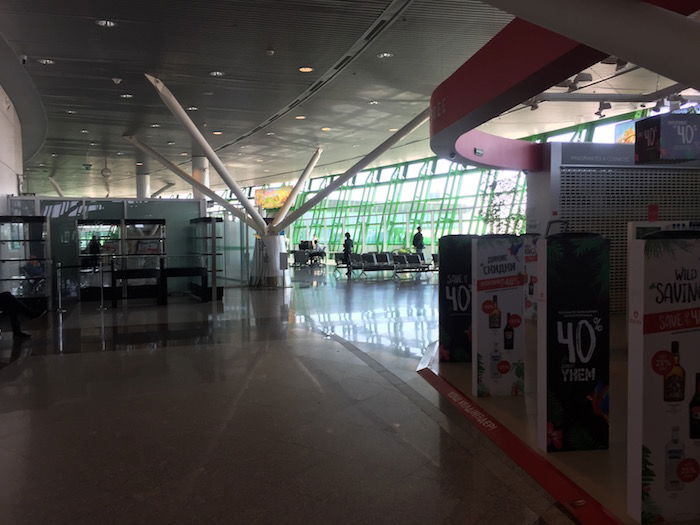 Astana Airport terminal
When I arrived at the gate I found that it was still quite empty. Interestingly the crew (six flight attendants and two pilots) was still sitting in the gate area, and it seemed like they were waiting on the gate agents. The captain was on his cell phone, and seemed to be contacting operations to get a gate agent so they could board the plane. Soon enough a gate agent showed up, at which point the crew was let on the plane.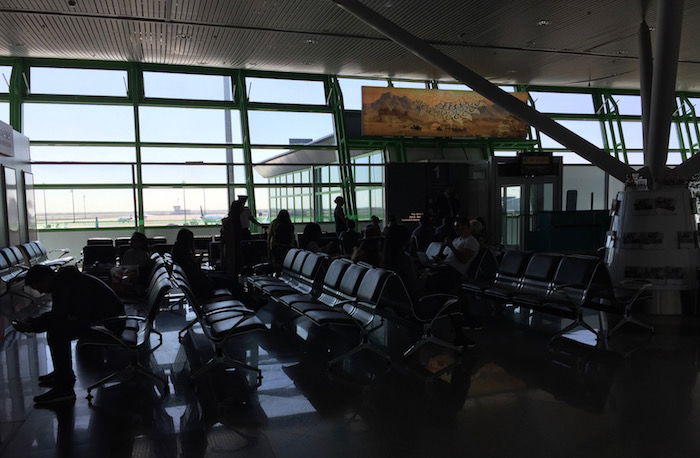 Astana Airport terminal
Finally at 2:35PM boarding commenced, starting with business class. I managed to be the first aboard.
Air Astana Lounge Almaty bottom line
This lounge was certainly a huge improvement over Air Astana's domestic "lounge" in Almaty. I thought this lounge was well intentioned and comfortable enough. However, the lack of hot food (aside from soup) and the hot temperature in the lounge made it a bit underwhelming. Still, it's a decent enough place to spend a layover.
If you don't have access to this lounge based on your boarding pass, there is one Priority Pass option in Astana, so a credit card with lounge access could come in handy. Astana Airport is quite small, however, so you don't really need to arrive all that early for a flight, at least based on my experience.