Personally if I were to launch a new airline I probably wouldn't do so during the coronavirus pandemic, but that's just me…
Abu Dhabi getting two new low cost carriers
Etihad Airways has been struggling financially since long before coronavirus, and in 2017 the airline began a five year transformation plan. Before the current pandemic, Etihad hoped to be profitable by 2023(!!!), and in the meantime continued to rack up huge losses. Since 2016, the airline has lost over five billion USD.
The airline is government owned, and now government money is being used to launch two new low cost carriers in Abu Dhabi:
Technically these two projects are with separate organizations, but ultimately all of the money for this is coming from the same pockets, which is why this is so confusing.
My guess is that they're hoping to increase access to Abu Dhabi, though without a doubt new low cost carriers will put even more downward pressure on Etihad Airways' yields.
Air Arabia commencing flights next week
It has today been announced that Air Arabia Abu Dhabi will commence operations as of July 14, 2020. Billed as Abu Dhabi's first low cost airline, the carrier's first two routes will be to Alexandria and Sohag, both cities in Egypt.
These flights will operate with the following schedule:
Abu Dhabi to Alexandria departing 3:00PM arriving 4:55PM [Tue, Thu, Sat]
Alexandria to Abu Dhabi departing 5:35PM arriving 11:25PM [Tue, Thu Sat]
Abu Dhabi to Sohag departing 2:20PM arriving 4:00PM [Wed]
Sohag to Abu Dhabi departing 4:40PM arriving 10:10PM [Wed]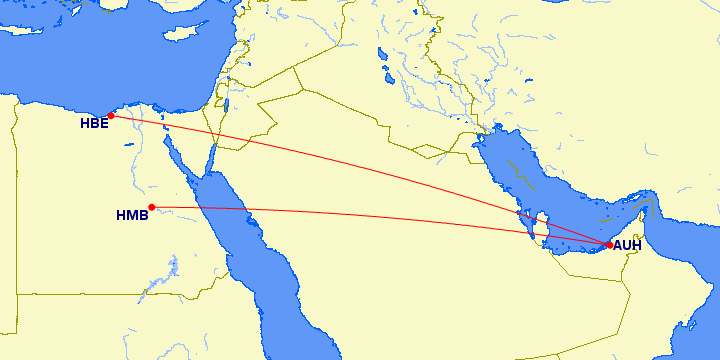 That's not exactly an aggressive schedule, but that makes sense if launching flights in this environment. More than anything else, it almost sounds to me like these flights will be used to transport workers to & from the UAE.
The airline will commence operations with two Airbus A320 aircraft based in Abu Dhabi, offering a similar service model to the rest of Air Arabia's network.
Tony Douglas, CEO of Etihad Aviation Group, had the following to say:
"In these extraordinary times, it gives us great pride to launch Air Arabia Abu Dhabi, the capital's first low-cost carrier. This joint venture between Etihad and Air Arabia will offer greater convenience and direct access to the UAE's thriving capital for new markets worldwide, beginning with two key Egyptian routes, and expanding in time.

Abu Dhabi has earned itself an exceptional reputation for business and leisure travel alike, and we look forward to seeing the emirate continue to prosper as the current global situation improves and markets begin to reopen."
Meanwhile Adel Al Ali, CEO of Air Arabia, had the following to say:
"We are delighted to announce the launch of the first flight of Air Arabia Abu Dhabi. While the global aviation sector continues to witness unprecedented challenges due to COVID-19 pandemic, this step is a testament to the strength of the UAE aviation sector and our commitment to its long-term prospects.

Egypt is a key travel market and the launch of the first flights reflects our focus on supporting commercial and trade ties between both nations while providing our customers with a new value-for-money option to travel between both countries."
Air Arabia Abu Dhabi was initially supposed to launch operations in March 2020, with plans to fly to about a dozen destinations (pictured in a map below). Obviously that plan has changed significantly in recent months.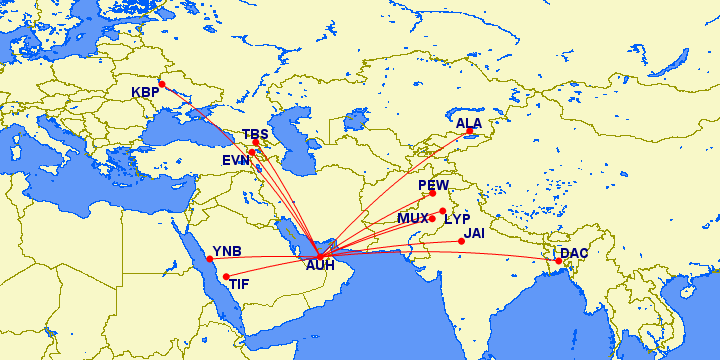 Bottom Line
It's going to be interesting to see how these two low cost carriers in Abu Dhabi unfold in the coming months. No matter what, I don't see two airlines launching being good news for Etihad.
A single carefully crafted low cost carrier might not be terrible for Etihad, serving destinations that the national airline otherwise can't fly to. However, to see two Abu Dhabi-backed low cost carriers forming in the market at once is… puzzling.
We're now seeing Air Arabia Abu Dhabi actually launch operations next week, starting with a total of four weekly flights to Egypt. We'll have to see how the airline expands, and what ends up happening with the Wizz Air joint venture.
What do you make of the first routes for Air Arabia Abu Dhabi?