One of the things that I love about American Express Membership Rewards is that they offer bonuses on points transfers to their partners with some frequencies.
We don't see these to all partners (for example, it's rare to see transfer bonuses to Delta SkyMiles or Singapore KrisFlyer), though we do see them to some (it's common to see them to Air France-KLM Flying Blue, Virgin Atlantic Flying Club, etc.).
One of the things we rarely see is a transfer bonus to Air Canada Aeroplan. However, at the moment there's a targeted bonus on Amex points transfers to Aeroplan. I see a 10% bonus on my account, though there's a chance other people are targeted for different bonuses.
But hold off before even looking at your account:
This transfer bonus is targeted, with different accounts targeted for different bonuses (and some not targeted for any bonuses at all)
There's no end date for this promotion, so it's a "flash bonus," meaning it could be pulled within days
Typically once you look at the bonus on your account, it won't appear again, so you need to transfer points right away
Earn Amex Membership Rewards points with these cards:
That last bullet point is key. So if you want to see if you're targeted for this bonus, log into your Amex account, and at the top right you may see the transfer bonus as something that's "suggested for you."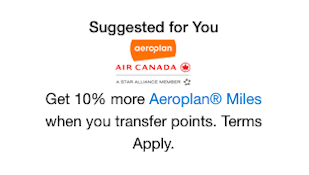 Furthermore, you can log into your Amex account and go to the Membership Rewards transfer page, which will display the transfer ratio. But don't click on Aeroplan, because the bonus will likely be pulled after the first time you click on it.
In my case, the transfer ratio was 1,000:1,100, meaning I was targeted for a 10% bonus.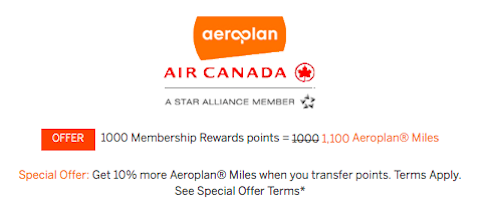 The terms at the bottom of the page specifically say "if you return to redeem points later, this offer may no longer be available." And indeed when I go back to the page, the offer no longer shows.
Last year I was targeted for a similar offer, except it was for 20%. At the time I went ahead and transferred a good number of points, so I don't plan on doing so again this time around, since I still have some miles remaining.
Aeroplan has lots of great redemption rates on Star Alliance partners, and many can be booked without huge surcharges, including travel on EVA Air, LOT Polish, Turkish, United, and more.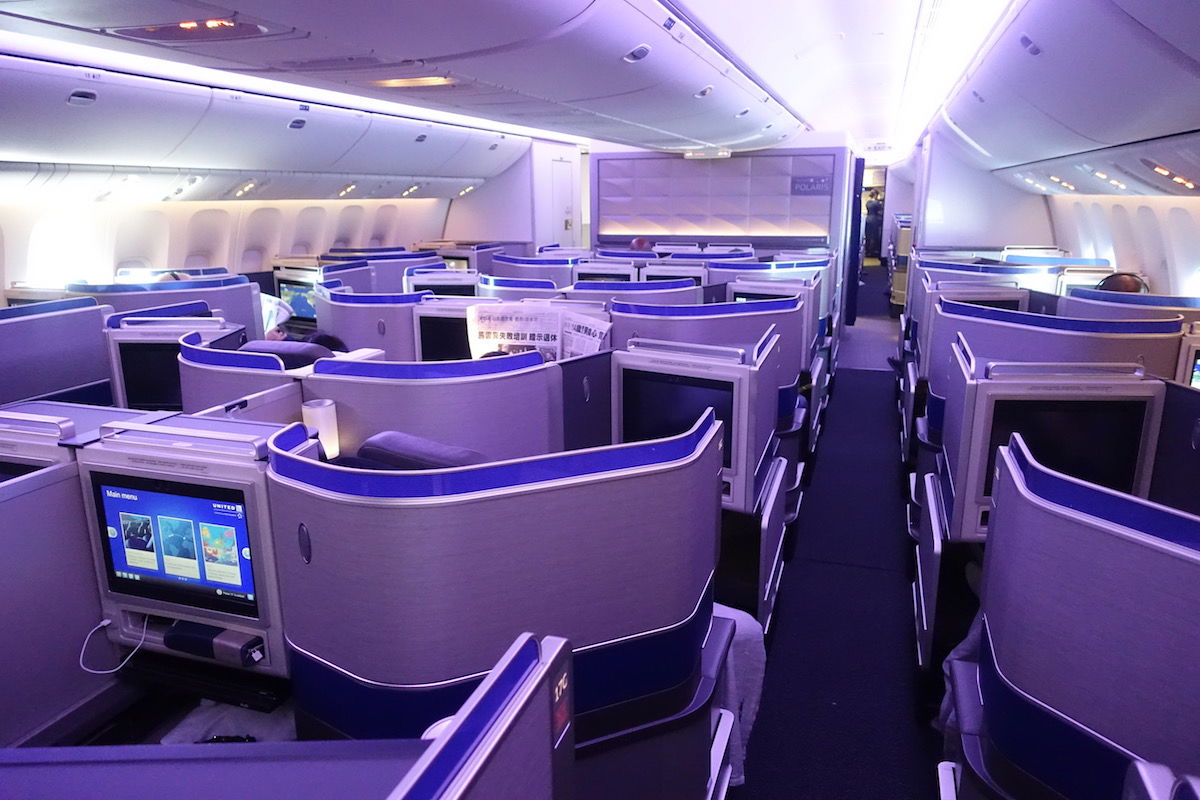 Redeem Aeroplan miles for travel in United Polaris business class
Here's the Aeroplan reward chart for travel originating in the US:

Bottom line
This transfer bonus works differently than many other Amex transfer bonuses, as it's targeted, doesn't have a published end date, and once you view the offer, it typically disappears. So if you're not ready to transfer, just go to the Amex homepage to see what offer you're eligible for.
When you open up the Aeroplan transfer page on Amex's website, make sure you're ready to transfer.
Were you targeted for an Aeroplan transfer bonus, and if so, do you plan on taking advantage of it?
(Tip of the hat to Frequent Miler)