There has been a lot of excitement lately with Air Canada and Aeroplan. Aeroplan is Air Canada's spun off frequent flyer program, and the two companies are parting ways as of 2020.
This creates a lot of uncertainty, both for Aeroplan members, and also for Air Canada loyalists. Air Canada has expressed interest in acquiring Aeroplan, but the two companies haven't yet been able to come to an agreement.
Personally I continue to use Aeroplan's loyalty program by transferring points from Amex Membership Rewards. Their Star Alliance redemption rates are excellent, and for tickets on some carriers, they're by far the most practical and best value option.
For example, Aeroplan is still my go-to program for booking Lufthansa first class awards.
Anyway, I just have to make an observation about something that I think is quite remarkable.
Prior to about a year ago, I found Aeroplan's call centers to be among the worst in the industry. It was so bad that I even wrote a post specifically about how bad it was. It's not necessarily that the agents were subpar (they were a mixed bag), but rather the hold times were atrocious, and they often didn't have a proper call back feature. Like the hold times were, so, so, so bad, consistently more than an hour.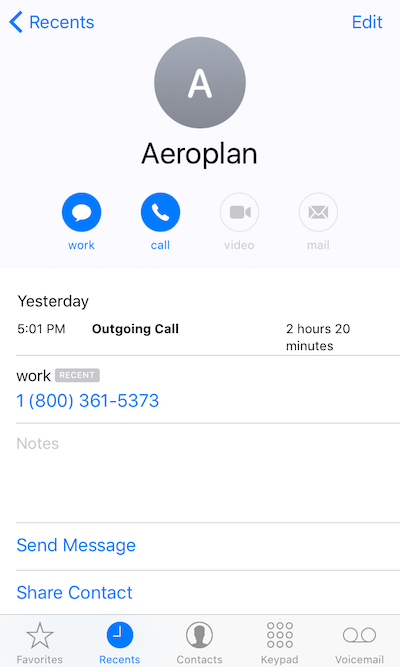 But my gosh, in the past six months or so the Aeroplan call center has impressed me more than any other. I don't have status with Air Canada or Aeroplan, so I'm calling their general number. I haven't waited on hold once. Not a single time, no matter what time I'm calling. They just pick up right away. And I've called dozens and dozens of times.
There's not a single other travel provider where that's the case, including those airlines and hotels that I have top tier status with.
Beyond that, I've found the phone reps to be consistently friendly and knowledgable. I haven't had one bad call.
In many ways this is counterintuitive. You'd think with the agreement with Air Canada ending, they'd have less of an incentive to provide good service. Furthermore, you'd think their call center would be busier than ever before, with people wanting to redeem their Aeroplan miles before the new program launches, due to the uncertainty about the future of Aeroplan miles.
But I guess they're taking the opposite approach, and thinking that because they need to make it on their own, it's time they provide exceptional customer service beyond what their contract requires.
I, for one, am happy to see it. While I question their viability as an independent program, getting customer service basics like this right goes a long way. Well done, Aeroplan!
Has anyone had similarly good experiences with Aeroplan's call center lately?