Air Canada's (spun-off) Aeroplan program used to be my favorite loyalty program for transferring points. Going back five years, you used to be able to book a Star Alliance round the world first class award ticket with no fuel surcharges, and with two stopovers in addition to your destination, for 120,000 miles.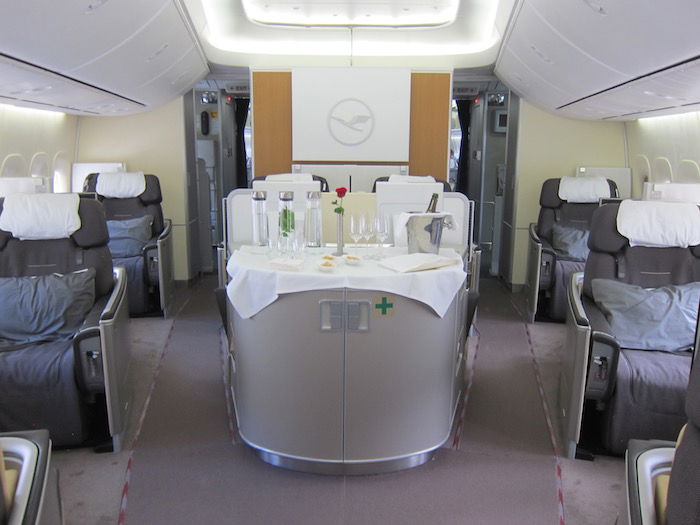 Aeroplan continues to be a good program for booking Lufthansa first class
Unfortunately over time the program has become less lucrative (which is true across the industry, I suppose), both in terms of redemption rates, and also in terms of the addition of fuel surcharges to many of their airline partners.
However, there's still value to be had through Aeroplan, as they continue to have good redemption rates in many markets, and they don't have carrier imposed surcharges on some of their partner airlines. For example, I still find them useful for Star Alliance awards between the US and Europe.
Up until now, Aeroplan has had pretty straightforward change and cancelation fees. The cost to make a change or to refund an award ticket was 90CAD, regardless of the conditions. However, within 22 days of departure the miles for an award ticket can no longer be redeposited, but rather those miles have to be applied towards another ticket within a year.
Well, it has just been announced that Aeroplan will be adjusting their change and cancelation fees for bookings as of December 6, 2016. The new fees are as follows:
Changing an award ticket will cost 100CAD per direction (meaning if you change both directions of a roundtrip ticket you'll pay 200CAD)
Refunding an award ticket will cost 150CAD (as before, within 22 days of departure you can't redeposit miles, but rather have to apply them towards another ticket within a year)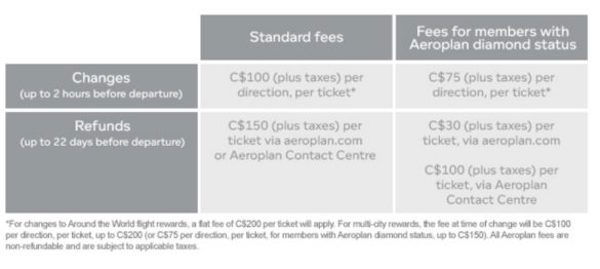 However, for those with Aeroplan Diamond status (which is different than status through Air Canada Altitude), you'll pay lower fees:
Changing an award ticket will cost 75CAD per direction
Refunding an award ticket will cost 30CAD online or 100CAD via the call center
It's a bit odd that they'll be charging more to change a ticket than they do to cancel it outright.
You can qualify for Aeroplan Diamond status by earning 100,000 redeemable miles through the program in a calendar year, so it's not based on how much you fly. Here's what they consider to be "eligible miles:"
Eligible miles are miles earned in the Aeroplan Program directly at participating partners and include base and certain bonus mile offers. Unless otherwise indicated at the time of offer, the following miles are not eligible for Aeroplan status: financial card sign-up; bonus miles received as a benefit of the Air Canada Altitude program or Aeroplan status; miles accumulated through conversion from other programs or transfers between member accounts, top-up miles, contest prizes, and reinstated miles. Aeroplan reserves the right, at their sole discretion, to change the miles eligible for Aeroplan status from time to time by either adding to or deleting from this list. Eligible miles are considered to be earned on the activity date, meaning the date upon which the member performed the qualifying activity. In the case of financial card partners, the activity date is the statement date.
As you can see, unfortunately converting points from other programs (like Amex Membership Rewards, Starwood Preferred Guest, etc.), wouldn't qualify towards Aeroplan status.
Bottom line
This is a negative change on the part of Aeroplan. The cost to refund award tickets is increasing by 60CAD, while the cost to change award tickets is increasing by 10CAD for a one-way change, or 110CAD for a roundtrip change.
Will this change in award ticket fees impact whether or not you transfer points to Aeroplan?