In late-October I wrote about Aer Lingus' US expansion, whereby they're adding three new routes. At the time I wrote about the new Dublin to Los Angeles flight, which is possibly the most significant, and was also the first of the new flights to become bookable.
Aer Lingus' two other new US destinations include Hartford and Newark. It's worth noting that Aer Lingus' new Dublin to Hartford flight is now bookable for flights as of September 28, 2016.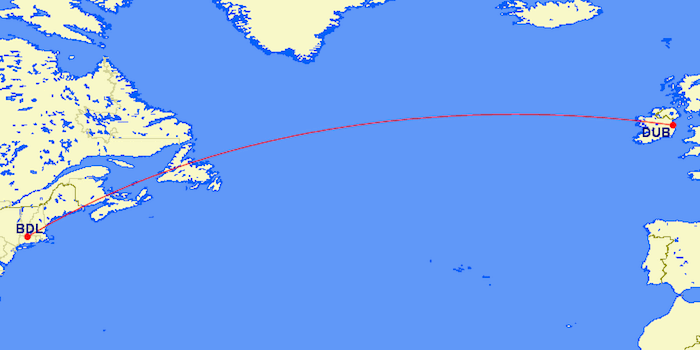 Via airlineroute.net, the new 4x weekly flight will be operated by a Boeing 757 with the following schedule:
EI131 Dublin to Hartford departing 2:40PM arriving 4:40PM
EI132 Hartford to Dublin departing 6:10PM arriving 5:20AM (+1 day)
The flight will operate in both directions on Sundays, Mondays, Wednesdays, and Fridays. It's blocked at 7hr westbound and 6hr10min eastbound.
As of now the flight has plenty of economy award seats (typically four per flight), though I'm not seeing any business class award space.
Aer Lingus' US expansion lately has been extremely impressive, as they've gone from a struggling airline to adding more than a handful of flights to the US. In 2014, Aer Lingus started flights to Toronto and San Francisco, while this year they added additional frequencies to New York and San Francisco, as well as a new route to Washington Dulles. With three further destinations, that's quite some growth in a short period.
Perhaps the most surprising route of the lot is the new Aer Lingus flight to Hartford, as it's an airport which presently doesn't have any transatlantic service. Admittedly Connecticut does have a large Irish population, but it's still interesting to see a fairly small airline add a flight to a market which isn't currently served at all, and which has very limited potential for connecting traffic.
One thing to be aware of with the new route is that while Aer Lingus has an excellent new business class product on their A330 aircraft, the Hartford route will be operated by a leased 757. This plane features a total of 12 business class seats, which are angled flat, so they aren't nearly as nice as Aer Lingus' new product. Still, this is a fairly short transatlantic flight, and it will also be convenient for many.

Bottom line
Of all the new Aer Lingus routes, this one intrigues me the most. Kudos to Aer Lingus for thinking outside the box and adding a flight to a destination which presently has no transatlantic service.
Do you have any interest in taking Aer Lingus' new flight between Dublin and Hartford?