Last July, Aer Lingus announced that they would be installing a new fully flat business class product throughout their longhaul A330 fleet.
I've flown Aer Lingus' old business class product between Boston and Dublin before, which I enjoyed. After all, Boston to Dublin is quite a short flight, so even an older business class product is fine.
The reason I'm especially interested in Aer Lingus' business class to begin with is because they're a British Airways Executive Club partner, and redeeming BA Avios on Aer Lingus is an incredible value, due in part to the fact that they don't impose fuel surcharges.
Anyway, I've received a lot of questions as to which Aer Lingus routes will feature the new business class product. Originally Aer Lingus was only planning on starting the reconfiguration process in March of this year, though it looks like they're ahead of schedule.
Aer Lingus recently updated the seatmaps for some flights to reflect the new business class product. Based on seatmaps, it looks like the new business class product will begin debuting on routes as of the following dates:
Dublin to San Francisco: January 28, 2015
Dublin to New York: January 29, 2015
Dublin to Chicago: February 1, 2015
Dublin to Orlando: February 17, 2015
Dublin to Boston: February 27, 2015
There are a few important things to note:
The above dates reflect the first dates I see the new business class seatmap on a given route. That being said, in many cases the new product is only on the schedule for a couple of days a week at first, so be sure you check the seatmap for the flight you're eying.
Presumably this is all subject to change, since the first plane hasn't even been reconfigured yet. So it could be that the above is aspirational.
The 757-200s that Aer Lingus is leasing and flying on select frequencies to Boston, New York, and Toronto, won't feature the new business class product.
As a reminder, to figure out whether your flight is scheduled to feature the new product or not, see if the seatmap reflects a staggered configuration, which alternates between four and five seats per row in business class, like this: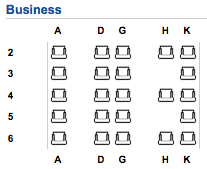 If the seatmap shows six seats per row, then it's the old product: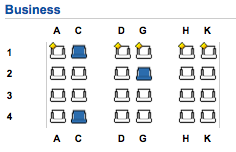 I can't wait to try out Aer Lingus' new business class product, especially in conjunction with all of their new product offerings, including onboard Wi-Fi, an arrivals lounge in Dublin, and improved lounges with pre-flight dining in the US.
So, who's going to be the first to redeem British Airways Avios for travel on Aer Lingus?