American AAdvantage is making some major changes in 2016-2017, which largely reflect the changes that have been made to Delta SkyMiles and United MileagePlus in previous years. American's changes came a bit later due to their merger with US Airways, where the focus was on integrating while changing as little else as possible.
However, we're seeing quite a few previously announced changes kick in as of January 1, 2017, which is in just a few days. So I figured I'd recap what those changes are. Don't worry, there's nothing we don't already know about.

With that in mind, here's what we can expect from American AAdvantage as of January 1, 2017:
AAdvantage Platinum Pro being introduced as a status level
American will be switching to a four tier elite system. The new tier is called Platinum Pro, and will require 75,000 elite qualifying miles or 90 elite qualifying segments annually to earn. Platinum Pro comes with all the benefits of Platinum status, plus the following perks:
Unlimited, auto-requested complimentary upgrades in 500-mile upgrade markets, plus option to upgrade one companion
72 hour upgrade window
9 award miles/U.S. dollar (80% bonus)
oneworld Sapphire status (oneworld Emerald as of 2021)
This means the new requirements for the four elite tiers will be as follows:
| Gold | Platinum | Platinum Pro | Executive Platinum |
| --- | --- | --- | --- |
| 25K EQMs or 30 EQSs | 50K EQM or 60 EQSs | 75K EQMs or 90 EQSs | 100K EQMs or 120 EQSs |
| $3,000 EQDs | $6,000 EQDs | $9,000 EQDs | $12,000 EQDs |
American Airlines Elite Tiers and EQD Requirements
The introduction of elite qualifying dollars
In addition to having to earn a certain number of elite qualifying miles per year to earn status, AAdvantage members will also have to meet a certain revenue requirement to earn status. Specifically, the thresholds will be as follows:
Gold: $3k EQDs plus 25k EQMs OR 30 EQS
Platinum: $6k EQDs plus 50k EQMs or 60 EQS
Platinum Pro: 9k EQDs plus 75k EQMs or 90 EQS
Executive Platinum: $12k EQDs plus 100k EQMs or 120 EQS
Keep in mind that you only earn EQDs on base fares, so taxes and fees don't count towards that threshold.
While there won't be an outright waiver possible through credit card spend, it will be possible to earn up to $6,000 elite qualifying dollars per year by spending money on American's co-branded Barclaycard products. This will look as follows in practice:
AAdvantage Aviator Red, Aviator Blue, and Aviator Business Mastercard accounts can earn up to $3,000 EQDs by spending $25,000 on qualifying net purchases during the calendar year
AAdvantage Aviator Silver Mastercard accounts can earn up to $6,000 EQDs by spending $50,000 on qualifying net purchases each calendar year; they'll earn $3,000 EQDs after spending $25,000 on qualifying purchases and another $3,000 EQDs after $50,000 on qualifying purchases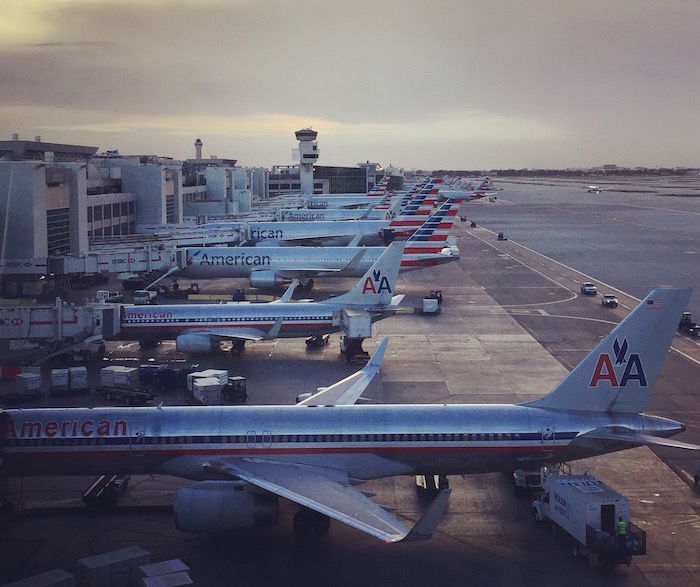 American is formalizing Concierge Key status
American is also finally formalizing their Concierge Key tier, which is their invitation only status level. In practice they're not actually changing (or for that matter, publishing) the qualification criteria, but Concierge Key will now be an official level.
This means that Concierge Key members will finally get priority ahead of Executive Platinum members for upgrades, standby, etc., which wasn't previously the case.
The AAdvantage Platinum upgrade window is changing
AAdvantage Platinum upgrades will clear at most 48 hours out rather than at most 72 hours out. This is largely a moot point, since I don't remember the last time an upgrade for me actually cleared at the elite window, even as an Executive Platinum member.
AAdvantage companion upgrade priority is changing
Companions of elite members will begin inheriting the status of the elite member when it comes to upgrades and standby, even at the airport on the day of departure. In the past this was inconsistently enforced, though going forward you should always be next to your companion on the upgrade list.
Bottom line
For the most part these are negative changes, though also things we've known about for a while, so they don't come as a surprise. However, I figured it made sense to recap the changes we're seeing. The one objectively positive change coming in 2017 is that Executive Platinum members will get free upgrades on award tickets on flights eligible for 500 mile upgrades. However, that's not being implemented until "later" in 2017, and we don't yet have an exact date.