Travis is my first new contributor to the blog, who will be posting a couple of times per week. The idea behind adding guest contributors is to add different perspectives to the blog. Travis has a unique approach towards travel, given that he travels almost exclusively with his wife and young children, which is in stark contrast to my travels, which are usually alone.
---
(Note: All the photographs in this post were taken by my wife and I.)
Visit Denali National Park Like A Local During Road Lottery
Gaming The Denali National Park Road Lottery
9 Tips For Maximizing Your Denali Road Lottery Experience
This is the conclusion of my three part series on the Denali National Park Road Lottery. In case you missed it, I suggest reading the previous two installments where I describe Road Lottery, and then discuss the strategy we used to improve our odds of winning a permit.
In this post, I'll give 9 tips to help you get the most out of your Road Lottery experience, though they may be somewhat applicable to a visit during other parts of the year as well.
1. Group size
Bring your friends and family! Your success at spotting wildlife is directly correlated to the number of eyes you have scanning the horizon. Remember, you won't have the other 50 people on the park shuttle bus to help you out. (Though you can also just pull over when you see a bunch of cars parked along the side of the road.)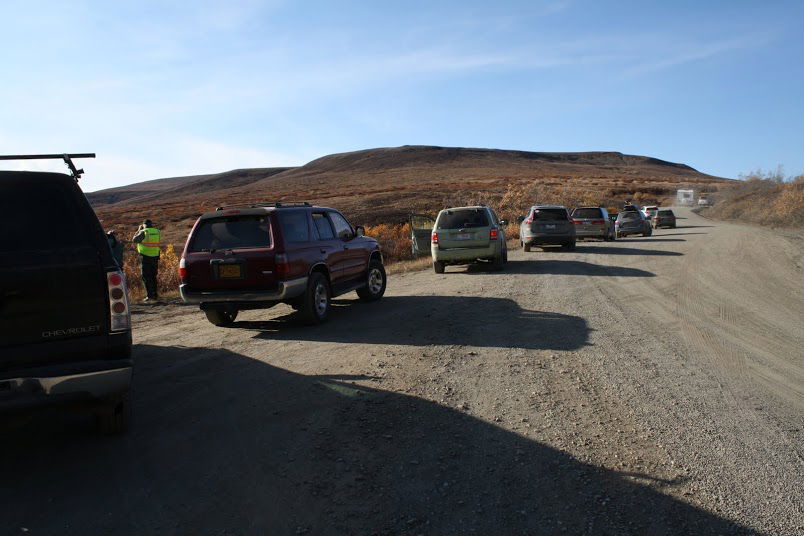 2. Binoculars
Bring a pair of binoculars for every person in your party. Denali is vast — you can see for miles and miles — and many of the animals you spot will be off in the distance. Passing around a single pair of field glasses is kind of like going to a basketball game with your buddy, and one of you is seated behind a post.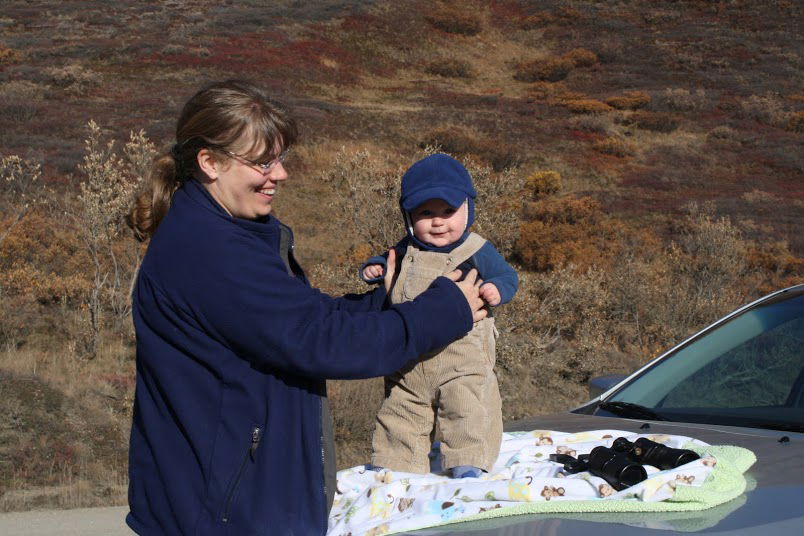 3. Rental cars
The whole point of Road Lottery is to drive into Denali National Park in your private vehicle, so you're obviously going to want to rent a car. The road is a well maintained minimally-improved road. It's dirt and gravel most of the way, but easily passable by any vehicle. So don't worry about getting a 4 x 4.
I know there can be some concern about rental car agreements that say you can't take the car on such roads. I'm not sure these clauses exist on rental car agreements in Alaska, as you can end up on a gravely road even in downtown Anchorage! Personally, I've never worried about such clauses anyway and have driven rental cars in some crazy places. Also, remember to fill up with gas before you enter the park.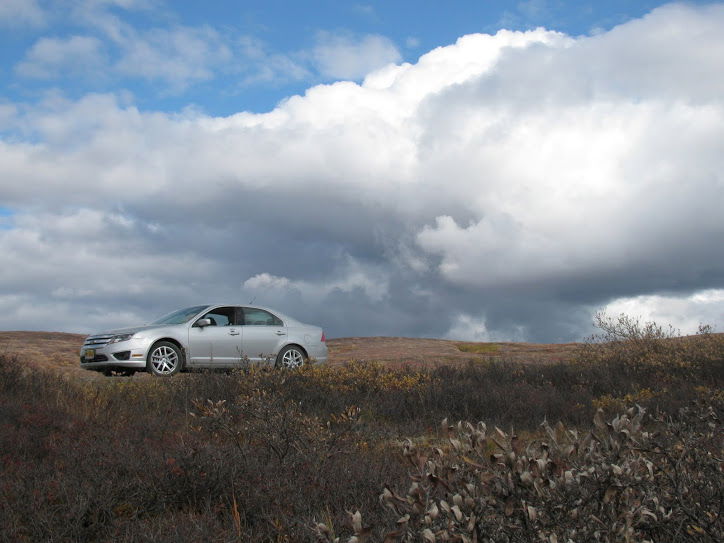 4. Food
There isn't much food in the park, so I recommend bringing your own snacks especially if you have little ones along. You might decide to drive the entire 184 miles and at 25 mph, that will take 7 or 8 hours. You'll get hungry.
I recommend picking up food in Anchorage / Fairbanks to save some money. There's even a Costco in Anchorage.
5. Lodging
I would plan to spend at least two nights just outside the park. That will let you get an early start on the day of your permit and then a convenient place to crash after you get back from a long day of driving. There are a variety of accommodation options at the park entrance, from hotels that look quite nice to rustic cabins and camping. Some may have already closed for the season, but others will have favorable rates. We stayed at the Denali Mountain Morning Hostel & Cabins in the Highwater cabin.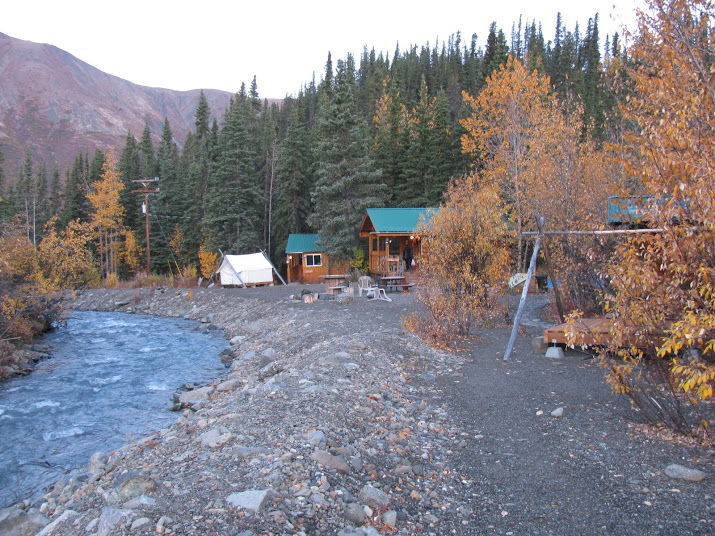 6. Gateway Airport
Anchorage is about a 4 hour drive to the park entrance, while Fairbanks is only 2 hours. But Anchorage has more flights, so there is a trade-off. We flew into Anchorage because that's where we got the best deal. Plus, we have friends there that we wanted to visit.
7. Costs
The tourist season in Alaska runs from June through August. Since any business related to tourism basically shuts down for 75% of the year, the prices basically quadruple during the summer in order for people to make a living. OK I'm joking, but there is a significant drop in prices once September rolls around.
This is an added bonus of visiting Denali like a local during Road Lottery– you pay local prices for everything from lodging to food. Don't believe me? Check out these silly rental car rates for a long weekend in August: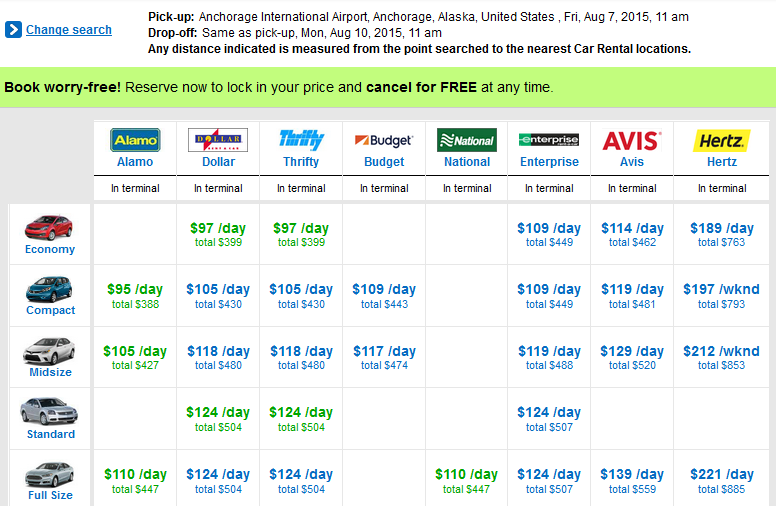 And then these downright cheap rates in September.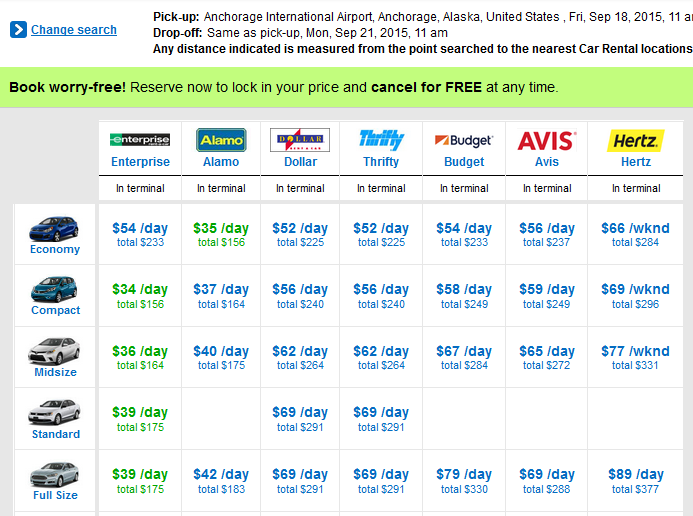 8. Clothing
The weather can be highly variable in Alaska in September. It could be sunny. It could snowing. Bring a variety of layers such that you will be comfortable in all conditions.
9. Photography
Mt. McKinley is very shy and is cloaked in clouds for as much as 70% of the year. When attempting to photograph Denali, imagine yourself as a sniper — as soon as you get a clear shot, take it!
September is generally considered to be pretty good for visibility, but the weather changes rapidly. In our case, we had perfectly clear views during the entire drive up from Anchorage, but then the next day the clouds slowly started to roll in. And by the time we left, we couldn't see it at all. So shoot it when you see it because there really may be no tomorrow.
We took our DSLR and our compact Canon with a 10X zoom. I wouldn't want to just rely on an iPhone, but that's just me. And if your buddy has a giant lens that you can borrow, now is the time.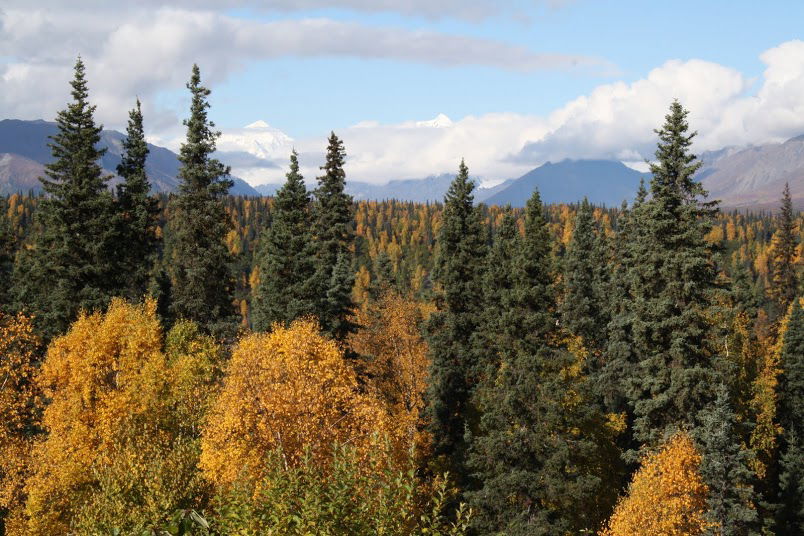 ---
And that concludes my three part series on the Denali National Park Road Lottery. We really enjoyed our trip and look forward to going back someday.
What questions can I try to answer?