Travis is my first new contributor to the blog, who will be posting a couple of times per week. The idea behind adding guest contributors is to add different perspectives to the blog. Travis has a unique approach towards travel, given that he travels almost exclusively with his wife and young children, which is in stark contrast to my travels, which are usually alone.
---
(Note: All the photographs in this post were taken by my wife and I.)
Visit Denali National Park Like A Local During Road Lottery
Gaming The Denali National Park Road Lottery
9 Tips For Maximizing Your Denali Road Lottery Experience
In Part 1 of this series on the Denali National Park Road Lottery, I described the process for obtaining a permit. I also noted that the chances of winning the lottery are only 14% for each entry, which although better than your odds of winning the Powerball lottery, aren't really all that good. In this post, I'll describe our lottery strategy and our experience on Road Lottery weekend.
As I said, we really lucked into Road Lottery, meaning that our trip was planned for that weekend before we knew about Road Lottery. That means that had we not been able to secure a permit, we wouldn't have been able to visit the park at all since the buses don't run that weekend. And neither my wife nor myself had ever been there before.
This caused a moment of panic as we realized that we really really really needed to obtain a permit. Odds of 1 in 7 weren't going to cut it. (It's funny how this world works — you can go from taking a random, unplanned trip to Alaska just because the fare is cheap, to suddenly having your heart set on seeing this one place, which you otherwise wouldn't have cared about. But I digress.)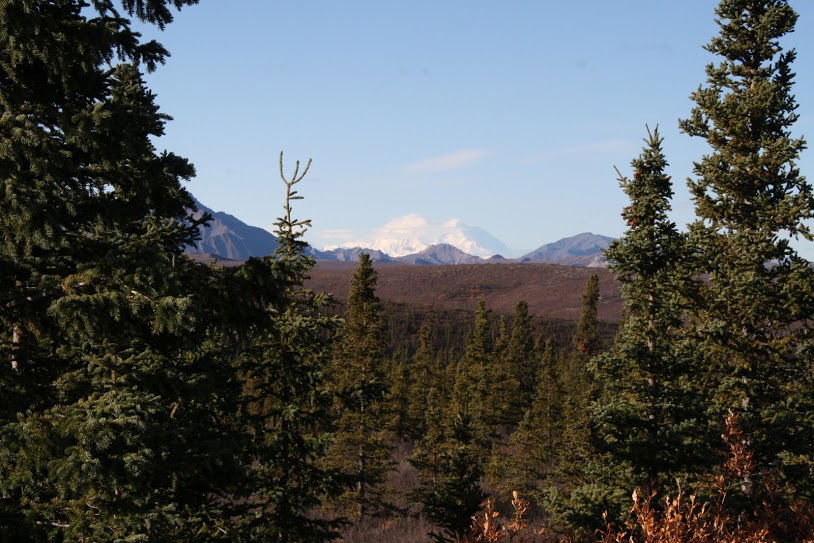 My wife and I are basically nerds so we started studying the system. It turns out that while you can only enter the lottery once per person, the permits are fully and freely transferable. So as long as you have enough friends and family members, you can basically enter as many times as you want.
In Part 1, I posed the question about how many entries you would need to make such that you would have a 75% chance of winning at least one permit. Two readers correctly calculated that 9 entries would result in a 75% chance of winning. Awesome job! I'd really like to run through the derivation for this, but after 8 years of blogging Ben still hasn't installed a LaTeX plugin for WordPress. And I refuse to do inelegant math.
So instead of a derivation, I'll give you a graph of the situation. This assumes that each entry has a 1/7 chance of winning.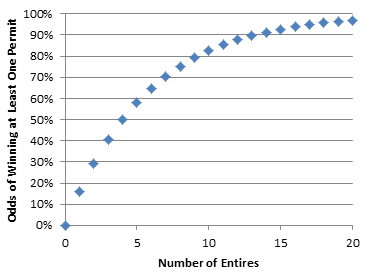 You can see that the plot asymptotically approaches 100%, which means that you need infinite entries to give yourself a 100% chance of getting a permit.
There's A Cost To Stacking The Ballot Box
Each entry costs $10 and is nonrefundable, so while more entries will increase your chances of winning, they will also put a bigger and bigger dent in your bank account.
We briefly considered entering infinite times, but then we realized that would require ∞ × $10 which was more money than we had in our bank accounts, and worse, more than the credit limit on my Chase Sapphire card. So we needed to come up with a reasonable number of entries that would give us a good chance of winning while also not breaking the bank.
Somewhat arbitrarily, we decided to submit 6 entries, one each for my wife and I, our parents, and her parents. But at the last minute, I threw one in for our son who was less than a month old at the time. That 7th entry boosted our odds to 66%. [Looking back, I'm actually surprised that I didn't buy even more entries!]
Around June 15th, the winners were posted on the website. I searched, and searched, and started to panic as I didn't find any of our names. But then, sure enough, there was our son. We had won exactly one permit and it was in our son's name! Whew. That year they received 11,024 entries, so the odds of winning were indeed about 1/7. And that's exactly how many we won. Statistics works!
The winning permit ultimately cost us $95. This was composed of $70 in entry fees (7 lottery tickets at $10 each) plus a $25 Road Lottery permit fee for the winning entry. Not surprisingly, there appears to be secondary market for permits on Craiglist. My notes say that there were postings offering permits in the $200-$300 range. Can you say statistical arbitrage?
With a permit in hand, we were ready to go to Denali and drive the road. Our trip was quick, because remember, it was planned more or less as a mileage run. We flew into Anchorage on Friday afternoon, drove up to Denali, and spent the night at the Denali Mountain Morning Hostel and Cabins. We had a nice private cabin along the creek called Highwater. (No Hyatts in the entire state, unfortunately.)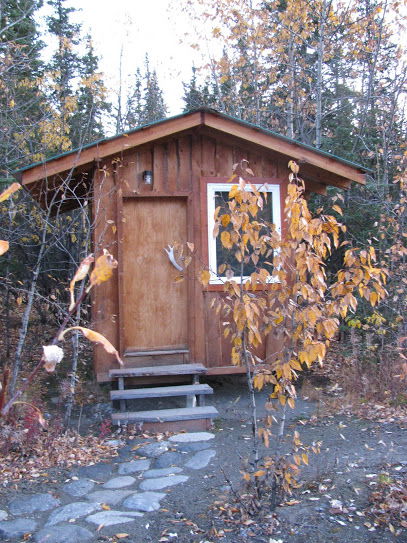 The next morning we showed up at the visitor center to pick up our son's permit. We were a bit disappointed that they didn't ask for ID since we had specifically brought his newly obtained passport along. They did laugh a bit at the youngest Road Lottery permit winner! The 2 on the permit indicates that our permit was for Day 2 (Saturday), just as we had requested.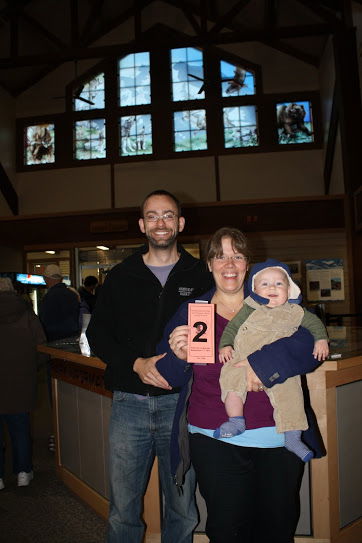 And with that, we started driving our rental car through Denali National Park. It was awesome. We drove. And stopped. And drove some more.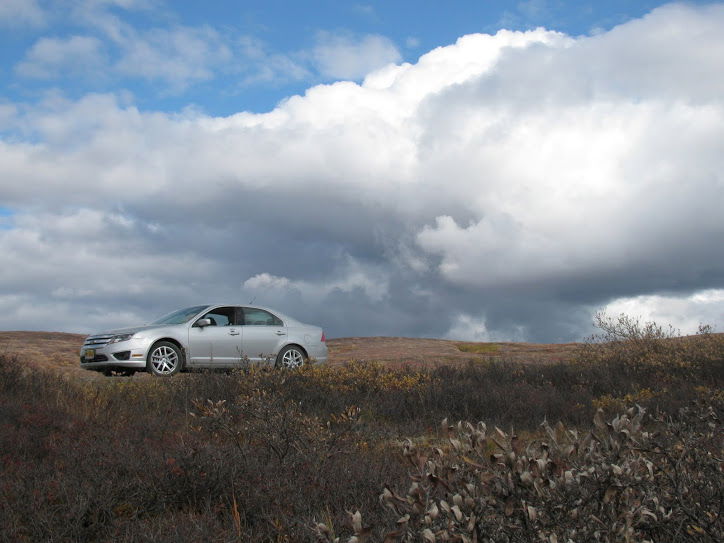 We saw a lot of animals. Some of them are easy to spot.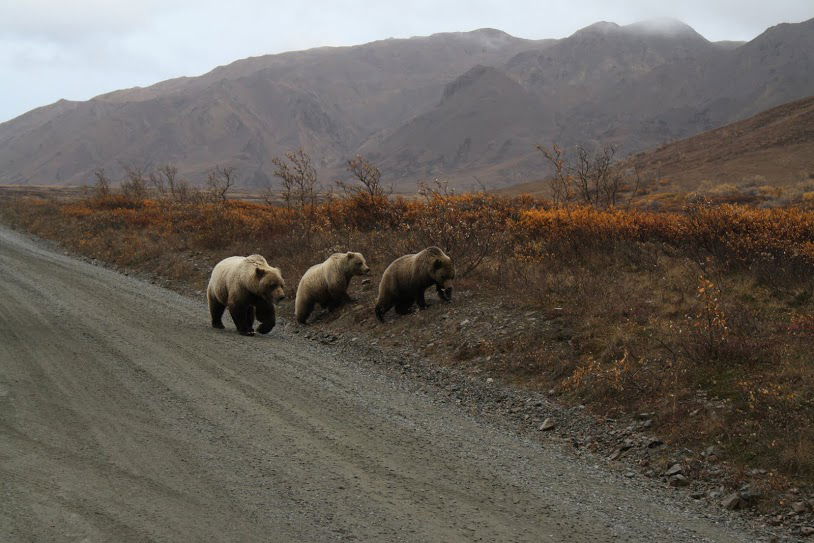 Some not so much. The Dall sheep were usually on distant ridges, appearing mostly as clusters of white dots to the naked eye.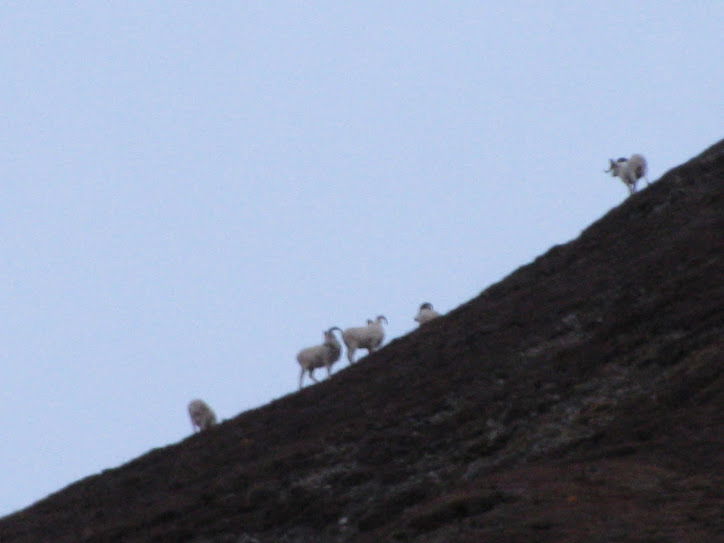 The wolves are very elusive. Unless they only have three legs.
We drove all the way to the end of the road, 92.6 miles. Because we could. (Wouldn't you expect that if you had just driven 92 miles to the end of the road, and you were standing next to a sign proclaiming such, that you would probably want ALL of said sign in the picture?)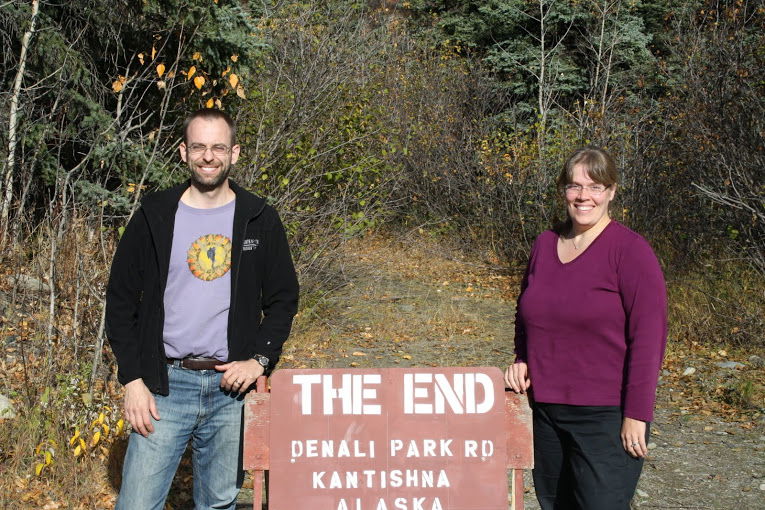 The road is rather slow going, just the way it should be out in the middle of nowhere. And 400 cars spread out of 90 miles is actually a really low density, so it's quite common to go long stretches without seeing anyone.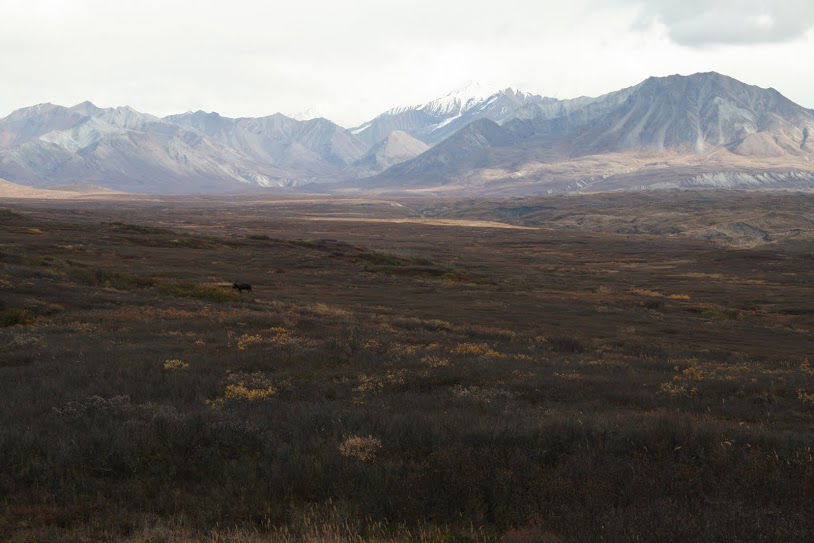 And then you arrive at the next rest area or pull out and meet up with folks that you chatted with during the last bear sighting. So there's a social aspect to it as well, especially for those who load their grills on the back of their pickup trucks for convenient tailgating. It's almost a party that slowly meanders for over 90 miles. A party designed to celebrate the end of the tourist season, the point in the year when everyone else goes home and Alaskans get their state back to themselves. Yet somehow, we were right in the middle of it.
We eventually exited the park at 9:30pm after 185 miles of driving. It was a big day but an absolute blast. The final wildlife tally was 8 grizzly bears, 11 moose, 3 caribou, 4 things that may have been either moose or caribou (do I look like a wildlife biologist?), 11 sheep, 1 wolf, 1 arctic ground squirrel, and 12 ptarmigans.
We stayed one more night in our cabin by the creek before driving back to Anchorage the next day where we stopped to have pizza with some friends of ours who live up there.
Continue to Part 3 in the series: 9 Tips To Maximize Your Denali Road Lottery Weekend
Have you been to Denali National Park? Ever done Road Lottery? What was your experience?