New to Zeel? Save $20 on your first massage by using promotion code 1e1lqq, when you sign-up.
---
I'm a huge fan of apps. I've used them for just about everything, ranging from having food delivered to finding a husband. They're life changing.
Some might say "well what do these apps have to do with travel?" Well, the reality is that in many cases apps can be really useful when on the road. For example, some of my favorite apps are:
Uber, which has completely changed the way I get around cities
Postmates, which I use for food delivery every day, including when at hotels
Instacart, which you can use to deliver groceries, including to hotels
Well, yesterday I used an app — Zeel — for the first time, that I wanted to share my thoughts on.
What is Zeel?
Zeel is to massages as Postmates is to food delivery. Essentially Zeel connects you to a massage therapist for a fairly reasonably priced in-home (or in-hotel room, or whatever) massage.
Zeel works in a similar way to many other apps. Zeel therapists are independent contractors who typically have private massage businesses, and Zeel helps them find more clients, and takes a cut on every transaction.
I had my first Zeel massage yesterday, so wanted to share my experience.
Where are Zeel massages available?
As of now, Zeel is available in over 75 cities in the US. You can find all the markets in which they're operating at this link.

How expensive are Zeel massages?
As you might expect, the price of Zeel massages varies by market. You can search the pricing in your area by entering your zip code on this page.
For example, in Miami the cost is $109 for non-members and $99 for members, and on top of that they add an 18% tip (and then no further tips are expected):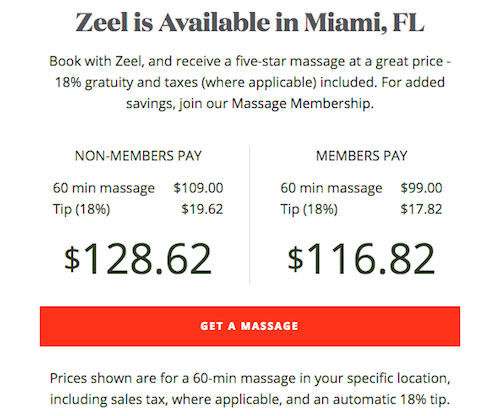 Looking up prices in New York, they're significantly more expensive. In New York the cost is $149 for non-members and $129 for members, plus an 18% tip and 4.5% tax: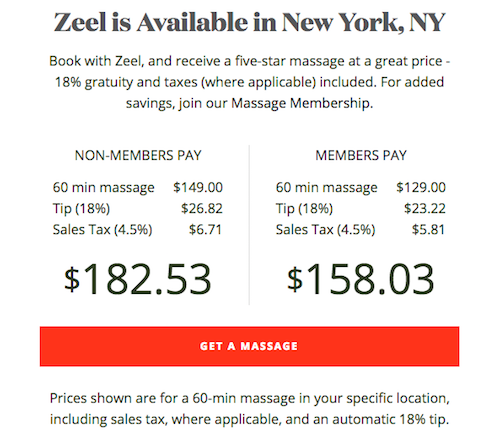 So these massages aren't "cheap," in the sense that you could get cheaper massages at a Chinese foot massage place no doubt. However, I paid $108 (after the discount, which I'll discuss below) for my first 60 minute massage where the therapist literally came to me, so I thought that was a solid value.
This is also much cheaper than you'll find at most hotel spas in the US, so this is a great option to have someone come to your hotel room for a massage.
How do Zeel memberships work?
I haven't signed up for this yet since I just had my first massage, but if you are going to use Zeel, getting a membership seems like a no brainer. There are no long-term commitments, as you can cancel your membership at any time.
For being a member you get a monthly 60 minute massage (which rolls over to the next month if you don't use it), plus a 20% discount off all massages, including for your friends and family. The membership fee is equal to the price of a 60 minute massage at the member rate.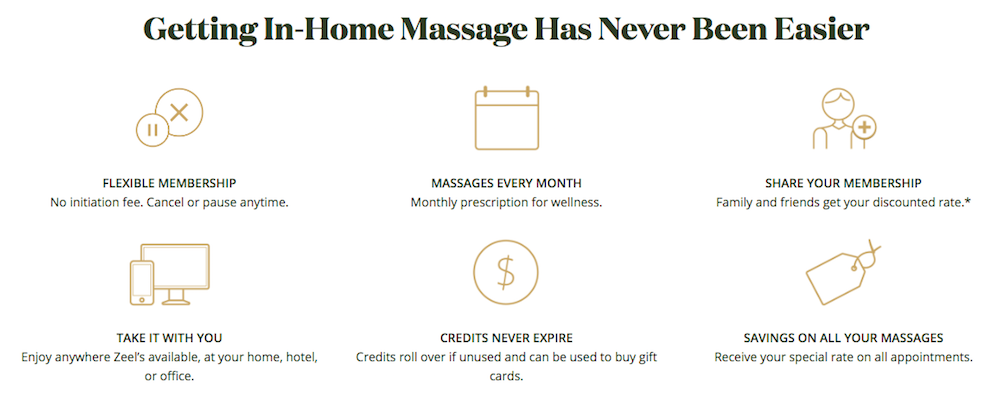 Alternatively, if you prefer you can sign up for a "Member Plus" account. It's the same cost but comes with a 12 month commitment. The benefit is that you get a free massage table that you can keep.
$20 off your first Zeel massage
Zeel has a referral program where you can get $20 off your first massage when you are referred by someone else, and the person referring you gets $20 towards a massage as well.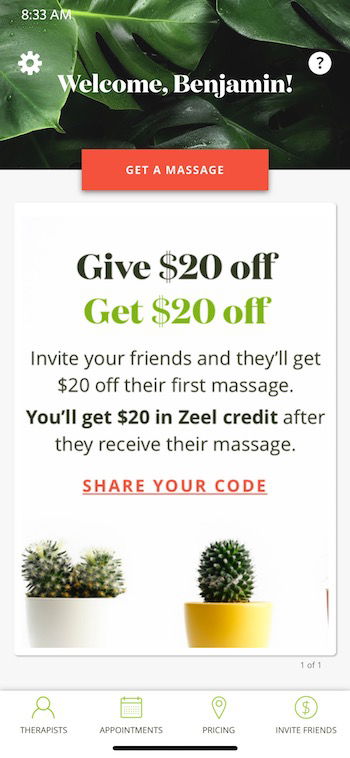 You can sign-up for Zeel using my link and that credit will be added to your account and automatically applied towards your first massage. Others are welcome to leave their referral info in the comments section as well.
Note that Zeel also often has promotions. I get push notifications all the time offering discounts on massages, so it's worth keeping an eye on that.
My Zeel massage: booking
The process of booking a massage through Zeel is super easy. First you'll select what kind of a massage you want, with the choice between Swedish, deep tissue, prenatal, sports, or sleep. You can also choose whether you want a single massage, couples massage, or back-to-back massage.
You can also select the length of the massage (60-90 minutes), and if you have a gender preference for the therapist.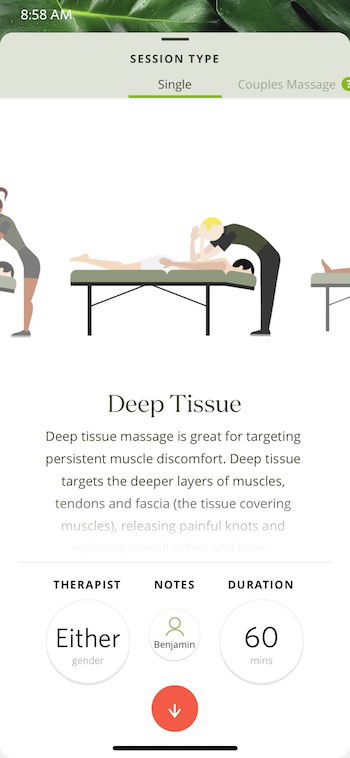 You'll then enter the location, as well as any parking instructions, as well as whether you have any pets, stairs, etc.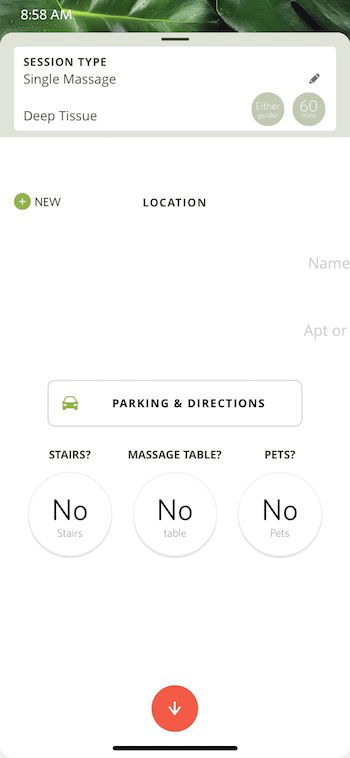 Then you'll be asked to select the earliest time you can start your massage, and the latest time you can finish.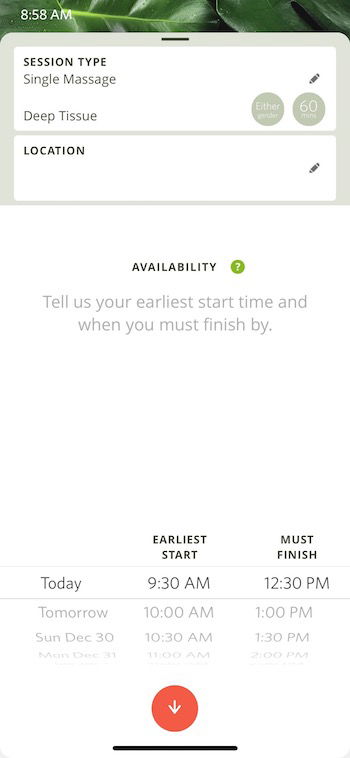 I requested a back-to-back massage, and a minute after making the request I received a text. They quickly confirmed my appointment for a start time within 45 minutes.
My Zeel massage: the actual massage
I think part of the reason I put off booking a Zeel massage for so long is because I was sort of creeped out by someone coming to my room to massage me. I know that's probably not totally rational, but that's how I felt.
Well, those fears were unfounded, at least based on my experience.
My therapist, Beatrice, was exceptional. Much to my surprise the table was really comfortable (I was expecting the padding wouldn't be good given that it's portable), and Beatrice was a professional who has been doing massage therapy for two decades.
The massage was perfect, as good as I've had in any spa. Everything about the interaction was pleasant and respectful.
Things to know about Zeel
Here are a few other (largely random) things to know about Zeel:
There's no expectation to tip beyond the 18% gratuity that's automatically included
You'll be asked to provide two sheets and a pillowcase, though if you don't have these you can also ask them to bring them
You can choose whether you want to wear underwear, shorts, or nothing at all during your treatment
To give you privacy, the therapist will set up the table and then will go wash their hands while you lay down on the table face down
You'll need a free space of about 6'x10′ for them to place the table, though they can also squeeze it into a slightly tighter space if needed
The therapist brings the lotion/oils, as well as soothing music
After the treatment you can rate your massage; this includes a one to five star rating, as well as giving your therapist a "priority" rating (meaning you want them again), a "good" rating (meaning you could be matched but it's not prioritized), or a "blocked" rating (which is self explanatory)
The receipt they send you after the treatment is transparent, and shows how much the therapist earned; I paid a total of $108.62, and my therapist earned $85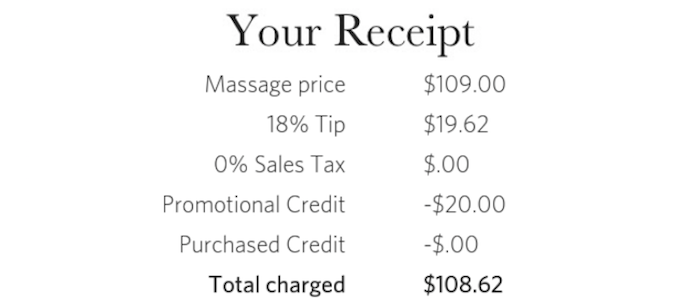 Bottom line
While I was apprehensive about having a stranger come to me to give me a massage, the experience greatly exceeded my expectations. The booking process was easy (I booked with less than an hour notice), and the service excellent. I'd use Zeel again in a heartbeat.
Like I said, you can find cheaper massages at your random strip mall Chinese foot massage place, but I do think these are very reasonably priced massages given the quality and convenience you're getting. Add in getting $20 off your first treatment, or the value you can get through a membership, and I'd say this is a very good option.
This is especially valuable if staying at a hotel. Typically hotel massages are outrageously priced, and when they do offer in-room massages, they typically charge a premium for it. Go with Zeel instead.
If you've used Zeel, what was your experience like? Or is there another app you've used for something similar?