Ah, there aren't many phrases which I like hearing more than that.
While first class air travel is awesome, there's something which still gets me outrageously excited when I'm the only first class passenger. Over the course of well over a hundred international first class segments, it's something which has happened fewer than a dozen times.
Let me step back a second. Originally I was supposed to fly home from Europe to the US today, though my mom and I decided to return Wednesday, given that I wasn't feeling well at all, and I wanted to see my doctor in the US.
It was Tuesday when we made the decision to fly home early, so I had a look at award space. There's no better time to book Lufthansa first class awards than the day before departure. We literally had our pick of flights — there were two first class seats available to Houston, Miami, Chicago, New York, etc.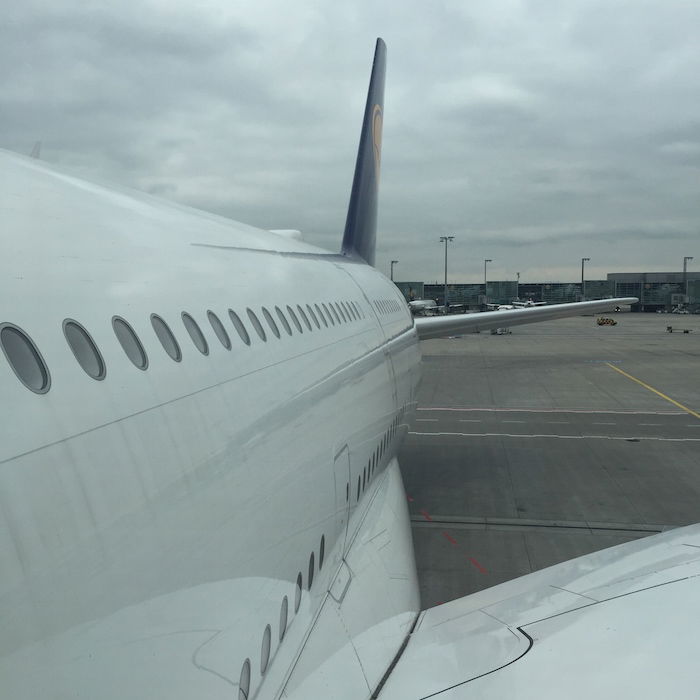 So how did I decide which route to book? I had a look at how full the respective flights were in first class.
To my absolute shock, the Frankfurt to Miami flight was "F8," meaning all eight first class seats were for sale. If you've ever looked at Lufthansa's loads to Miami, you'll see first class is almost always full. Actually, in the past Lufthansa claimed that Miami was their single most profitable US destination for first class. And for what it's worth, first class was completely sold out the day before and the day after we were flying. Clearly this was some sort of freak coincidence.
That's an opportunity I couldn't turn down — I redeemed 62,500 Aeroplan miles (plus taxes and carrier imposed surcharges) each for my mom and I to fly from Frankfurt to Miami. Those points were transferred from American Express Membership Rewards.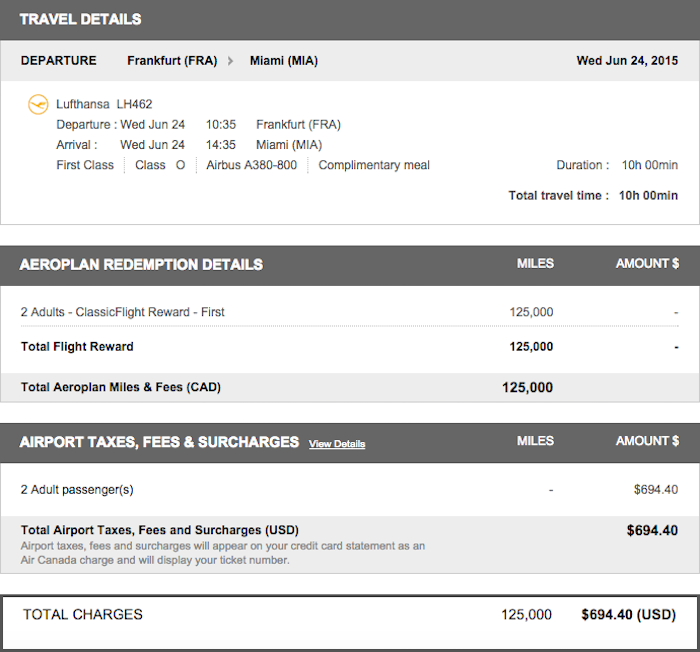 Of course there was still the risk that there would be some day of departure upgrades. There definitely wouldn't be any operational upgrades, since business class still had quite a few seats open.
I put our odds of having a private cabin at about 50/50. And this time around we "won."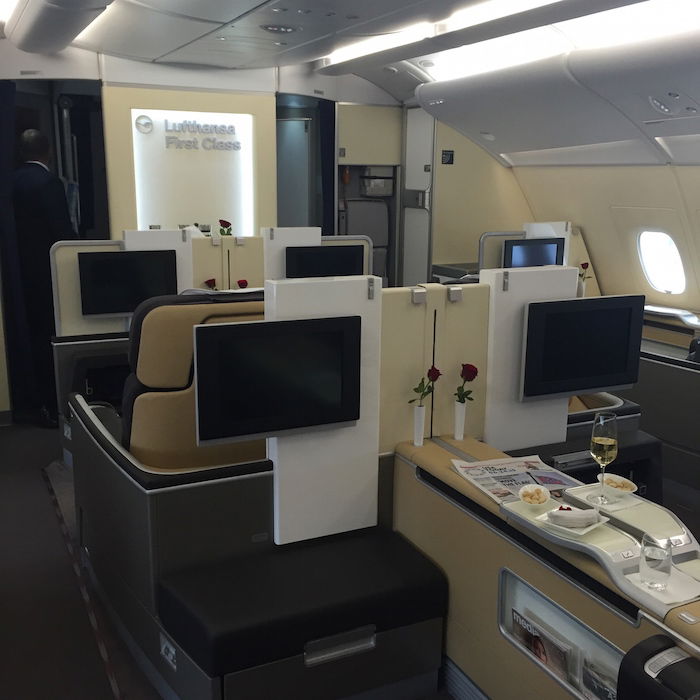 The flight attendant was legitimately dumbfounded by the fact that there were only the two of us in first class. The second we boarded she said (in German) "just so you know, you're our only two first class passengers today. I can't believe this, usually first class is always full to Miami. We are completely full on the way back. But today you are lucky."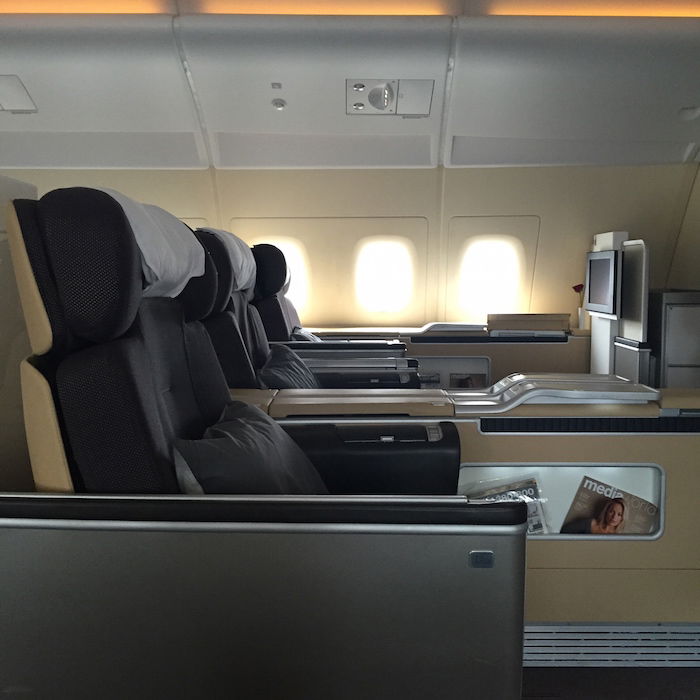 The crew offered to make our beds in the window seats, while we could watch TV and hang out in the center seats.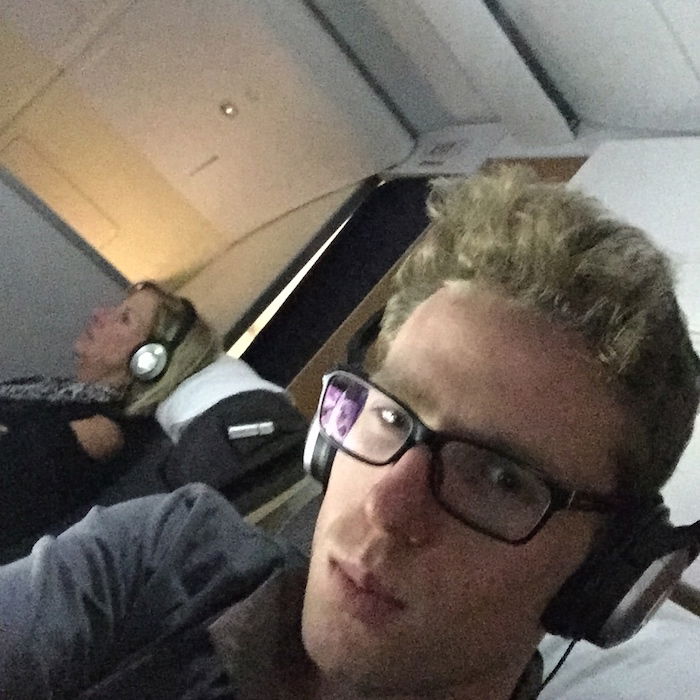 (No alcohol was harmed in the taking of this picture… shockingly)
I'd argue this was the most pleasant yet unenjoyable Lufthansa flight I've ever taken.
Why unenjoyable? Because I had really bad stomach pains. So I couldn't indulge in the champagne. And I didn't eat anything, aside from salad and a couple of pieces of bread (I took the appetizers so that I could get a picture, and then figured my mom could get the extra helping of caviar). 😉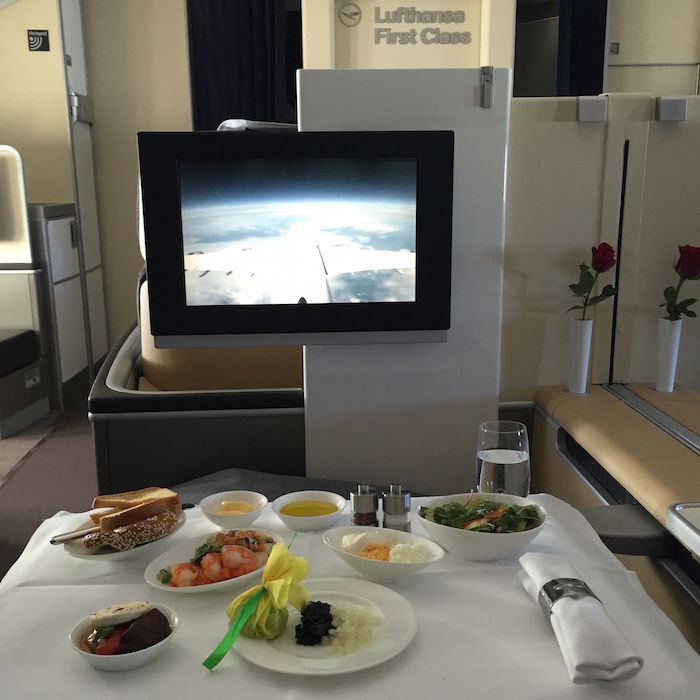 Lufthansa's A380 first class lavatories are awesome, in that they're huge and have urinals. There are two of them, so my mom and I each had our own.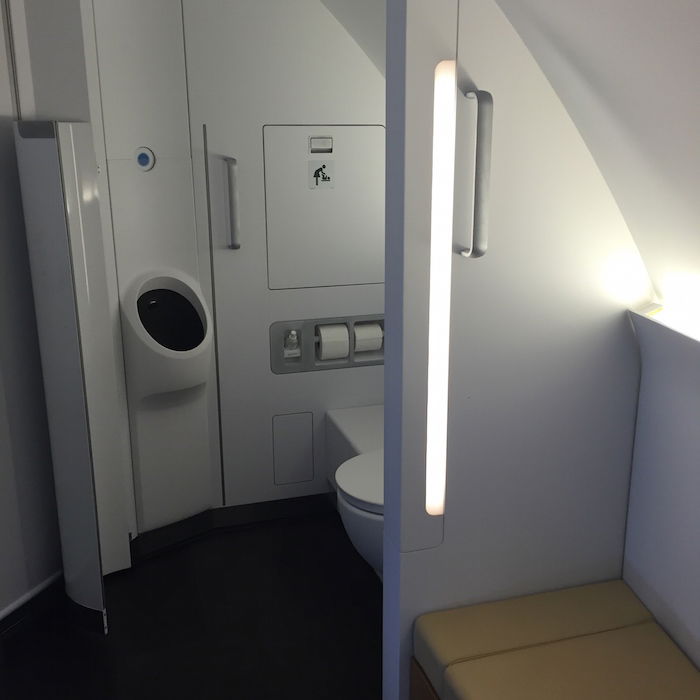 All of Lufthansa's A380s now have Wi-Fi, so for me it was simply a nine hour day at the office. I was able to get lots of work done while staying reasonably well hydrated. I would have liked to sleep, though was feeling too uncomfortable to do so.
Here's the funny thing about having a completely empty first class cabin. On one hand it's really freaking cool to basically feel like you have the cabin to yourself. On the other hand, I find service generally isn't quite as good when the cabin is completely empty. And that's not necessarily even the crew's fault. It's just difficult to non-intrusively pass through the cabin as frequently, since you know every single time the crew comes through the cabin it's simply to see if you need anything. So service was good, though not the best I've had on Lufthansa.
Bottom line
All-in-all I'd say there's probably no more pleasant way to cross an ocean when not feeling well! And interestingly this was my second Lufthansa first class flight in a row where I had a private cabin.
Have you ever had a completely private first class cabin? If so, how was the experience?