Travel + Leisure will be acquired by a timeshare company for $100 million. What exactly will this look like?
Timeshare company acquires Travel + Leisure
Wyndham Destinations has just acquired popular travel publication Travel + Leisure from Meredith Corporation. Wyndham Destinations is a timeshare company that's run separately from Wyndham Hotels & Resorts.
With this $100 million acquisition, Meredith Company will get $35 million at closing, with trailing payments to be completed by June 2024. The acquisition is expected to be neutral to earning for the new Travel + Leisure Co. in year one, and accretive in year two. This acquisition follows Meredith Company having reported a $289 million loss earlier this year, given how hard advertising was hit by the pandemic.
Meredith Company will continue to operate and monetize Travel + Leisure under a 30-year royalty-free renewable licensing relationship. The deal also includes a five-year marketing commitment across Meredith's portfolio of brands.
As it's described, this deal combines "the travel company's portfolio of resorts, membership, and lifestyle travel brands with the world's most trusted travel lifestyle content curator."
Wyndham Destinations says this accelerates its strategic plan to "build on its leading position as the world's largest vacation club and exchange company and expand into new leisure travel and licensing markets."
Michael Brown, CEO of Wyndham Destinations, describes this acquisition as follows:
"We acquired Travel + Leisure, including access to its global audience of 35 million loyal followers across multiple platforms and nearly 60,000 club members, because it matches our passion and purpose to put the world on vacation. Over the past 18 months, we have laid the foundation to expand our footprint beyond our core vacation ownership business, and today we add one of the most trusted and influential brands in travel through the acquisition of Travel + Leisure.

This iconic brand, along with its authoritative content and wide audience, will help accelerate and amplify the growth of new capital-light travel businesses and services, as we take the next step in expanding our reach within the global leisure travel industry."
Wyndham Destinations will rebrand as Travel + Leisure Co.
It's not just that Wyndham Destinations is acquiring Travel + Leisure, but the timeshare company will rebrand as Travel + Leisure Co., and starting in mid-February 2021 Travel + Leisure Co. stock will begin trading on the NYSE under the ticker symbol TNL.
With this change, we should expect new branded products from Wyndham Destinations, with the goal of growing the timeshare business, launching new branded travel services, and expanding licensing agreements under the Travel + Leisure Group.
Help me understand this acquisition
The concept of companies purchasing media businesses in their "space" is nothing new. Everyone has the right to monetize their business how they'd like, so good for Travel + Leisure and Wyndham Destinations, I suppose.
That being said, I can't help but find this whole thing a bit ironic. These companies are literally on the opposite ends of the travel spectrum — Travel + Leisure is primarily focused on luxury hotels and exotic destinations, and posts "travel inspiration" like this:
https://www.instagram.com/p/CJrpRCBIdhF/
Meanwhile Wyndham Destinations has timeshare properties in Orlando that look like this: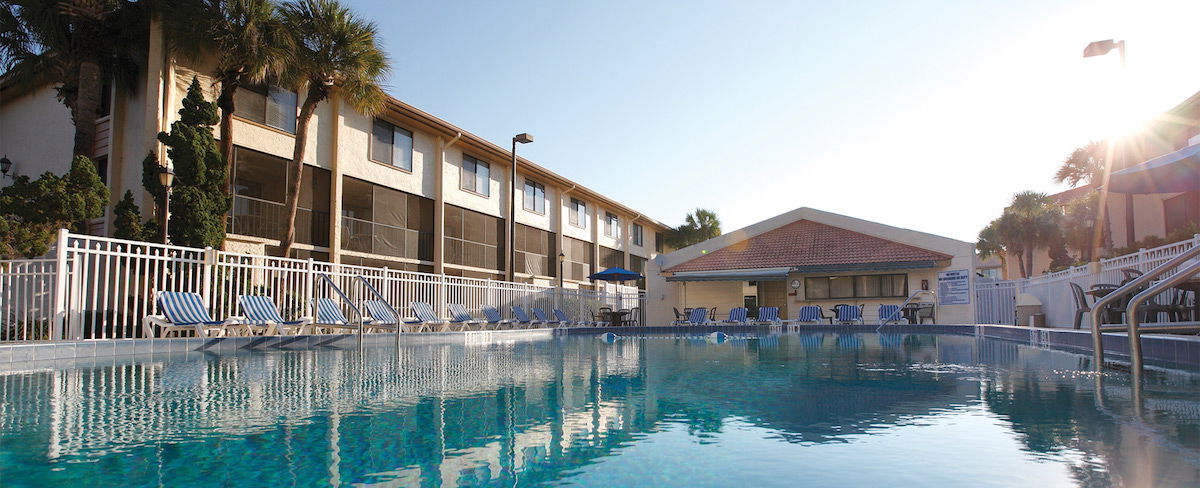 Photo credit: Wyndham Destinations
Now, in fairness, I suppose Wyndham Destinations probably got a deal on Travel + Leisure, given the environment. Furthermore, I imagine the timeshare business hasn't been hit as hard as other businesses in the travel space, since customers are locked in for a lifetime.
Still, is this really a good fit in terms of cross-marketing opportunities? "Well, I was going to stay at the Four Seasons Bora Bora for a week, but instead let me buy a timeshare in Orlando for a lifetime?"
Personally I have very strong feelings about the timeshare business, but I recognize others feel differently, so I won't even get into that. But I just don't get if Wyndham Destinations is somehow trying to go upmarket here, or if Wyndham Destinations wants Travel + Leisure's audience to go downmarket.
The best comparison I can come up with is that this would be like Applebee's acquiring Capital Grille and then rebranding all restaurants as Capital Grille.
Bottom line
Travel + Leisure is being bought by a large timeshare company. The timeshare company will rebrand as Travel + Leisure, and I guess it's hoping that buying the media company will expand its potential consumer base.
I still can't really make sense of this, though, since the two companies don't really seem to complement one another much.
What do you make of Wyndham Destinations' acquisition of Travel + Leisure?