Earlier this week I posted about the most INSANE Wyndham Rewards redemption opportunity I had ever seen. There was a Baymont Inn and Suites in Casper Wyoming that was charging $1,500 for August 20th, which of course is the night before the Great American Solar Eclipse of 2017. We're already set on lodging camping in nearby Glendo, but I have a few friends who are trying to find somewhere to stay. So I tried to book the room for 15,000 points.
Then I remembered that I only have about 6,000 Wyndham points in my account. Dammit.
Wyndham also doesn't have any transfer partners. Dammit.
And while they'll let you buy points, you are capped at 5,000 per year. Dammit.
In the end, I was stuck staring at the best Wyndham redemption I had ever seen with no way to book it.
I promised myself then and there not to get caught with my pants down when the next total solar eclipse came around in 2024. I started looking at the best ways to get some Wyndham points.
Sure enough, as Ben posted about a week ago, there is a really good Wyndham offer for 15,000 points after two stays when you pay with Masterpass. That alone would be good for one night, but today Frequent Miler pointed out there's another Wyndham offer that can be stacked. It's targeted, but from what I've seen, most folks have received something.


Wyndham Masterpass promotion
Wyndham's 'cause we miss you promotion
Way back on June 28, Wyndham seems to have sent out emails to members offering them some amount of bonus points for a 1-night stay. The subject of the email was This BIG offer is for you, 'cause we miss you. A better title would have been, you'll probably miss this email amidst all the other crap we send you…
Once I found the email, I discovered that my offer was for 3,000 bonus points after one stay. My wife's offer was for 10,000 bonus points, which seems to be the highest offer that anyone has received. Neither of us is particularly active with Wyndham, but hers has definitely been more dormant.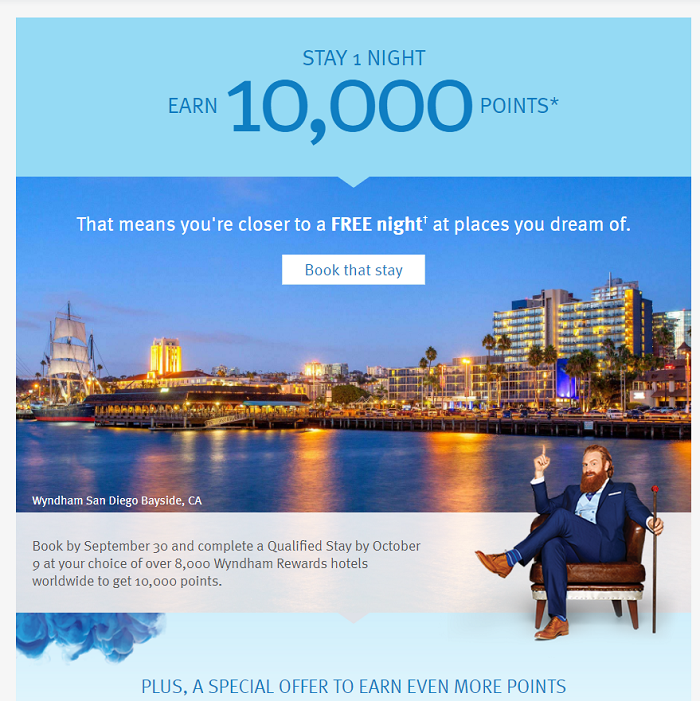 My wife's 'cause we miss you offer
If you can't find the email, don't worry. It seems that the offer shows up in your promotions when you log into your Wyndham account.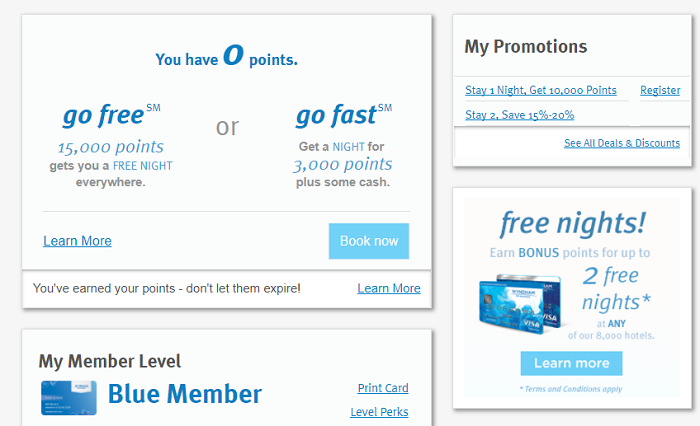 Wyndham promotions show up in the upper right of your account
You do need to register for it, however, and must do so by September 30, 2017. Then you have until October 9 to complete the stay.
Here are the full terms and conditions.
* Stay 1, Get 10,000 Wyndham Rewards Bonus Points Terms & Conditions:
Capitalized terms used without definition in these promotion terms and conditions ("Promotion Terms") will have the meanings ascribed to them in the Wyndham Rewards program terms and conditions, available at www.WyndhamRewards.com/terms (the "Program Terms"). To qualify for the Stay 1, Get 10,000 Wyndham Rewards bonus points offer ("Bonus Points Offer"), a Wyndham Rewards Member must: (i) receive an email invitation from Wyndham Rewards specific to the Bonus Points Offer (the "Bonus Points Offer Email"); then (ii) complete the one-click registration process for the Bonus Points Offer between June 28, 2017 and September 30, 2017 (the "Registration Period") by clicking on the "registration" link in the Bonus Points Offer Email or register through the "My Promotions" section of their Wyndham Rewards Member account on wyndhamrewards.com or the WyndhamRewards mobile app during the Registration Period; and (iii) complete one (1) night during a Qualified Stay at a Participating Hotel, which Qualified Stay has a check-in date between June 28, 2017 and September 30, 2017 and a checkout date no later than October 9, 2017 (an "Offer Qualifying Night"). Qualified Stays are subject to certain restrictions and do not include third party online bookings; see the Program Terms for more information about Qualified Stays at Participating Hotels. The 10,000 Wyndham Rewards bonus points earned by a Member pursuant to these Promotion Terms (the "Bonus") will usually be posted to such Member's Member account within two to four weeks following the completion of such Member's Offer Qualifying Night. For clarity, completed nights during a Member stay which has a check-in date prior to June 28, 2017, and/or a check-out date after October 9, 2017, will not be counted towards the Bonus Points Offer. Maximum of one (1) Bonus per Member (even if such Member completes more than one (1) Offer Qualifying Night).
Will these Wydham promotions stack?
My expectation is that you can combine the Masterpass Wyndham offer with the 'cause we miss you bonus points. My wife would earn 25,000 Wyndham points after two stays. That's almost enough for two free nights at any Wyndham property, which is a heckuva deal.
Bottom line
There is a targeted offer for bonus Wyndham points after a 1-night stay. The maximum offer seems to be for 10,000 points, while the minimum that I've heard of is 2,000 points. When combined with the Masterpass offer for 15,000 points after two stays, this might just be mattress runable.
So now I'm all set with lodging for the 2024 solar eclipse, right? Well, not quite. I just remembered that Wyndham points expire 48 months after they are deposited into your account. Dammit.
What Wyndham bonus offer did you get?