WOW Air sure has turned into a hot mess. A year ago they seemed like an innovative airline bringing low fares to the transatlantic market, while at this point they seem like… well, an airline that's being run into the ground.
WOW Air has been cutting US routes like crazy. They've just returned two of their three Airbus A330s to the leasing company. The airline was going to be taken over by Icelandair for a mere $18 million, but that deal didn't go through. Now it looks like the airline may be taken over by Indigo Partners, which invests in several airlines.
Here's something interesting WOW Air is now doing, which just seems like an awful passenger experience. WOW Air is now down to one Airbus A330, which is the only plane capable of operating nonstop to the US West Coast, and also the only plane capable of operating their nonstop flight to New Delhi, which is about to launch.
At the moment WOW Air's only destination on the US West Coast is Los Angeles. At the moment they fly there 4x weekly, and up until recently this was with an A330. Then in January the airline will reduce the flight to once weekly, and between January 28 and April 2, 2019, the airline will suspend the route altogether.
But here's the thing — the airline only has a single A330, and they'll need that largely for the New Delhi route. So they're getting "creative" (if that's what you want to call it) with their LAX route.
WOW Air is now flying an Airbus A321 between Iceland and Los Angeles. That flight covers a distance of just over 4,300 miles, which is most definitely not within range for an A321.
So the airline is temporarily operating the route via Edmonton to refuel. The flight has diverted to Edmonton for the past three days. The schedule shows that WOW Air intends to operate an A321 on the route through December 16, 2018. 10hr35min on an A321 sure doesn't sound fun.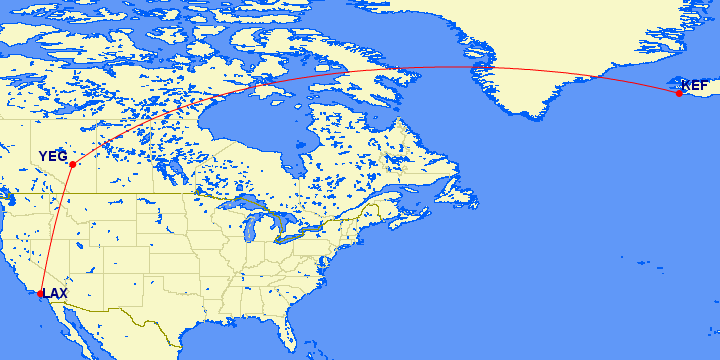 After that date it still shows an A330, though my guess is that this is just because they haven't yet updated the schedule.
I do think it's possible WOW Air has one of two motivations here:
This could just come down to aircraft availability, though WOW Air hasn't yet launched the New Delhi route, and despite that they've used an A321 the past few days, while the A330 sits on the ground in Iceland
This could be a financial decision; I can't imagine the Los Angeles to Iceland flight is that popular in early December, so it could just be that they can minimize their losses by operating a smaller plane, even with a fuel stop
I'll be curious to see how long this continues…
What do you make of WOW Air's Edmonton fuel stop?