At this point there's very little left of WOW Air.
WOW Air's route cuts so far
Recently WOW Air announced significant cuts to their US route network, as they were canceling flights to Cincinnati, Cleveland, and St. Louis, just months after launching them. On top of that the airline has canceled flights to Dallas Fort Worth and New York JFK.
Then a couple of weeks ago WOW Air quietly added further US route cuts:
WOW Air will discontinue 3x weekly flights to Pittsburgh as of January 11, 2018
WOW Air was originally supposed to operate 3x weekly flights to Orlando between December 2018 and April 2019; now the airline will just operate flights from December 18, 2018, through January 8, 2019, and from April 1 through April 30, 2019
WOW Air will reduce frequencies to Los Angeles to once weekly in January 2019, and will discontinue the flight completely between January 28 and April 2, 2019
Then as of a couple of days ago they canceled flights to Chicago for this spring.
WOW Air cancels LAX, SFO, YVR, and DEL
Now WOW Air has revealed more route cuts:
WOW Air was supposed to resume flights between Iceland and San Francisco as of May 6, 2019; that flight has been canceled
WOW Air was supposed to resume flights between Iceland and Los Angeles as of April 2, 2019; that flight has been canceled
WOW Air was supposed to launch flights between Iceland and Vancouver as of June 6, 2019; that flight has been canceled
WOW Air has stopped accepting reservations on their brand new flight between Iceland and New Delhi between January 19 and May 7, 2019
At least some of these cancelations are presumably motivated by their A330 situation. The airline had three A330s, but they've had to return two of them to their leasing company. The airline was then supposed to get some A330-900neo aircraft, but I'm guessing the financing for that may have fallen through.
While that's the case for Los Angeles, San Francisco, and New Delhi, the Vancouver route was scheduled to be operated by A321s all along.
But hey, if you want to book WOW Air, at least they're selling tickets for 50% off now. 😉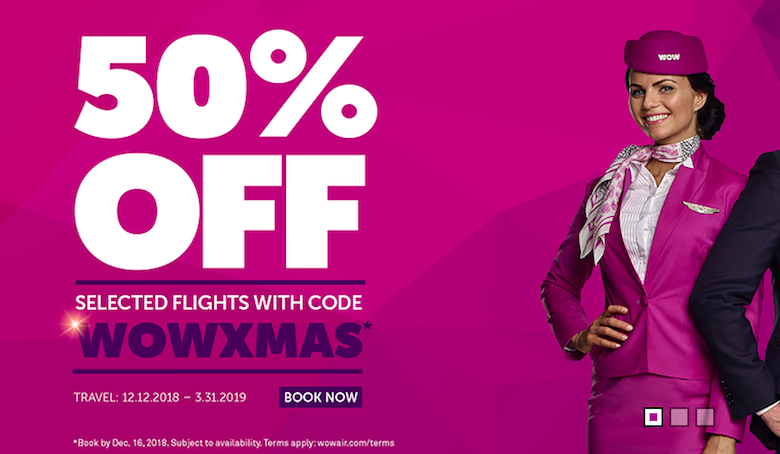 Bottom line
This airline has gone from "wow, what an innovative ultra low cost carrier" to "wow, what a mess" in a very short period.
At the beginning of November it looked like Icelandair would acquire WOW Air, though that deal ended up falling through. Now it looks like WOW Air may have just found a new investor, though that still hasn't been finalized.
Frankly at this point I'd be surprised if it did happen. It's one thing to be in a tough financial spot, but I think WOW Air's unreliability has done horrible damage to their reputation, and even with a cash infusion I'm not sure how much that could be fixed.
As I've been saying for a few weeks now, I wouldn't feel comfortable booking a trip on WOW Air, simply because I wouldn't actually trust the route to operate as scheduled.
(Tip of the hat to @airlineroute)