I love passionate people. I don't actually care what they're passionate about, as long as they love what they do and it shows.
I sort of realized that when I took Amtrak from San Diego to Los Angeles last month, and had a singing cafe car attendant:
While I was for a split second peeved by this guy interrupting my work to sing over the PA, my approach quickly changed when I realized he loves what he does and just wants to make people smile. And in the end I did smile.
He was interviewed on AOL Travel several years ago, and said the following:
"I have a passion about this job and seeing people enjoy themselves," he says. "And people have problems, so anything you can do to enhance a person's experience, and bring an interchange between people, I think is good."

Bryant starts every trip off with his own little ditty that includes the line, "Every day's a beautiful day for a train ride."
In the airline industry, I always joke that Alaska Airlines pilots really wanted to be tour guides. Admittedly the West Coast and in particular the Pacific Northwest are gorgeous, so it's not unusual for the captain to make a handful of PAs throughout the flight announcing when we're passing landmarks, etc.
And then there's the American pilot I had yesterday between Chicago and San Diego, who took things to a whole new level. Whole new level. Growing up he clearly didn't just want to be a tour guide, but also a historian.
First of all, he made his announcements in English and Spanish, which I thought was pretty cool.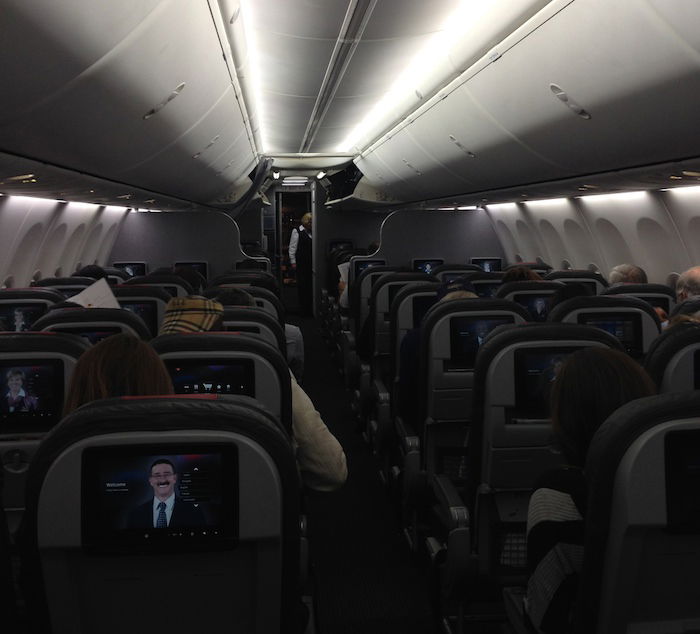 Then as we were taxiing to the runway he shared 90 seconds about Chicago's history.
He did this five times throughout the flight.
It was sort of unbelievable.
By the fourth time I started recording it. Here was his fourth announcement:
We are over central New Mexico. New Mexico draws uniquely on its Hispanic past. It's the one state that officially writes its laws and constitution in both English and Spanish. Also it is home to the longest known continuous human habitation in the western hemisphere. In the Rio Grande valley there is evidence of continuous human habitation which goes back well over 4,000 years.

Also the state capital in Santa Fe is the highest of all our state capitals at 7,300 feet of altitude, which is about the same equivalent altitude as the pressure in the cabin right now. We'll reach it — it was called Colorado at one time by the early Spanish because they noticed the indicative rusty red color that occurs with frequency throughout the west and canyons and in some of the deserts, which comes from the high iron content. That rust of course giving us that nice reddish color. The Spanish word for the color is Colorado, which specifically refers to that red color.

Of course that word was later turned into a state and a couple of rivers.
The differing looks on peoples' faces were hilarious. You had some people who were actually interested, while others were desperately in need of another drink after every announcement.
So what say you — would you like history and geography lessons every 45 minutes on your flight, or would you rather the captain just be quiet? Is there a perfect "middle ground" between sharing enough information but not oversharing?