I travel between Los Angeles and San Diego a fair bit, and it's a trip I always struggle with. In theory you have a good number of options — you can take a plane, train, or automobile. But in practice it's just a crappy trip no matter which choice you go with.
I almost exclusively take Amtrak, assuming I'm not flying out of either airport that day. Why?
I'd rather not rent a car in general, and beyond that traffic can be highly variable on the ride up and down the coast
If I fly then it would be a ~45 minute drive to LAX, then I'd have to take the commuter bus to the American Eagle terminal, then it would be a quick flight, and I'd be there
Otherwise I can make the ~25 minute drive to Union Station and take Amtrak down the coast for the three hour ride, which at least features reasonably comfortable seats, power ports, and Wi-Fi; it's also the cheapest option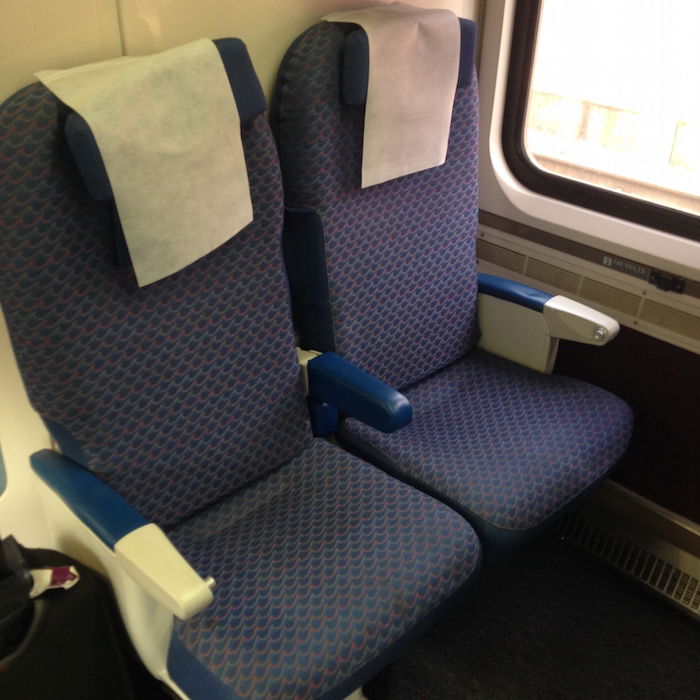 So I usually end up taking Amtrak. As far as US train journeys go, I'd say it's actually one of the better ones. The route tends to run pretty close to on-time, and the scenery enroute is gorgeous, as you hug the coast almost the entire way.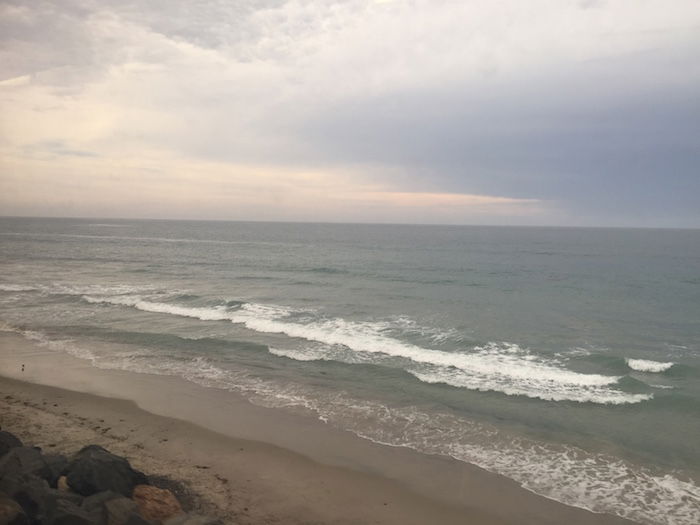 Of course the best part of Amtrak can be the people. I witnessed my first Amtrak arrest on my journey down the coast last week, which the conductor handled with a great sense of humor. It can also get pretty political, like the below suitcase a lady had above her seat (in case you can't read it, it says "Circumcision? His body, his choice"). She might be anti-circumcision, but she sure "cuts" right to the point!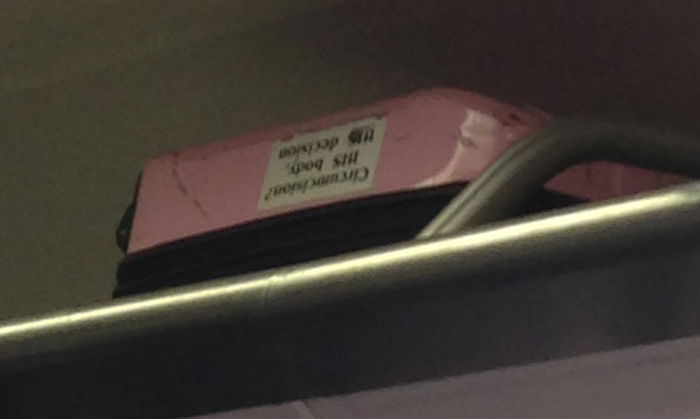 But coming back from San Diego to Los Angeles yesterday I experienced something new, after having taken this journey well over a dozen times — a singing cafe car attendant.
Now, I've never actually been to the cafe car on Amtrak. I bring a bottle of water on Amtrak and work, as the last thing I want to do is buy food on a train. So how did I know that the cafe car attendant was singing? Because he decided to do so over the PA… for several minutes.
He was announcing in a sad voice that there wasn't much time left to buy food, and decided to end his announcement with a song. I started listening and the first thing I thought was "crap, I wish I had known about this before so I could record — I'm sure he'll stop any second." Well, he didn't. So after about two minutes I started recording:
Does he sound eerily similar to Homer Simpson, or what?
On one hand I couldn't help but giggle and sort of roll my eyes. I was trying to get some work done, and someone wanting to hear themselves sing over the PA for a couple of minutes hardly helped with that. But at the same time I loved it. I mean, the guy works on a train and was singing about how much he loves trains. Where do you find people that passionate?!
So I guess I give the Amtrak cafe car attendant a big thumbs up… what say you?