Yesterday for a brief moment the World of Hyatt website was showing a new Category 8 redemption option for hotels, where a free night would cost 40,000 points per night. This alarmed many of us, since currently a free night at Hyatt's most expensive hotels costs 30,000 points per night.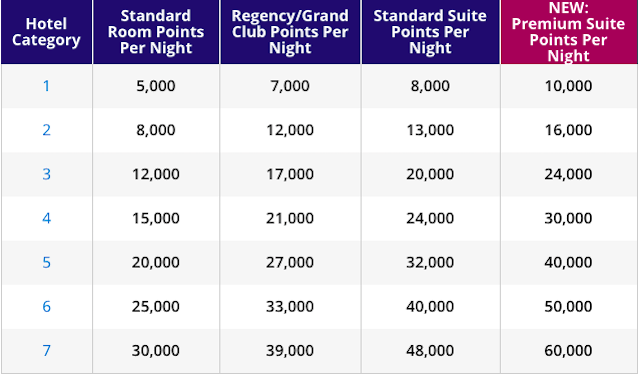 Hyatt's current award chart
This would represent a significant devaluation, though at the same time I feel like the writing is on the wall for this to happen eventually. What's interesting is how Hyatt responded to this, and what it means. Hyatt's new Category 8 might actually be a good thing.
What Hyatt said about Category 8 hotels
In response to the Category 8 "leak," here's what Hyatt had to say:
"We have no plans for any Hyatt-branded hotels or resorts to move to a new Category 8.

As you know, we have been working toward launching an alliance with Small Luxury Hotels of the World that will allow members to earn and redeem World of Hyatt points at participating SLH properties in the future. Given the diversity and caliber of the SLH portfolio, we anticipate that some SLH properties will fall into a new eighth category on our award chart. We look forward to sharing more details when the alliance officially launches."
The Hyatt & SLH partnership
One of the challenges Hyatt has long had is that their global footprint isn't as big as their competitors. So I was excited when in August it was announced that Hyatt and Small Luxury Hotels of the World (SLH) are forming a new loyalty partnership.
The launch of this is scheduled for the end of the year, and we know that World of Hyatt members will have the opportunity to earn and redeem points, as well as receive elite night credits, when staying at SLH properties.
This is really exciting, if you ask me. SLH has some incredible-looking boutique luxury hotels, so being able to earn and redeem points while staying at these hotels presents an excellent opportunity.
It looks like SLH redemptions will follow an award chart
When this partnership was first announced, I posed the following question:
Will redemptions at SLH properties follow Hyatt's traditional award chart, or will each Hyatt point be worth a certain dollar value towards a redemption at an SLH property (hopefully the former)?
I could see this playing out two ways:
My concern was that this would just be a fairly shallow marketing partnership, and that it would be a situation where Hyatt lets you redeem 10,000 World of Hyatt points towards $100 worth of room rate at an SLH property, for example
My hope was that SLH properties could be booked for a fixed number of points, since that's the way you're going to get outsized value at their hotels
Understandably the economics of this are probably a bit different for both Hyatt and the hotels when we're talking about working with an outside company. Historically the way hotel loyalty programs reimburse hotels for award stays is based on occupancy:
If a hotel is nearly full (like over 90-95% occupancy), then the program reimburses the hotel at the best available rate
If a hotel isn't full, then the program just reimburses the hotel a much smaller amount that's above the marginal cost to the hotel, but not really profitable
My guess is that they won't have quite as lucrative of an arrangement with SLH.
Still, I consider it to be excellent news that SLH properties will follow a traditional award chart, rather than some bad, dynamic value. Or at least that's my takeaway based on what has been leaked here.
SLH has some hotels that retail for over $1,000 per night in high season, so I'd be quite happy to be able to redeem 40,000 World of Hyatt points for those hotels. I would have been surprised if redemptions were possible at these hotels for 30,000 points per night.
Bottom line
Hyatt says that they have no plans to move any Hyatt-branded properties to Category 8. That's not to say it won't ever happen, but I feel pretty confident that they won't be doing so for now.
In that case, the only thing to take away from this scare is that it looks like SLH properties will follow a fixed award chart, and I'd consider that to be excellent news, since I feared they'd offer something like one cent per point towards room rate.
So we'll have to wait and see for the full details of the partnership — what kind of capacity controls will there be, will all hotels be eligible for redemptions, and will hotels be priced higher than they should — but overall I consider this to be good news.
Are you happy to see that SLH properties will follow Hyatt's award chart rather than having dynamic pricing?