Yes, I realize I have a tendency to write posts on things I should just leave alone. I believe all my responses to Chris Elliott's "articles" fall into that category.
Posts that should also generally fall into that category are those about international first class. And that's not because they don't have some merit, but because I've gone down that road so often before. Back in 2011 I debated my buddy Rick of the Frugal Travel Guy blog after he wrote a post entitled "My Worst Use of Miles: International First Class."
Anyway, PointsSummary just posted an article in the same vein entitled "Why Flying International First Class Doesn't Make Sense." Naturally, I was intrigued. 😉
Let me also say up front that I really like Jamison, so I'm writing this all in good fun.
Jamison writes:
Aside from the rare International First Class mistake fares, I believe that purchasing or redeeming miles for International First Class doesn't make sense. Ask yourself these few simple questions: Do you really need that Flagship Suite? Do you really need that lay flat bed? Do you really need to take an onboard shower in an A380? Do you really need that Sparkling Dom or Krug as a pre-departure beverage? Do you really need that caviar or handwritten note by the flight attendant? If you've answered yes to any of these, then please go ahead and flame me.
I'll let pictures do the talking.
Do you really need that lay flat bed?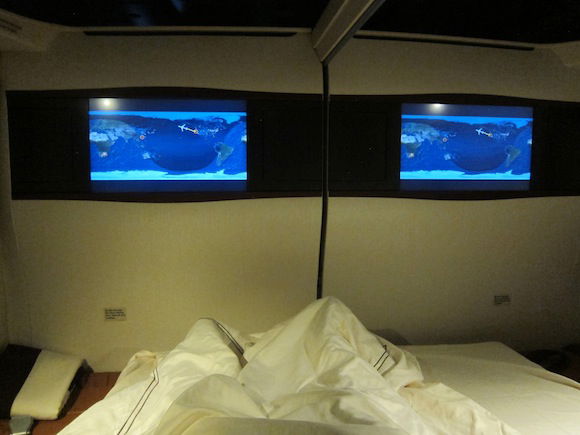 Do you really need to take an onboard shower in an A380?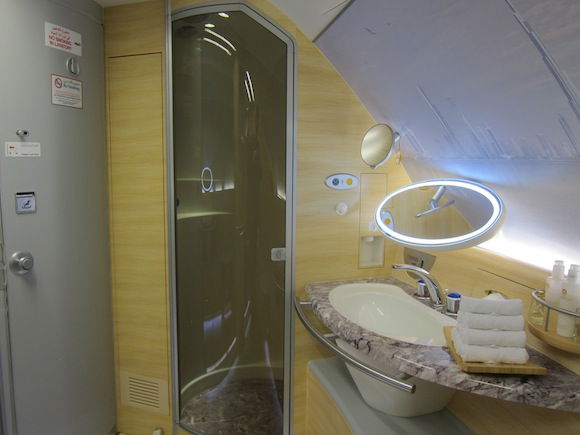 Do you really need that Sparkling Dom or Krug as a pre-departure beverage?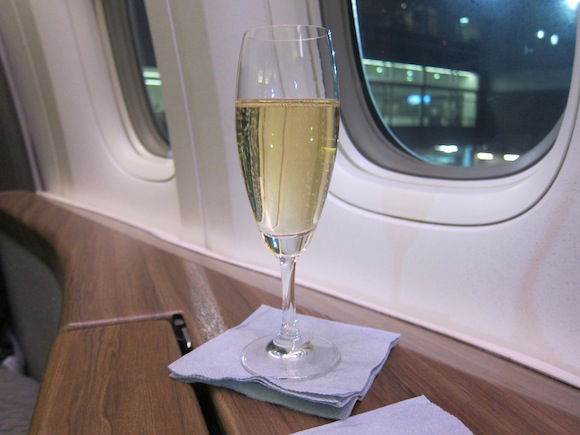 Do you really need that caviar or handwritten note by the flight attendant?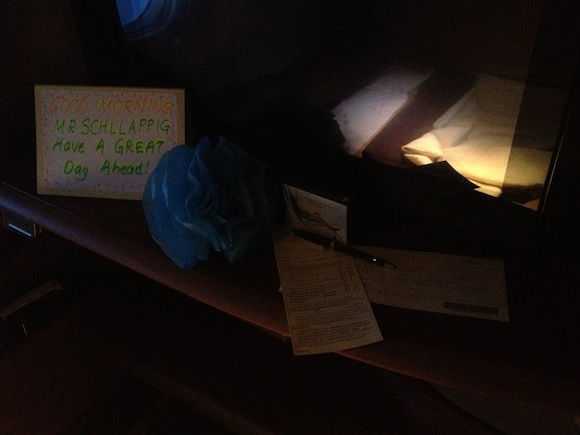 Do I need any of those? Well of course not. But I think all of these "need" based questions can also be turned around on someone flying business class. Do you really need a business class seat? Do you really need to sleep on a somewhat flat angle while on an airplane going 500 miles an hour through the sky? Do you really need to have a drink before takeoff? Do you really need to be served warm nuts after takeoff?
And Jamison says he's perfectly happy with everything in business class, a feeling I totally agree with:
I'm completely satisfied with Business Class where I don't have that privacy swivel. I'm not allergic to my neighbors. Yes, I might end up in a middle seat in a 2-3-2 configuration in J, but those are #firstworldproblems. I'm actually perfectly happy with an angled flat bed and don't need a completely lie flat bed. I know some people can't sleep in an angled flat, but those are #firstworldproblems. I don't need to take an onboard shower when I can shower at the lounge or hotel before or after my flight. I don't care about the brand of champagne or wine when I'm flying and I'm happy with the house brand. I've never had caviar and it doesn't even look appetizing. Spare me the handwritten note since it will be thrown away after I sort through my belongings at the end of my trip.
But really, couldn't the same standards be applied to coach? If the goal is to take more trips, you could certainly fly coach as well. I mean, you can lay down comfortably in your hotel and have decent food/wine on the ground, no?
Of course I'd never pay the full fare cash price for first class, but using miles it's such a marginal increase that I feel it's totally worth it. Between the US and Asia United charges just a 10,000 mile premium for first class over business class, while American charges just a 12,500 mile premium. That's potentially only a quarter of a credit card sign-up bonus, for example.
So in general we're talking about a really marginal cost increase for what can potentially be an exponentially better product. For example, if you're taking a vacation to a city, do you dine at the cheapest restaurant because at the end of the day it's accomplishing the goal of filling your stomach, or do you sometimes splurge on a nice restaurant for a memorable meal? I don't think this is any different.
My most memorable flying experiences have been in first class. When I think of the most memorable flights I've taken I think about the first flight I took with Janesis where she drew me a beautiful card that I woke up to. I think of the number of times I've been driven in a Porsche to my plane in Frankfurt, an experience that is any aviation geek's dream. I think of how much I giggle every time I fly first class out of Bangkok on Thai Airways, and am literally driven through the business class lounge in a golf cart while enroute to the first class lounge. And heck, even though I don't usually drink much, I think of the time I flew Emirates and put a good dent in a $750 bottle of Hennessy Paradis to the point that I passed out and missed my onboard shower appointment.
At the end of day this whole hobby is full of first world problems. And for that matter complaining about service or food in coach is even a first world problem, since most people outside of the "first world" will never in their lives step foot on a plane, let alone in a premium cabin.
But I think the crux of the issue (and probably the first thing he should have mentioned in the post) is that while Jamison is savvy and redeems plenty of miles for business class, he admits this:
I've never flown in International First Class and will probably never will in the near future (unless I get op-upped).
Jamison, next time you redeem American miles for travel to Asia I challenge you to burn an extra 12,500 miles and fly first class on Cathay Pacific. If you still feel the same way I'll send you a bottle of Krug. Actually, make that Korbel, since brands don't really matter. 😉
To those of you that have redeemed miles for both first and business class, was the premium worthwhile?