Rick had an eye-catching headline today on the Frugal Travel Guy Blog: My Worst Use of Miles: International First Class.
Rick's awesome so I say this all in good fun, because I happen to think the exact opposite: it should be a damn near crime to redeem for business class when first class is available.
Of course we all have different travel needs, preferences, and valuations, so I won't for a second suggest that "one size fits all," though I'll make my argument nonetheless.
Rick starts by saying:
International First Class redemptions is a waste of miles in my mind. I am being held captive in an aluminum tube for 8 to 14 hours and just want to get to my destination after sleeping as much as possible. A typical international flight for me consists of waiting too long for the pre dinner drink (Diet Coke). Waiting too long for the an airline meal and then finally getting some sleep. A comfortable nights sleep is what I'm after. I don't know or care about meeting "Dom" or any of his fancy drinking buddies. Cavier taste like fish eggs to me and the meal, no matter how you cut it, is still going to be just airline food.
And I actually agree with the first part of what Rick says about getting to my destination having slept as much as possible. And that alone makes international first class worth it to me. The added personal space and often the difference between a flat bed and an angled flat bed makes all the difference in the world.
Turning the ultimate left to the nose of the plane may make some people feel important, but the attendants certainly don't think you are. They know you just spent a few extra miles is all.
Obviously Rick is flying the wrong airlines! Maybe that's the case on US airlines, but at airlines without a culture of giving away their first class seats to employees, guests are treated with respect and as valued customers. Thai Airways has always cracked me up because they go so far as to say that if you're flying first class you've "achieved the pinnacle of social or professional status." Of course that's a stretch, but that's actually how they treat you, from escorting you every step of the way to the plane, to giving you an hour-long full body massage in their spa, to treating you well onboard. Does anyone "need" that? Of course not. But it's nice to have when only marginally more expensive.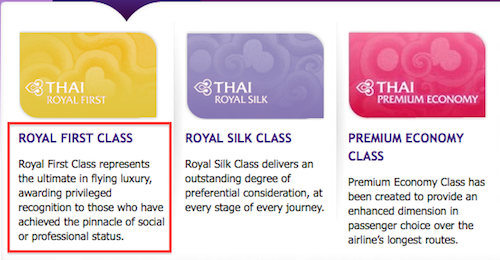 Then Rick says:
Our last trip to China involved a redemption of 55K miles for business over and 67.5K miles first class return, as that was all that was available. That is the second time I booked a segment international first class.
As far as I'm concerned, 12,500 miles is nothing. And it seems that Rick agrees with me when he says this:
As for using miles for domestic itineraries, Hell Yes I do. I am accumulating miles on credit card sign ups for under .2 cents each. That is less than one quarter of one cent each. If I can use 25K miles and fly from Savannah to Sioux Falls and save $600+ hell yes, count me in redeeming for domestic coach. I'm not trying to impress anybody.
So for a 14 hour flight from China to the US you're paying an extra 12,500 miles for first class over business class, which, at 0.2 cents per mile translates to $25. Surely literally anyone would be willing to pay a premium of less than $2 per hour for a fully flat bed with a ton of personal space over a tight, slanted flat bed? And that's forgetting the better food, service, lounge access, etc.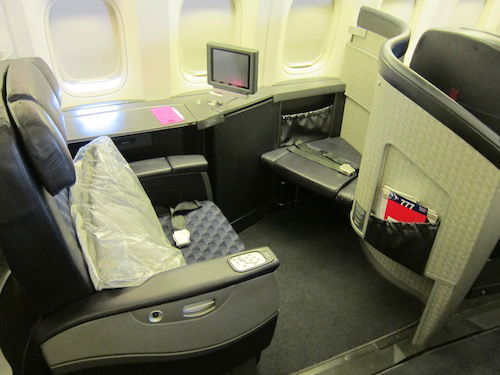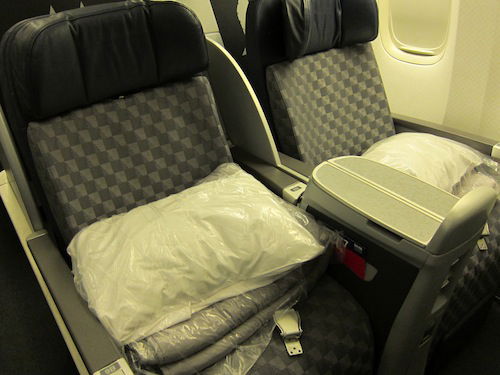 The bottom line for me is that I feel incredibly fortunate with what this hobby allows us to do and experience. If I had never gotten into this hobby I would have probably flown coach forever. I feel fortunate when I'm able to redeem miles for business class, but at the end of the day miles are sort of like Monopoly money. They allow me to "buy" things I could otherwise never afford, and most importantly the marginal additional cost for first class is well worth it to me. First class is typically double as expensive as business class when booking a revenue ticket, but when using miles the premium is often only 10-25%.
Do I need a flight attendant that's taking care of just me? No. Do I need a six course meal? No. Do I need a brand name duvet and comforter when flying? No. Do I need a bed at 37,000 feet that's as comfortable as my bed at home? No. But if I can do it for a mild premium, why the heck not?
Anyway, at the end of the day I'm happy some people think the way Rick does. It leaves more international first class award seats for people like me, and at the end of the day it leaves for international business class award seats for people that think like Rick does.
Where do you stand?