Yesterday I wrote about how British Airways is considering cutting free food & drinks in economy on longhaul flights. This follows them having recently cut free food & drinks on short-haul flights, which had people up in arms.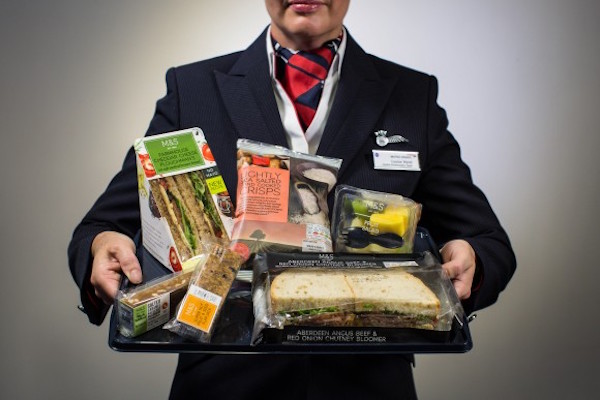 On one hand it's tough to imagine a day where most airlines charge for food and drinks on longhaul flights. At the same time, a decade ago it would have probably been hard to imagine that the "big three" US carriers would charge for carry-ons for some domestic fares. Even Emirates, which is known for being as full service as they come, sees a future where they unbundle business class. However, it would have probably also been hard to imagine that there would be an airline offering $65 transatlantic fares. It goes both ways.
Unbundled airfare isn't necessarily bad
Unbundling is the future of the industry, and I think there are two ways to look at it. One way is to view airfare being unbundled as a negative development. The other option is to view it as being positive, given that it makes travel more accessible than ever before. Nowadays you can fly across the ocean for the same price you'd otherwise pay for an hour-long cab ride in some cities.
Consumers want low fares, but we also want more service. However, there's no denying that we complain about the state of service on many airlines, and when airlines think of cutting those services or offering more options, we're unhappy. In other words, "damnit airline food sucks, but don't take it away!"
My point is that airfare is so much cheaper than it used to be, and that's a good thing. And it's even cheaper than it was a few years ago, at least on longhaul flights. Seriously, we're consistently seeing $400-600 roundtrip fares between the US and Europe, and $600-700 roundtrip fares between the US and Asia.
It used to be that fares like that were out of the ordinary and worth jumping on right away, while nowadays they've become commonplace.
How much more expensive is British Airways than Norwegian?
To do a side-by-side comparison, let's look at fares between New York and London this fall. The cheapest British Airways fare I can find is $475 roundtrip.
Meanwhile the cheapest Norwegian fare is $418.
So you're paying an extra $57 roundtrip on British Airways, but are earning a more valuable points currency, getting a free checked bag, free food and drinks, etc. Clearly British Airways isn't coming out ahead here, so should they be raising fares or cutting services?
I'm not cherry picking examples here, but rather I find these examples to be reflective of the average discrepancy in pricing. Between Los Angeles and London British Airways is even cheaper — they have roundtrip fares of $487.
Meanwhile Norwegian's fares are actually higher around the same time, at $510.
To compare, here's how much Norwegian would charge for what British Airways offers with the fare (these fees are one-way, so double them for a roundtrip):
$45-50 for a checked bag
$5 for a blanket
$3 for a headset
$4-5 per non-alcoholic drink, $7-15 per alcoholic drink
$45 for a pre-ordered meal, $10-11 per fresh food, $4-8 per snack
Norwegian is the standard of low cost longhaul travel, so you can't expect a traditional carrier to have a lower cost structure than them. As a result, would we rather see British Airways consistently priced at least $200 higher than Norwegian per roundtrip, in order to be able to include all those services with the fares?
Some say they'll never fly British Airways again if they get rid of free food & drinks in economy, but I think that sort of a protest is misguided. Want to send a message to airlines that you don't like them cutting services? Pay for a different product! For example, look at British Airways' pricing for premium economy. It's $1,100 roundtrip, and gets you a bigger seat, free food, etc. The average economy fare between New York and London used to be closer to $1,100 than $500, especially in summer, where these premium economy fares are available as well.
Heck, there are some dates in summer where premium economy is just a couple of hundred dollars more roundtrip than economy, which shows just how unwilling a majority of people are to pay a premium for a better product.
My conclusion
I guess my point is that I share the frustration at airlines cutting services. At the same time, international airfare is incredibly low, and that's thanks to the competition from low cost carriers.
Traditional airlines have two choices:
Compete directly with the low cost carriers in economy, while also offering premium products for those willing to pay extra
Try to charge a significant price premium for offering better service in economy; I can't think of an airline that has successfully done this
So I predict that in a decade an ultra low cost model on longhaul flights will be the norm rather than the exception. Personally I think that's a good thing, since it makes flying more accessible to the masses.
I want to make one last point — I actually view the international airfare trend as being positive, unlike what we see domestically. Domestically we see airlines adding fees without lowering prices as a way to increase profits. There's still very limited ultra low cost competition within the US — we just really have Spirit, Allegiant, and Sun Country.
Meanwhile on the international front, this is something airlines are forced to do because of innovative ultra low cost carriers that are actually making the industry better. That's good for consumers, because these changes are being made so traditional airline can compete. And that actually gets consumers cheaper airfare and more options.