On Tuesday I wrote about the interesting situation going on with airport shops in the UK, which is outraging consumers.
UK retailers pocketing VAT on duty free purchases
To briefly summarize, basically UK airport retailers request your boarding pass when you purchase something, whether it's a pack of gum or an expensive bottle of champagne. The prices include VAT (value added tax), and they charge it to you regardless of whether you're traveling within the UK/EU or not. If you're traveling within the UK/EU, that VAT has to be paid to the government. If you're traveling outside the UK/EU, the retailers are pocketing the 20% VAT.
To contrast that to the US system, here we have duty free shops which show prices without tax. If you are in fact traveling internationally (and can prove it by showing your boarding pass), you'll receive the tax free pricing. However, you can still buy something from the shop if traveling domestically, but tax will be added to the purchase price.
To many this felt like UK retailers "stealing" from consumers in a sneaky way, and caused outrage.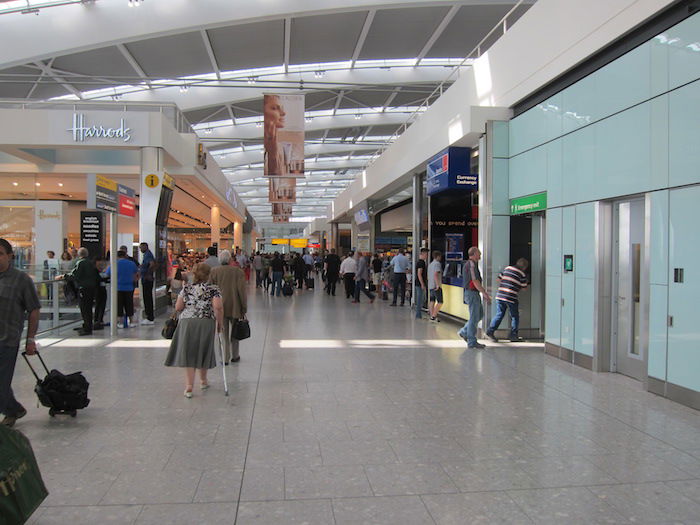 What has the response been?
Well, the story that broke earlier this week seems to have gone somewhat viral, and that has resulted in a few things.
First of all, some are calling on the UK government to make a law requiring shops to pass on the tax savings to consumers. Via The Telegraph:
Shops should be forced by law to reduce their prices in airports, the retail watchdog has said, as it urged ministers to pass new legislation to end the VAT rip-off.

"We don't have any powers to make retailers adhere because [passing on the VAT relief] is not law," the head of the dispute arbiter told BBC Radio 4.

"The Government needs to make this a law [and] say to the retailers in airports you must, not we want you to, you must pass on this relief and you must make it very clear to your shoppers what it is they are getting for their money."
Furthermore, as mentioned above, passengers are under no obligation to show their boarding passes when making purchases. Of course retailers want to see the boarding passes since there's a chance they can pocket 20% on purchases. But it seems not all retailers are adhering to that rule:
On Wednesday, however, reporters from this newspaper found many shops at Heathrow were declining customers who refused to show their boarding cards.

Shop staff in Boots said as many as half of customers were refusing to give their flight details. In defiance, one person waved above their head the pages of a newspaper displaying the story.

The Telegraph also found evidence that customers who complained were wrongly told it was a "requirement" under airport rules for all shops to check boarding cards.

In the text of an email, seen by this newspaper, a Dixons Travel representative wrote: "I can confirm that the requirement to check the boarding pass at all our airport stores is in compliance with the BAA rules and this is not our own policy."

When challenged, a spokesman for the company said: "We can confirm that this is not our policy and this advice was incorrect."
There seems to be a lot of misinformation out there. If the retailers want to defend this practice then they at least have to follow the correct rules rather than making up their own, or they'll really be in trouble.
Why retailers aren't wrong (other than how they're going about it)
It's easy to think of this as the greedy retailers "stealing" 20% of the money of travelers. But I don't think that's the case.
The reality is that operating retail shops at airports is expensive. Rent is higher and staff are often paid more. Yet in many cases airport retailers have the same prices as outside the airport. Margins in retail can sometimes be quite small, so there's a good chance that a large percentage of profits for airport retailers actually come from the VAT refunds they pocket.
Let's be practical here. Some are suggesting airport retailers should be forced to "reduce" their prices since they're pocketing the 20% VAT for many travelers. That's not happening.
What are the possible solutions?
Airport retailers could raise prices across the board and then issue the 20% refund to those traveling outside the UK/EU
In terms of logistics, retailers could list the UK/EU traveler price and then the non-UK/EU traveler price; this would likely complicate things, increase wait times, and increase staffing requirements, all of which could further raise prices
Airport retailers could maintain the status quo, perhaps with a bit more transparency about the system, or at least posted signs about why passengers are being asked for their boarding passes
I do take issue with the lack of transparency involved, and in particular with the misinformation from retail associates claiming that showing a boarding pass is a requirement, which isn't the case. Consumers reasonably assume that when they're asked for their boarding pass past security there's a reason for it, other than a retailer trying to pocket cash from them.
But this battle isn't as simple as airport retailers meeting their profitability goals and then just pocketing an extra 20% on many travelers. That 20% is probably an integral part of retailers' bottom line.
I'll be curious to see what happens with this. It doesn't impact me one way or another, since I don't remember the last time I've bought anything at an airport in the UK. That being said, I think consumers should be careful what they wish for, because if retailers lose a lot of their VAT refunds, it will likely result in price increases.
What do you think is the solution to the UK airport VAT/boarding pass fiasco?
(Tip of the hat to Mike)