I'm curious to hear how you guys would handle this situation. In the past deciding where to credit miles for a particular flight was a fairly straightforward process for me, though I'm finding myself not sure where I should credit miles for an upcoming trip.
My two choices
I'll soon be flying from Mexico City to Easter Island thanks to an incredible ~$1,150 roundtrip LATAM business class fare.
I have American AAdvantage Executive Platinum status as well as Alaska Mileage Plan MVP Gold status, and both programs partner with LATAM. For what it's worth, these flight are booked in the "Z" fare class, and the entire trip covers a distance of 12,840 "butt in seat" miles. Regardless of which airline I credit the miles to, it won't impact the status I earn, and it won't get me to any sort of a higher bonus threshold (for example, American gives you two more systemwide upgrades if you pass 150K EQMs).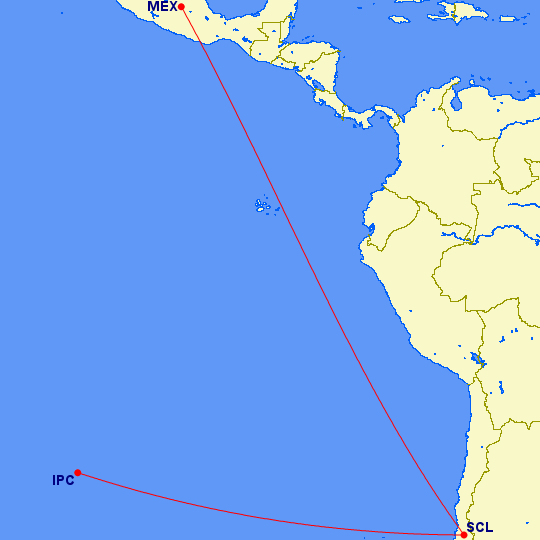 If I credit the flights to American AAdvantage I'd earn a total of 150% elite qualifying miles and 220% redeemable miles (100%, plus the 120% bonus I get for being an Executive Platinum member). So that means I'd earn a total of 28,248 redeemable miles.

If I credit the flights to Alaska Mileage Plan I'd earn a total of 125% elite qualifying miles and 325% redeemable miles (125%, plus 100% additional bonus, plus 100% bonus for being an MVP Gold member). That means I'd earn a total of 41,730 redeemable miles.

What's not factored in is that I value Mileage Plan miles significantly more than AAdvantage miles — I value them at roughly 1.8 and 1.3 cents, respectively. So in reality if I credit to American I'd earn $367 worth of miles, while if I credit to Alaska I'd earn $751 worth of miles.
So crediting to Alaska Mileage Plan seems like a no brainer… right?
Why crediting to Alaska isn't that obvious
This is what I'm scratching my head over. As I said above, with neither program will these flights impact what status I earn. Here's my current requalification status with American: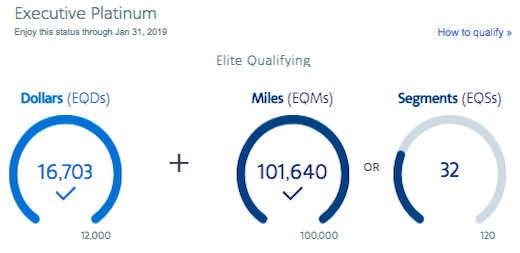 So why would I even consider crediting to American? Because as of earlier this year, American prioritizes upgrades based first on status, and then based on your rolling 12 month Elite Qualifying Dollar total. Yes, the airline prioritizes your upgrades based on a specific dollar amount. So if I credited the flight to American, I'd earn an additional 2,568 elite qualifying dollars (12,840 miles times 20%, which is how it's calculated here).
My upgrade percentage this year with American hasn't been that great. American is selling more first class seats than in the past, so being Executive Platinum is no longer enough for scoring an upgrade in many markets. It also matters where you rank as far as Executive Platinum members go.
What should I do in this situation? Should I take the sure thing, and earn more Alaska Mileage Plan miles, or should I forgo a significant amount of mileage value in order to boost my EQD total? I'd be curious to hear how anyone in a similar situation is handling American's new EQD requirement.